From 14.4 and 15.6 kWh to 17.3 kWh, Zero 2023 expands the gross battery capacity in the two sporty top models SR/F and SR/S. The two motorcycles are catching up with the new travel enduro DSR/X. However: Zero donated a new battery not directly. Only the software upgrades of the Cypher III+ system that have been available since 2022 will be unlocked as standard. At the same time, only one variant per model – previously Standard with 14.4 kWh and Premium with 15.6 kWh – will be offered.
17.3 kWh battery by software
As early as 2022, Zero introduced with the Cypher Store and the new Cypher III+ operating system that, for a payment of 1,295 euros, the 15.6 kWh battery of the premium versions could be "enlarged" by 10 percent to 17.3 kWh via software. If you wanted to expand a standard variant by 20 percent from 14.4 to 17.3 kWh, you had to pay 2,195 euros. In the cockpit, the increased capacity can still be unlocked in the menu, and the charge indicator is increased to 110 percent. It is not known whether the 2023 models will also have the upgraded charger from 6 to 6.6 kilowatts.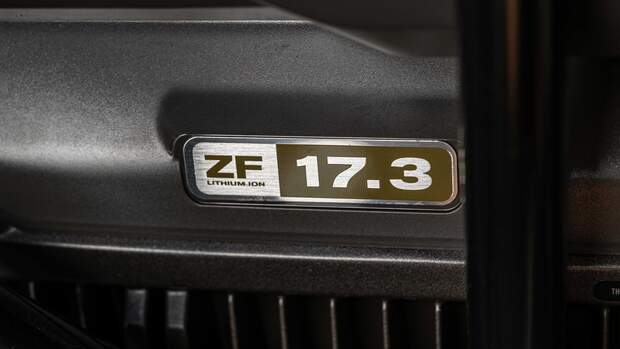 Zero Motorcycles
Zero has increased the capacity of the battery to 17.3 kWh for the 2023 model year.
More range
Since the hardware of the Zero was obviously already on board for more capacity, the curb weights of 235 kilos (SR/S) and 227 kilos (SR/F) do not change. The range increases by 10 percent in line with the capacity on paper. Zero states up to 301 kilometers in city traffic, overland and highway are combined 206 and 180 kilometers.
Same engine
Nothing changes on the ZForce 75-10 engine with 190 Nm torque and 110 hp, which enables a top speed of up to 200 km/h.
May it be a little bit more?
If the 17.3 kWh are still not enough, you can optionally order the power tank for 3,519 euros. It sits in the tank compartment and increases the capacity by 3.6 to 20.9 kWh. If the charging capacity of 6 kWh or 6.6 kWh after a payment upgrade is too low, you can retrofit the charge tank for 2,975 euros. It offers an additional 6 kWh charging capacity. However, Power Tank and Charge Tank cannot be combined.
New price?
The premium version of the SR/S cost 24,460 euros, 23,680 euros for the SR/F in 2022. If we add the 1,295 euros for the software upgrade to 17.3 kWh, the new prices for 2023 should increase accordingly. So far, Zero hasn't communicated pricing for next season.
opinion poll
If so, then only a powerful electric motorcycle.
I can imagine an electric scooter for commuting and city traffic.
A small, manoeuvrable electric moped is definitely fun.
read more
Conclusion
Zero has given its two sporty top models SR/S and SR/F 10 percent more capacity and expanded the battery to 17.3 kWh. In addition, Zero gives the previous paid upgrade via software ex works. Technically, nothing else changes. The new prices are not yet known.
#SRF #SRS #Top #battery #electric #top #models

Source