It is indisputable that Zara Home It has some of the best decoration products that we can find season after season. And the best part is that a large part of their current collection is on sale, so you can now get hold of amazing furniture, bed sheets y nordic slings with a unique style, and now also, with the most elegant lamp for your home that is discounted at Zara Home at 60 euros.
Zara Home lowers the most elegant lamp
Zara Home is currently "celebrating" what are its second salesso you should take advantage of them before they run out and in fact, this is your last chance to get your most desired lamp what has extended its discount so you can buy it now at less than half its original price.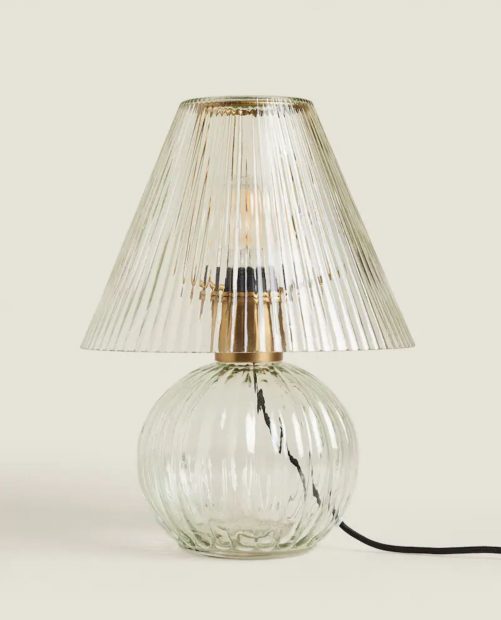 It's about the glass lamp What do you see in the image and what with its style design «vintage» has become an object of desire since wherever you place it, it will instantly add elegance.
Nails on measures 38 cm in height, and 18.75 cm in width and depthit is the ideal lamp for the bedroom but it is also perfect for the living room or living room and to have it next to the armchair where you usually sit and read. The weight is slightly higher than 3 kilos.
The design is also perfect to combine with any decorative style you have at homewhether you have all the rooms in your home with a minimalist or modern style, since it will be a piece that will stand out in a special way, or perhaps, a somewhat simpler or more traditional decoration in which this product will be used. Without a doubt, become the most special and beautiful element that you will be able to have in your home.
Made in aluminum (20%) and glass (80%) and with a design that has a drawing of elegant waves, this is the Zara Home lamp that everyone is talking about and the truth is that you will not find another like it.
It works with an e27 LED type bulb (not included) and the price of the lamp is 99.99 euros but since we are now in the sales it can be yours for only 39.99 euros, so do not delay in going for it because we are sure that it will be exhausted shortly. Available in physical Zara Home stores and in its online store.