At first, Laura, 34, was reluctant to buy a bass. She felt that her life could be very exposed at street level. In full confinement, she and her partner, Héctor, 35, decided to "get out of the rental bubble." They paid a thousand euros for a one-bedroom house in Madrid. "You start looking with expectations and because of how prices are, you end up going down," she explains, who works in the marketing department of a company. "Attics we don't get to see any, you remove the filter of half a million euros and they all disappear," says he, an engineer, in a humorous tone. After doing the math and being realistic with the savings they had, they bought a 50 square meter ground floor for 175,000 euros. "Anyone would say that this was a plastics factory," she launches while showing the room, with high ceilings and minimalist architecture. Her house, on the ground floor of a 1960 building previously used for commercial use, is an example of a current that is gaining strength: young people who buy commercial premises converted into homes or rent them in large cities such as Madrid or Barcelona. This is indicated by the figures of interactions with the advertisements and closing of operations of the real estate portals, which do not share these internal data but do confirm the trend.
María Matos, director of studies and spokesperson for the real estate portal Fotocasa, explains that most of these flats are perfectly renovated old commercial premises that resemble new construction houses. "Historically, there has been a lot of reluctance to live in a slum and after confinement even more, our data tells us that young people are now looking for natural light, another thing is that they are forced to have access to this type of housing because the prices They're shot," he says. The sale prices of these zero plants range between 130,000 and 170,000 euros.
Witnessing the 2008 house price boom and subsequent crash, Laura and Hector wanted to be cautious and buy a house at a "reasonable price". "We considered what would happen if one of us lost his job, could we pay the mortgage payment? If we had to sell the house at a loss, we wouldn't lose much. That is why this was the only viable option", explains Héctor. A mortgage of about 500 euros per month for 30 years, with an entry and management fees of about 60,000 euros. He says that he was able to save thanks to a few years of work in Dubai. At no time did they lose sight of the Bank of Spain's recommendation not to spend more than 35% of monthly income on housing.
Emancipation Observatory of the Spanish Youth Council.
When doing a search for houses of 50 square meters for less than 200,000 euros in Madrid, the Idealista portal gives a result of 1,612 houses, of which 554 are low. The big difference between some others is that most of the ground floors are renovated with a similar aesthetic: smooth white walls and furniture in very light tones. "We are seeing a lot of interest in putting these commercial premises up for sale, behind which there is usually a marketing team and good photographs, it is seen that a significant amount has been left in the reform. They usually have a kitchen and living room in the same room. They are what we call Ikea houses: good, pretty and cheap… they fit better through the eyes, they are more attractive to the buyer", says Matos.
In the first half of 2021, when buying a home, a young person (between 16 and 30 years old) had to allocate 51.2% of his salary to the monthly mortgage payment, according to data from the latest report by the Emancipation Observatory of the Spanish Youth Council. To this calculation, the "harsh conditions" required by financial institutions to grant the mortgage loan should be added, "in a clear mismatch with the position of young people in the labor market," the authors of the document indicate. In fact, the compulsory payment of the initial entry (20% of the total cost of housing) would mean 3.7 times the average annual salary of a person up to 35 years of age.
"We have not wanted to continue in the rental loop, many young people live day to day and pay exorbitant prices every month, it is a matter of making numbers… and having a down payment, of course," explains Héctor. If they were rich they would go to live in the country, but since they are not, they are happy with the bass. "We premiered the work, everything is impeccable". To have more privacy, they placed white vinyl on the windows of the living room and the bedroom, so that they cannot be seen from the street, at least while they keep them closed. The worst, they say, is the noise. "If someone walks by talking loudly at night, the sound gets into your bed and you wake up," he says.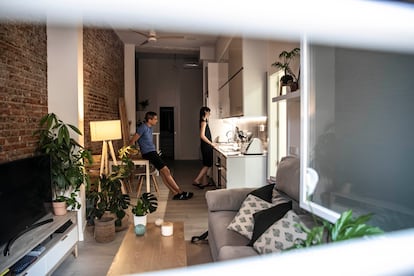 Héctor and Laura at their home in the Madrid neighborhood of Tetuán.Álvaro García
Jon Goitia, director of a company dedicated to changing the use of commercial premises to housing in Madrid, was the one who transformed the old plastics factory into several apartments. "Young people prefer fewer meters and refurbished than choosing a higher floor, but with benefits from 40 years ago, that is something that is changing," he says. In the last five years, he has carried out some 75 change-of-use projects for nearly 200 homes in the capital. "The price of the premises has dropped, so the reform costs about a thousand euros per square meter. It is a profitable operation that works especially for the young public, both for sale and for rent". The administrative change process can take about eight months.
Rent, the majority option
40% of young people still lived with their parents in 2021. After the pandemic, young people who live for rent have gone from representing 56% to 59%. 62% of people between the ages of 18 and 34 who have looked for a house but have not found it say that the problem is "finding something according to their budget". What they value most when looking for a home is, in this order, that the price fits their budget, that it has the number of rooms they need and that it has services nearby. The least they take into account: that it has a swimming pool, that there are good schools in the area or that it has a storage room.
The largest number of "closed operations" in low with young people corresponds to rentals, according to the information that the real estate agencies transfer to Fotocasa. "They disappear like hot cakes and those who are interacting the most with these ads are young people, they are matching supply with demand," says María Matos. "It's not her dream house, but it's her own space, not a room in her parents' house," she adds.
From the Idealista real estate portal they also confirm the trend. "The lack of affordable housing is pushing some people to choose to buy or rent homes in disused former commercial premises. Its price is generally below that of homes in the area with similar characteristics. These are buildings that have been renovated very recently and that have comfortable finishes, especially in relation to the oldest housing stock that many of the central areas of the capitals have, "says Francisco Iñareta, spokesman of the portal.
Nataly Matamoros, 23, signed her first solo rental contract a month ago in Murcia. He became independent at 18, but has always shared a flat. His salary is just over a thousand euros and he found a bass near the center for 350 euros. Her work at The Simply Rent real estate agency allowed her to measure the market for months and verify that an apartment similar to hers on upper floors does not go below 550 euros. "Now I am alone and I can enjoy my space, in summer I will really want to open the windows, but I prefer to have the blinds down and turn on the air conditioning… this month I have paid 52 euros for electricity, let's see if I don't get much higher." Her living room and her bedroom face a street, without a road, but busy. The house, about 50 square meters, has a small interior patio, its "piece", where it has the washing machine. "It's not a terrace, but it is what it is."
In the first half of 2021, the proportion of young people residing in an "independent household" stood at 14.9%, 2.4 points less than in the same half of 2020 and the historical minimum since the end of 1998, according to the report of the Emancipation Observatory. The average age to become independent is close to thirty in Spain (29.8 years), above the average of 26 years in Europe. "More than choosing them, they are the ones choosing us. The commercial basements or semi-basements converted into rental housing are the greatest example of the precariousness that young people have in accessing housing. They are dark, noisy houses with little privacy, but these are the only ones we can afford today when the average rental price in Spain is 856 euros on average", laments Juan Enrique Gallo, head of communication for the Council of youth.
"My house is like a store window, but it's really fun because sometimes people pass by while I'm eating at the table next to the window and we start conversations." The one who speaks is Isabella, 22 years old and from the United Kingdom. She is on Erasmus in Madrid and has rented a room in a ground floor for 530 euros. She shares with three other international students. "My room has a bathroom and that is the most important thing, I wanted a ground floor because if there is an emergency it is easier to leave and the price is very good compared to what I paid in Milan". She found the ad on a real estate portal and does not know what price the rest of the dwelling's inhabitants pay. Basses are not always a bargain.
#Young #people #live #ground #floor #dark #noisy #privacy #afford

Source