The long-awaited summer vacations must be enjoyed in every way: traveling, exploring… and eating. Of course, only refreshing dishes because temperatures go through the roof and what better option than a yummy yoghurt ice cream with summer fruit pieces that will make you wish for a longer season.
Another reason to prepare this ice cream is the nutritional value of its ingredients. In the case of yogurt, it is a source of protein, essential to help increase muscle mass for those who choose a more fitness lifestyle. Strawberries, meanwhile, are rich in antioxidants, calcium, potassium and vitamin Cthe latter is important because it helps in the absorption of iron, which prevents anemia.
However, for some parents it can be difficult to introduce fruit into their children's diet, so keeping this idea in mind could help ensure better nutrition. For example, bananas have vitamins A, C, B1, B2, B6 and folic acid, which contribute to the healthy growth of children. Why not make ice cream at home knowing all this?
Changing the subject a bit and learning some history, ice cream has been made since 2000 BC. C. Perhaps in more rudimentary ways, but with the same objective: refresh. It was a mixture of milk, rice and snow from the mountains. The technique passed from hand to hand. The Persians made something similar to a pudding by mixing rose water with angel hair.
Some time later, the recipe began to travel between continents. China had its own style. Marco Polo went around the world spreading the delicacy teaching Asians how to do it. The last stop was Rome, the birthplace of gelato, a recipe that predates modern ice cream. And that consisted of using milk fat, sugar, fruit and whole milk.
All this brings us here to teach you how to make a quick and easy yogurt ice cream with pieces of summer fruit.
Ingredients:
500 grams of natural yogurt ½ cup of frozen strawberries 2 frozen bananas 6 strawberries ½ cup of peaches 3 tablespoons of honey
Preparation:
To start, in a blender pour the frozen strawberries and bananas along with yogurt. Add the honey and turn on the blender until you get a homogeneous mixture. Next, chop fresh strawberries and peaches into small pieces.
Add to the mixture and stir with a spoon to integrate everything.
Take to the freezer for 4 or 5 hours.
Serve in an ice cream cone for even more fun.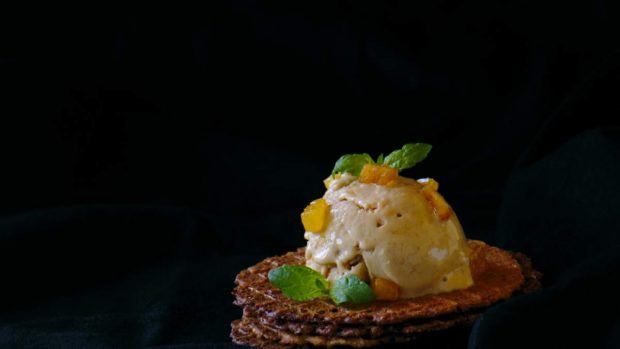 The whole family will thank you for this dessert! It is healthy, delicious and, above all, refreshing. Yogurt ice cream with pieces of summer fruit is the perfect excuse to pamper the little ones while taking advantage of the summer heat.
#Yogurt #ice #cream #pieces #summer #fruit

Source