At the FIM, Yamaha homologated a new R1 with a new frame number for 2023.
It appears in an unusual place, the new R1 from Yamaha. Namely in a new list of the FIM (Fédération Internationale de Motocyclisme) of approved competition motorcycles for motocross and dual sport in the version from June 15th, 2022. Unfortunately without pictures, but we are pleased with the photo show of the current R1.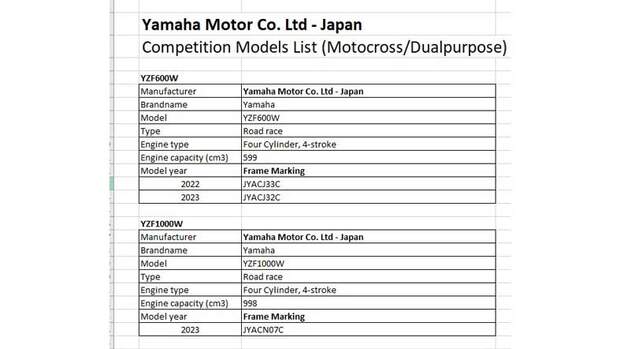 FIM
New R1 for 2023?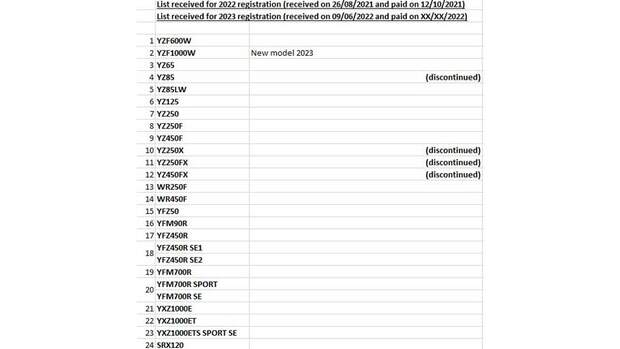 FIM
As the YZF1000W, the R1 is listed there as a new model that is only listed for the 2023 model year. Another indication of an all-new R1 from Yamaha for next year is a new frame number: JYACN07C. According to Yamaha's VIN key, JYA naturally marks the manufacturer, the first C only appears for competition models. Street sports motorcycles would have an R here. An N following the C frames a possible cubic capacity between 751 and 1,000 cubic meters. The 07 usually stands for the engine generation and also indicates a new engine for the R1, which is still 998 cc.
opinion poll
Yes, the class needs to be more open.
No, super athletes are 600 four-cylinder – basta.
read more
Conclusion
Yamaha has homologated a new R1 for 2023 at the FIM, indicating a completely new model for 2023. Evidence of this is a completely new chassis and engine number. It would be time for a new R1. The current RN65 is still based on the R49 from 2017.
#Yamaha #YZFR1 #Yamaha #brings

Source