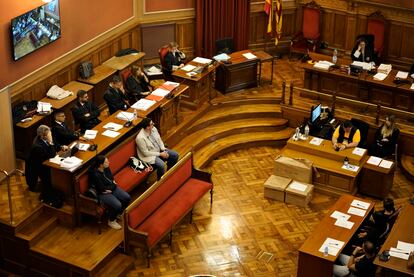 Alba and Ismael, on the bench of the accused. Gianluca Battista
In the trial for the parricide of Vilanova i la Geltrú (Barcelona), the great unknown is still up in the air: was Alba able to manipulate her friend Isma to the point of convincing him to kill her father? The popular jury must still listen to many people, including Mossos d'Esquadra investigators and psychiatric experts, before answering that question. This Friday, however, the nine citizens who decide on a crime by unpublished induction have been able to reconstruct, through the voices of various witnesses, part of Alba's biography and the network of "lies" that he wove, not only around Isma, but also couples, ex-partners and friends.
Joaquín P. dated Alba for a few months, when they were both still minors. The witness enters the hearing room wearing a tracksuit and fluorescent shoes. He is nervous, he doesn't express himself very well and it shows that he is uncomfortable because he wants to turn the page. "I want to get away from this and not know anything else in my fucking life," he says. Alba, from the dock, laughs condescendingly. Joaquín met her through a dating app in 2016. It was her first romantic relationship. And he fell in love. He soon dropped out of school and became estranged from his best friend. "Alba told me that my friend, who was like a brother to me, wanted something with her. I reproached him, he denied it and we cut off the friendship.
Shortly after leaving, Alba told him that she was pregnant and sent him photos of an ultrasound. "The pregnancy… Well, the supposed pregnancy [hace el gesto de las comillas con las manos] It was interrupted… She decided to abort and that's it". Joaquín explains that Alba liked to go out and spend, leading a life rhythm "unbecoming of a 16-year-old person". Also, since she had no money, she paid for it. "It is not normal for a person to always pay, no matter how close a friend, cousin or partner they are." "Do you think Alba manipulated you?" Asked the defendant's lawyer. "In some things, yes."
"A very short time after" Alba ended the relationship, according to the witness, she started dating another boy: Adri. Here the story is taken up by Verónica, a witness who coincided with the accused in an aesthetic course. Verónica listened carefully to Alba's intense sentimental life: she left Adri to go out with Arnau, who was the person who put her in contact with Isma, the perpetrator of the Vilanova crime on June 8, 2019. The thesis of the Prosecutor's Office is that the young woman manipulated Isma at will to obtain money from her parents – the boy came to deposit some 7,500 euros in her accounts – and, finally, when the family turned off the tap, she convinced him that her father was part of a mafia group. Alba even created a fictitious girlfriend for Isma, named Júlia, and made her deliver sperm to get her pregnant with twins.
The false pregnancy seems to be a constant in Alba's life. In March 2019, she met her current partner, Adam, and the defendant soon told Veronica that she had become pregnant with him. It was all a lie. The witness explained, quite naturally, that she was aware of the falsity of these and other stories. Once, she has recalled, Alba told her that she had collected 3,000 euros from her insurance two days after suffering a traffic accident. "She'll explain to me how she did it… I had been getting my cervicals fixed for three months due to another accident, and nothing… I thought to myself: 'I believe you as a friend, but… I don't believe you."
Judith, Alba's old friend who has also testified as a witness, assures that Alba confessed that the pregnancy with Adam was a lie. Cristian, a boy with whom he also had a short-lived relationship when they were minors, explained that Alba resumed contact with him in February 2019. "He wanted to introduce me to a friend of his: Júlia. We started chatting and I went to Vilanova to meet her one night, for carnival. Neither of them showed up." Alba then worked as a clerk in a Clarel chain store. But she told the owner of a flat in Calafell that she rented when she went to live with Adam that she was the supervisor of various establishments. "I told him: 'As young as you are, you have a very good job. She told me yes because the owners were friends of her parents and they trusted her".
In defense of Dawn
The favorable counterpoint to Alba's interests was provided by her current boyfriend and her mother. Adam has reinforced the thesis that the defendant expressed the day before, when he assured that Isma's relationship with her father, Manuel Molina —the victim of the crime— was not good. "More than once [Isma] He had told me that he didn't get along with his father because he wouldn't let him see his grandfather." Adam lived with him in the house in Calafell, just a month, but he criticized him for not contributing financially despite the fact that, according to the Prosecutor's Office, he had put up the bail money and had paid the first month's rent. "I told him that I couldn't support him too…" "Him too", stressed the prosecutor Teresa Yoldi, in an attempt to demonstrate to the popular jury that it is a habitual strategy for Alba to use her relationships to cover her expenses .
"She is affectionate, but mentally she is not as mature as other people her age, she is quite childish," Adam has said about Alba's personality. Part of her defense strategy is to show that she is incapable of manipulating other people, among other things because she does not have the necessary intelligence. Her mother, Susana, has also walked that path. "If something has happened to her, it is always that everyone has cheated on her. She is 22 years old and she does not know how to cut a piece of melon or watermelon. She is a girl who always needs help."
The mother met Júlia's character through WhatsApp and, as she was supposedly a wealthy girl, she came to ask her for a loan. "I was going through a personal problem. She told me that she was going to give me 10,000 euros. But the money never came", says Susana, who assures that she never suspected that Júlia was a fictional character that her daughter brought to life. The Prosecutor's Office maintains that Alba – for which she is asking for more than 34 years in prison – used Júlia to strengthen her ascendancy over Isma and manipulate him at her whim. Her mother did not know anything either, she assures, of the secret group in collaboration with the Mossos to which Isma had enthusiastically joined, invited by Alba. "If she had known, do you think she would not have put a stop to it?"