A huge anthurium flower in the center, the same one that the attendees received as an invitation, served as the only decoration of the Loewe parade. "I am fascinated by the anthurium because, although it is a product of nature, it looks like a design object," said Jonathan Anderson after his parade at Paris Fashion Week this Friday. That idea, that of the intersection between the human and the natural and between the organic and the technological, has been obsessing the Northern Irish designer for some time, who already in his men's show for next spring proposed garments in which grass literally grew (created in collaboration with Paula Ulargui).
On this occasion, this obsession materialized in the tension between the rational and the natural: "I was interested in reflecting on what happens when the everyday changes dimension or texture," he explained. That's why dresses and jackets are shortened almost to a minimum, pants seem to be padded, sweatshirts are pixelated, shoes seem to swell and certain garments are left half-draped, as if they were missing the final stitch. Anderson has spent several seasons exploring new silhouettes through surrealism: his dresses have incorporated metallic armor, geometric hoop skirts and have even given shelter to the chassis of a car. This collection for the next primevra, more visually contained, continues to redound to the designer's quest to understand what happens when the classic silhouette, everyday clothes, technology and everyday objects, decorative or not, interact dismantling what is expected of fashion itself.
One of Jonathan Anderson's 'pixelated' garments for Loewe's spring/summer 2023 collection. TERESA SUAREZ (EFE)
The fusion of opposites and, above all, the (disastrous) action of the human over the natural have also been the issues raised by some of the parades seen in recent days in the French capital. Issues such as sustainability or cultural appropriation have been leading the discourse of the fashion industry for a long time, so much so that they sometimes sound like wild cards or empty concepts. Some of the Parisian proposals, however, have found new and alternative ways of approaching the issue.
Apparently, the collection that Gabriela Hearst showed at Chloé had little to do with her usual aesthetic, which usually mixes nods to Andean folklore with innovation in recycled fabrics. On Thursday in the Vendôme pavilion, decorated with light effects, the Uruguayan designer presented a much more industrial proposal, with white, black, metal and geometry as protagonists. She made sense. Hearts was not only inspired by a topic as apparently alien to this world as fusion energy, for months he has visited the headquarters of ITER and Helion, two projects (the first public and the second private) that work to implement this type of large-scale energy. "It is hopeful, because by reproducing the functioning of this natural resource, which moves the planet, we can alleviate the lack of other energies", commented the designer. In addition to this utopian discourse of the future, which is not likely to guide too many purchase choices by its clientele, Hearst raises facts that should work as a criterion: the entire collection is absolutely clean, based on recycled and/or free materials. of water and pesticides.
Chloé presented a more industrial proposal on Thursday, with white, black, metal and geometry as protagonists.Vianney Le Caer (Vianney Le Caer/Invision/AP)
"We are not yet completely sustainable, but in two or three seasons we will achieve it", Olivier Rousteing, artistic director of Balmain, was honest in the first-person note that preceded his parade, or rather, his festival: this is the It is the third time that he has decided to open his show to the public, no less than in a football stadium, and donate the profits from the ticket to RED, the world organization that fights against the ravages of covid and HIV. "I don't believe in fashion as something separate from the world, I get inspiration from the street and I'm interested in being in contact with the public," he said in a recent interview with SMODA. Rousteing presented last Wednesday his three main lines (man, woman and sewing) under the same common thread: the Renaissance. "After this year of heat waves and other natural catastrophes, it is difficult not to be pessimistic, but I believe in rebirth, that is why this historical period, which was also a new starting point, is my way of looking for hope," he said. the designer in the notes, where he also pointed out that he had gone back to his old textbooks to converge his maximalist and sensual aesthetics with patterns and details typical of the fourteenth and fifteenth centuries. His idea, much more sui generis than that of Gabriela Hearst, although infinitely more viral (due to the massive format of the show and because Cher herself closed it), however, also had realistic elements, such as fabrics without water, cotton entirely organic or recycled denim.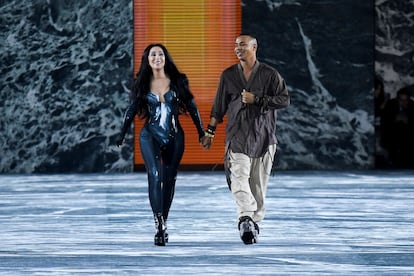 Designer Olivier Rousteing went for maximalism in an ode to rebirth for Balmain. Proof of this was the closing of his show, with Cher as the guest of honor. JULIEN DE ROSA (AFP)
"We live in surreal times, so it is strange but at the same time comforting to return to surrealism, because it serves to reflect reality, but also to escape from it", said Daniel Roseberry before the presentation of Elsa Schiaparelli's ready-to-wear collection , the woman who made fashion with this artistic movement in the first half of the 20th century, a firm dedicated to irreverent luxury and, consequently, to haute couture. That is why it is interesting to transfer her ideals to the industrial production of dresses with thrown knits, shearling jackets or denim garments created in workshops but embroidered or painted by hand. But industrial here does not mean massive: Schiaparelli's radical aesthetics and its complicated execution process means that only a small handful of garments are marketed in a few points of sale, such as the designer's own salons on Place Vendôme or New York department stores. Bergdorf Goodman.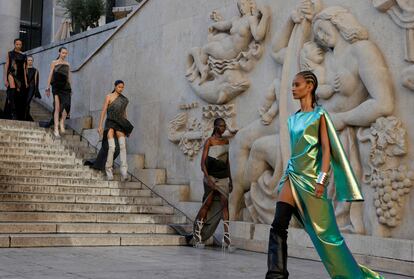 Rick Owens draws inspiration from Egypt for his spring/summer collection, a place where, as he says, "despite wars and disasters, there are always beautiful places that survive."GEOFFROY VAN DER HASSELT (AFP)
When Rick Owens feels melancholic or overwhelmed by the "global situation" he retires to Egypt, "where it seems that time has not advanced", according to the personal notes that accompanied the parade, which has been celebrated historically for years in the esplanade of the Palais de Tokyo. Egypt, its clothing and the female role of that civilization (especially the religious one) have been constant in her work, which this time, however, was much sweeter than on other occasions, if that name can be applied to a designer who has made the intersection between the galactic, the gothic and the religious his hallmark. On this occasion there were colors like fuchsia or light blue, fluid pieces, almost ethereal and even voluminous tulle dresses. All organic or recycled; "But I don't want to praise our efforts because we still have to improve," he said. He preferred to use his favorite place in the world to send a message to himself: "Despite wars and disasters, there are always beautiful places that survive."
It is curious to see how, after a fashion week in Milan that has almost tiptoed through the Italian political situation, in Paris the social climate seems to invade many of the ideas. It is almost the first time that many of the firms involved spontaneously face the question of how they manufacture their products. However, and paradoxically, we are facing the first fashion weeks in years in which the issue of body diversity does not seem to matter to anyone. Except for Paloma Elsesser, the top model who does not wear a size 36, no big brand, neither here nor in the Italian city, seems to have hired non-thin models. What's more, extreme thinness seems to be dangerously common again on the catwalk. As if this industry couldn't solve two of its problems at once. At least society has changed.
Subscribe to continue reading
read without limits