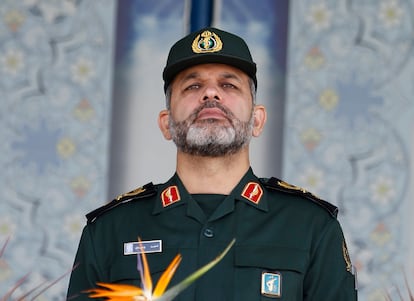 Ahmad Vahidi, Iranian Interior Minister.Vahid Salemi (AP)
The United States has sanctioned Iran's Interior Minister Ahmad Vahidi and Communications Minister Eisa Zarepour for their roles in cracking down on protests in that country against the veil and violence against women.
The Treasury Department has reported in a statement that the two ministers and five senior members of the security forces will be included on its entity list, a blacklist that prohibits US institutions and citizens from doing business with those on it. The punishment comes to them for "removing access to the Internet and for the continued violence against peaceful protesters," the Treasury has indicated.
Wednesday's sanctions are the latest in a series of US government retaliation against Iranian authorities since protests began on September 16 following the death in police custody of 22-year-old Mahsa Amini. The young woman had been arrested by the Moral Police on the grounds that she did not have her hair covered correctly. The authorities assured that Amini had died of a heart attack, the result of a chronic illness. The girl's relatives denounce that her death was due to blows to her head.
On September 22, the Treasury had already sanctioned high-ranking officers of the Morale Police. A day later, the US government authorized tech companies to expand their services in Iran — from cloud access to tools to improve cybersecurity for Iranian users — in response to Tehran's internet shutdown to try to put end to demonstrations.
"The rights to freedom of expression and assembly are vital to guaranteeing individual liberty and dignity," said Under Secretary of the Treasury Brian Nelson. "The United States condemns the Iranian government's internet shutdown, as well as the prolonged violent suppression of peaceful protests, and will not hesitate to attack those who implement and support such measures."
The protests over Mahsa's death, which have now entered their third week, have evolved from large street demonstrations to mobilizations in universities and gestures of defiance, such as publicly removing the hijab, the veil, or cutting one's hair. According to the NGO Iran Human Rights, based in Norway, 92 people have died in the protests and the violent repression of the security forces.
Join EL PAÍS to follow all the news and read without limits.
subscribe
Since last year, the United States has been indirectly dealing with Iran to revive the agreement to limit that country's nuclear program. Agreed during the term of Barack Obama (2009-2017), Donald Trump (2017-2021) canceled it a few months after coming to power. But talks have languished, and the State Department acknowledged in early September that positions had once again drifted apart. The outbreak of protests and the imposition of sanctions have brought the negotiations to a standstill.
Follow all the international information on Facebook and Twitteror in our weekly newsletter.