Raising a son or a daughter costs an average of 672 euros per month in Spain, according to the report The cost of parenting in 2022 by Save the Children, published in June. The figure, which has increased by more than 14% since 2018, is obviously unsustainable for many families in the context of crisis and inflation that we are going through, especially for the most vulnerable.
"In Spain, mothers and fathers do not sleep, because they do not see anywhere the child-rearing aid that is perceived in other European countries. This lack of aid also keeps girls and boys awake at night who cannot go on an outing because the washing machine has broken or cannot go swimming because the electricity bill has risen", explained Almudena Escorial, head of Advocacy Policy of the Childhood Platform, in the presentation on September 5 of the campaign Parenting takes away our sleep, with which they intend to make visible the need for a social and political commitment that lightens the burden of families.
More information
The claim is not new. Children's rights defense organizations have spent years denouncing the lack of investment in policies to protect children and the family in Spain, which, unlike other European countries, only invests 1.3% of GDP, a figure which is well below the European average, situated at 2.3%. Almudena Escorial explains to EL PAÍS that the lack of support for parenting should be one of the great concerns of all of society because children need to grow up in an adequate and dignified context, but also because of the long-term implications it has for any country: "Investing in childhood always has an economic return for everyone. We have to recognize the social value of parenting, and this involves the whole of society, from companies that must facilitate the reconciliation of people with sons and daughters, to administrations, which must guarantee the financial support and services necessary so that families can raise with dignity".
From the Children's Platform, they consider fundamental not only a change of perspective on the part of society and companies towards the needs of families – putting an end to that prevailing individualistic idea of ​​"Your children, your problems" -, but also the creation of universal aid for upbringing. This would have an impact on the fact of being able to make a freer decision when it comes to having children or not having them in a scenario of structural precariousness, and would also help support families' responsibility for care.
Universal benefits for parenting
In the European environment, families in two thirds of the EU countries have universal support for upbringing. According to data from this platform, in Germany, for example, they receive aid of 219 euros per month until their sons and daughters come of age. In Ireland they receive a benefit of 140 euros per month for each son or daughter up to 15 years of age, which can be extended up to 17 in certain cases. In Hungary, 33 euros per month for the first son or daughter, a figure that increases for single-parent families. In Spain, the support given to children is articulated through tax deductions, which leaves out families that do not file income tax returns and who are, paradoxically, the most vulnerable, according to reports.
For this reason, the Childhood Platform insists on the universality of aid as an essential characteristic in the fight against child poverty —a figure that is the highest in the last five years, according to the 2021 Living Conditions Survey—. "Universal benefits have proven to be the most effective in the fight against child poverty in other countries around us, since they have a special impact on prevention. With them, not only those who are already in a situation of poverty or social exclusion are supported, but also people who could find themselves in a situation of exclusion due to lack of income", says the person in charge of Political Incidence of the Childhood Platform.
In addition, universality has other benefits: "Universal benefits eliminate the access barrier that is the bureaucracy faced by people who want to request it, preventing many people from falling by the wayside, as has happened with the Minimum Vital Income . In addition, stigmatization is avoided. On the other hand, they are usually cheaper as they eliminate many management costs of the Administrations. Human rights must be protected and guaranteed with universal policies", adds Escorial, who recalls that having children is a risk factor against poverty in our country.
Beyond 16 weeks
In the search for child welfare, the duration of maternity and paternity leave and its conception as an individual or family right continue to be issues to be addressed in Spain. Children's organizations and others such as the association for the transferability of PETRA Feminist Maternities permits have been calling for years to extend sick leave to at least six months.
In the case of this association, in addition, the inequality implied by the non-transferability of permits is pointed out —taking into account that mothers go through processes that fathers do not go through— and their non-universality. "More than 35% of mothers do not have access to maternity leave. We find unemployed mothers, with precarious jobs or who do not meet the requirements to access the permit. In fact, mothers have access to a lower number of permits and are less paid than fathers due to their higher unemployment rate and their lower salaries. Everyone should have access to maternity leave for the simple fact of being mothers. Therefore, this benefit cannot be conditional on employment," says one of the spokespersons for PETRA Maternidades Feministas.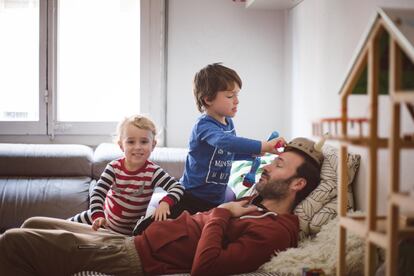 A father plays with his children. getty
Childcare does not end at 16 weeks or five years. Measures such as teleworking and flexible hours are important, but not only: children also need other care when, for example, they get sick. "Beyond offering guarantees to adapt working hours, leave of absence or facilitate teleworking when possible, we need to promote the existence of paid leave to care. In Spain we do not have this possibility, and the regulation of care permits generates a segregating element by income, where only those who can afford to reduce their salary can consider it", argues Ricardo Ibarra, director of the Childhood Platform.
Most European countries have paid parental leave that covers a proportional part of the salary and guarantees a number of days a year for the care of the child up to a certain age. "We need to start addressing these issues, we have come a long way in relation to birth permits for fathers and we need to keep improving for mothers up to six months. Especially in Spain we have to start addressing the need for paid parental leave. It is impossible to care for and reconcile if we do not have something as basic as the security of being able to have time. We know that parenting involves uncertainty in itself, but we need some guarantees and certainties to support us", adds Ibarra.
Both Ibarra and Escorial insist on the need for parenting to be in the public debate in capital letters and not as a minor issue. "One of the things that the pandemic brought is the awareness of Spanish society about the impossibility of caring, and how teleworking is not a possibility or a panacea when it comes to caring at the same time. I think that society is realizing that it is not possible to take care right now if you do not have a personal support network or strong economic conditions. We have to take advantage of the fact that this debate is finally raised to reflect on the solutions, because in the well-being of boys and girls, society as a whole has responsibility", concludes the director of Platform for Children.
You can follow Mamas & Papas on Facebook, Twitter or sign up here to receive our fortnightly newsletter.
Subscribe to continue reading
read without limits