"Javier Marías deserves not to be misplaced", opened the journalist Antonio Lucas. This Friday a tribute to the writer, who died on September 11, was held at the Círculo de Bellas Artes (CBA) in Madrid. Under the leadership of Lucas, many of those who were friends and collaborators of the author of Corazón tan blanco, who also organized the event, with the support of the Penguin Random House publishing group and the CBA, passed through the lectern of the austere stage.
More information
Writers such as Arturo Pérez-Reverte, Luis Antonio de Villena, Eduardo Mendoza or Julia Navarro, the literary agent Maria Lynch, the director of the Royal Spanish Academy Santiago Muñoz Machado, the translators Elide Pittarello or Mercedes López-Ballesteros, the filmmaker Agustín Díaz Yanes or the journalists from EL PAÍS Manuel Jabois and Guillermo Altares, among others, some of them members of the aristocracy of the fictitious kingdom of Redonda, where the remembered writer reigned under the title of Xavier I. "When I met him he was a long-haired young man, English manners, very fond of movies," said Díaz Yanes, "we knew he was going to be an important writer, what we didn't think was that he would be king." De Villena, Duke of Malmundo, composed a sonnet for the late monarch: "Friend of loftiness, of citius, altius, fortius."
Before a full stalls in the Fernando de Rojas hall of the CBA, the actor Javier Portugués read a fragment of Marías's unmistakable prose and each participant had three minutes at the lectern to remember some experience. There was talk of Marías' taste for ghosts, for debates, for soccer, for humor: "Laugh if you know' is the motto of the kingdom of Redonda", as the editor Juan Díaz recalled, "his humor was with a compass, without a map, as he used to say in his novels". The academic Pedro Álvarez de Miranda recalled how some words had entered the dictionary at his proposal, such as Chilean, hat and swimming pool, related to football, or his displeasure with other additions such as escrache, implement, yogurt or position.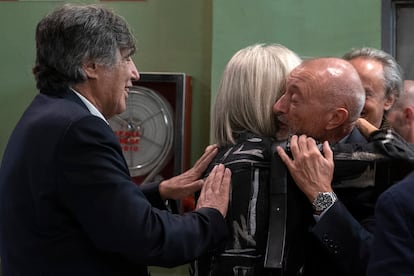 Agustín Díaz Yanes and Arturo Pérez-Reverte greet Elide Pittarello during the tribute to Javier Marías.ANDREA COMAS
The philologist and cultural manager Montse Iglesias recalled her passion for Faulkner, for Conrad, for Sterne, for Nabokov, also for curious objects such as cigarette cases, pill boxes, figures, tin soldiers, or that enormous "knife or machete or saber" that Pérez-Reverte had given. The smell of tobacco, coca-colas, meetings in his house in the Plaza de la Villa full of books and movies. "He was unfairly accused of living in another era, with his back to the youth, of being a misogynist, but none of that was true," said María Lynch, "his phobia of technology, yes." In this regard, the agent told an anecdote: his mobile phone was so old that the American network did not recognize it.
"He was a writer for women, among other things, because the ones who read the most are women," said editor and critic Manuel Rodríguez Rivero, who said he had become something like a "chamberlain" for Marías, the official friend, who many people tried to use as a shortcut to access the writer. They regularly dined "to get things done", to talk about movies, books, to "get colleagues and editors off", and very late, especially in summer, "because he hated having dinner in daylight". Rodríguez Rivero gave details of the meticulousness of his way of working on his already legendary Olimpia electric typewriter: some of his original texts, corrected over and over again, and keeping all the corrections, raised more than half a meter from the I usually.
"His novels are novels of thought, secret tributes to his father," said the Argentine writer Jorge Fernández Díaz, who also recalled the intense relationship of the philosopher Julián Marías, father of the honoree, with the transatlantic country. "The last time we saw each other he told me that he wanted to retire from public life, dedicate himself to reading and writing. I think he wanted to get away from the fools, with his death the fools won the battle," he added.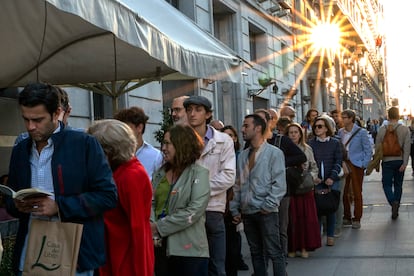 Queue at the doors of the tribute to Javier Marías at the Círculo de Bellas Artes in Madrid. ANDREA COMAS
On Thursdays, Marías and Pérez-Reverte walked through the city center after leaving the RAE and had a hobby of giving each other extraordinary gifts. "Not many know that Marías had a childlike innocence; she was always, until the end, a child who played. He talked little about literature, and a lot about comics and movies, "recalled the writer. That's why he gave her a colt pistol like John Wayne's. From then on he would give her a reproduction of a gun every Christmas. "Watching him play was a charm, I am proud to have played at being a child with Javier Marías", Pérez-Reverte concluded his speech.
Thus, in a choral way, the silhouette of a particular man was delimited, with strange hobbies, a good friend of his friends, a great observer of the world, a sarcastic. "A very polite man with a hat", as defined by the doorman of Julia Navarro, Duchess of the Ships of the Kingdom of Redonda, when she approached her door to leave her a book. Already almost a fictional character, a contemporary mythology, as Marías himself considered the dead writers of his reference.
Marías had presented some of his novels at the Círculo de Bellas Artes. There she participated in debates or events such as the Eñe Festival. She there she rejected the National Prize for Narrative for Los infatuations with her, as journalist Jorge García Calero recalled. One of her iconic portraits, taken by Santi Burgos for this newspaper, shows her arriving at that cultural center just as she used to walk through Madrid, with a cigarette at the ready and her raincoat in the wind. On this occasion, Marías did not attend in corporeal form, but she tried to fill her absence with her memory.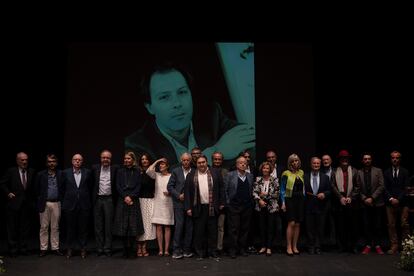 Family photo at the end of the tribute to Javier Marías.ANDREA COMAS
All the culture that goes with you awaits you here.
subscribe
Babelia
The literary news analyzed by our best critics in our weekly newsletter
RECEIVE IT
Subscribe to continue reading
read without limits