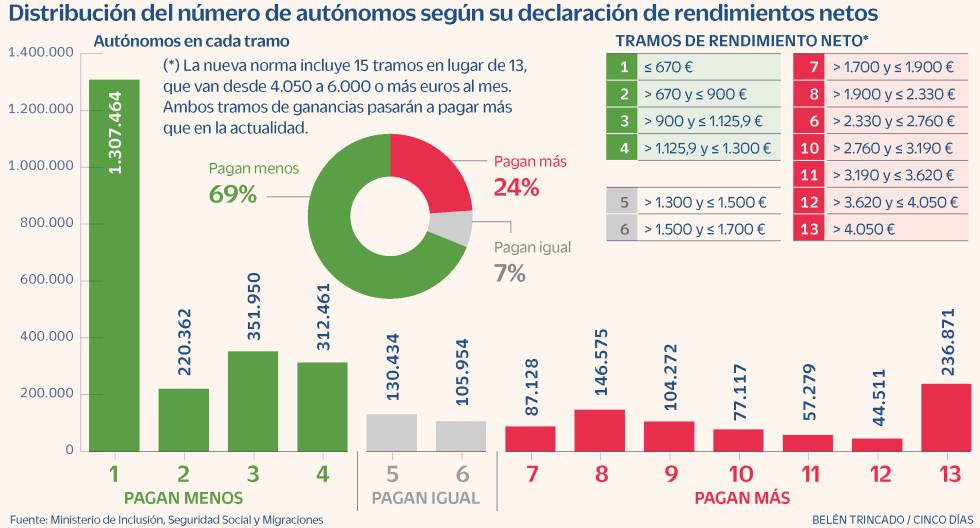 The extraordinary plenary session that the Congress of Deputies will hold today will not only be to give its approval to the energy saving decree, even before moving on to that point on the agenda, the deputies will vote to uphold another important regulation. This is Royal Decree-Law 13/2022, of July 26, which establishes a new contribution system for self-employed or self-employed workers and improves their protection due to cessation of activity.
This new system is the result of long negotiations between the Government, led by the team of the Minister of Inclusion and Social Security, José Luis Escrivá, and the most representative social agents and associations of self-employed workers (ATA, UPTA and Uatae). After months of exchanging papers, calculations and data simulations, they agreed on an important change in the contribution model: from January 1, 2023 the self-employed will no longer be able to choose their contribution base, this is what they contribute to Social Security, and your fee will be set based on your net income statement. Thus they will pay according to what they earn, as wage earners already do. For this, a system has been agreed with 15 tranches of declared profits that will correspond to a certain quota. The fees in 2023 will range from 230 euros to 500 euros and will vary until 2025, depending on the declared net income of self-employed workers.
According to the latest returns declared by these professionals, it is possible to locate how many of them will be in one section or another and, therefore, what fee they will pay. According to the table handled in the negotiations for the change of model, in 2023, approximately 69% of these professionals will pay a fee lower than the current minimum (set at 294 euros per month in 2022). Specifically, those who earn less than 670 euros net will pay 230 euros per month; those who earn between 670 and 1,125.9 euros per month will pay a fee of between 260 and 275 euros and those who reach 1,300 euros will pay 291 euros. These groups will be followed by another 7% of the self-employed (some 236,388 workers) who will continue to pay a fee similar to the current one: they will be those with net income of between 1,300 and 1,700 euros per month, whose rate will be 294 euros per month. Adding these two groups, the self-employed who will pay the same or less next year add up to 76%, or what is the same three out of four. Among them, there are some 400,000 self-employed companies who earn less than the minimum interprofessional salary.
The remaining quarter, which is made up of just over 753,000 self-employed workers with net income of more than 1,700 euros, will see their quota raised (if they contributed to the minimum to date) between 310 and 500 euros in 2023. All these quotas they will change until the year 2025 when they will oscillate, with these same 15 sections, between 200 and 590 euros per month. Although this is only a first phase of the new model. The Government and the social agents must agree on a new rate path for the 2026-2031 period. The self-employed will be able to change sections every two months, with a total of six changes per year, to adapt their contribution to the income forecast for their activity at each time of the year.
The PP will vote in favor but will request processing as a law
The Government is guaranteed that it will carry out this reform today after the PP announced yesterday that they will support the approval of the decree with their 86 votes. However, the popular ones will demand that it be processed as a bill to introduce modifications and, specifically, stop the increase in the flat rate to 80 euros per month for the new ones. Although sources familiar with parliamentary dynamics assured yesterday that, almost certainly, and because the decree will come into force on January 1, the deadlines for submitting amendments could be lengthened so that the changes do not arrive in this legislature. This reform is one of those required by Brussels to pay European funds and, therefore, the Commission must analyze its impact on Social Security accounts to approve the next payment.