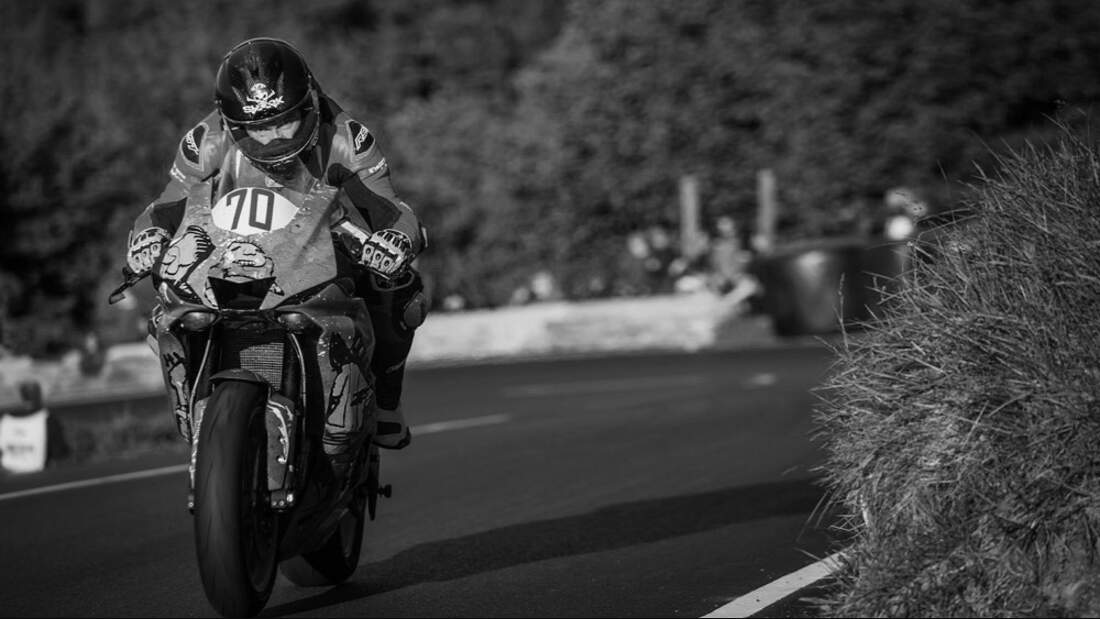 Mark Purslow, César Chanel and Davy Morgan died in accidents at the 2022 Isle of Man TT Races.
From May 29th to June 10th 2022 the Tourist Trophy took place on the Isle of Man, in short: Isle of Man TT. The motorcycle street race is considered not only the oldest, but also probably the most dangerous in the world. At least 260 racers have died on the course since it began in 1911. Three of them in 2022: Mark Purslow, Cesar Chanel and Davy Morgan.
Mark Purslow
Mark Purslow was from Llanon, a village in Ceredigion, Wales. In the fourth qualifying race of this year's TT, he died in an accident. The accident happened in Ballagarey before the fourth kilometer mark. Purslow was on his third practice lap.
It was the Welshman's second TT appearance. In 2015 he rode the TT Mountain Course at the 2015 Manx Grand Prix where he won the Lightweight Race on his debut. In 2017 he took part in the Isle of Man TT and competed in the Supersport and Lightweight classes. According to the TT promoters, Mark Purslow was also a veteran Classic racer, having competed in the Classic TT in 2016, 2018 and 2019. His best finish was 14th at the Junior Classic TT 2019. Mark had previously clocked his fastest lap at 120.86 mph (194.51 kilometers per hour) on the TT Mountain Course, his first lap at over 120 mph ( more than 193 km/h).
Cesar Chanel
First it was said: Olivier Lavorel, 35, from Sillingy, France, would have died in a serious accident during the first sidecar race of the Isle of Man TT Races 2022. The accident happened on the first lap of the race at Ago's Leap, just under a mile into the track. Olivier took part in his first TT race as a co-driver for César Chanel. César was rushed to Noble's Hospital and flown to Aintree Hospital in critical condition. However, the organizers of the Tourist Trophy later made it clear that there was a mix-up when identifying the two drivers and corrected it: driver César Chanel died in the accident. Lavorel, who was first mistakenly declared dead, is in hospital with serious injuries.
Olivier and César were both newcomers to the Isle of Man TT races and were promoted from car number 39 to car number 21 after qualifying as the 15th fastest pair and posting an impressive lap speed of 108.420 mph (174.5 km/h). h) had achieved. Olivier and César were an experienced pair, having already racked up numerous wins and podiums in the French F1 and F2 national sidecar championships.
Davy Morgan
Davy Morgan, one of the most experienced riders on the Isle of Man TT grid, lost his life after a crash on the third and final lap of Monster Energy Supersport Race 1 at the Mountain Course. 52-year-old Morgan contested his 80th race on the Isle of Man on June 6, having competed there for the first time in 2002. His distinctive pink helmet was a staple at every annual UK road race. He has competed in hundreds of races: Manx Grand Prix, Classic TT, Southern 100, North West 200, Ulster Grand Prix, Macau Grand Prix, Oliver's Mount, etc. and has had numerous podiums and race wins throughout his career.
Davy had considered retiring from the sport for the past few years, but the hiatus imposed by the pandemic measures showed him what life without racing would be like. In 2020 he said: "The absence from racing has given me the opportunity to reflect on what motorcycle racing means to me. That's why I don't want to retire from this sport just yet, which has been a big part of my life for the last 27 years. I had the chance to see what my life would be like without motorcycles and I'm glad for that because if I had decided to quit I would have regretted it!"
The Isle of Man TT Races extend their deepest condolences to the families, friends and loved ones. The entire MOTORRAD editorial team agrees.
#fatalities #Isle #Man #Tragic #mixup #Olivier #Lavorel #lives

Source