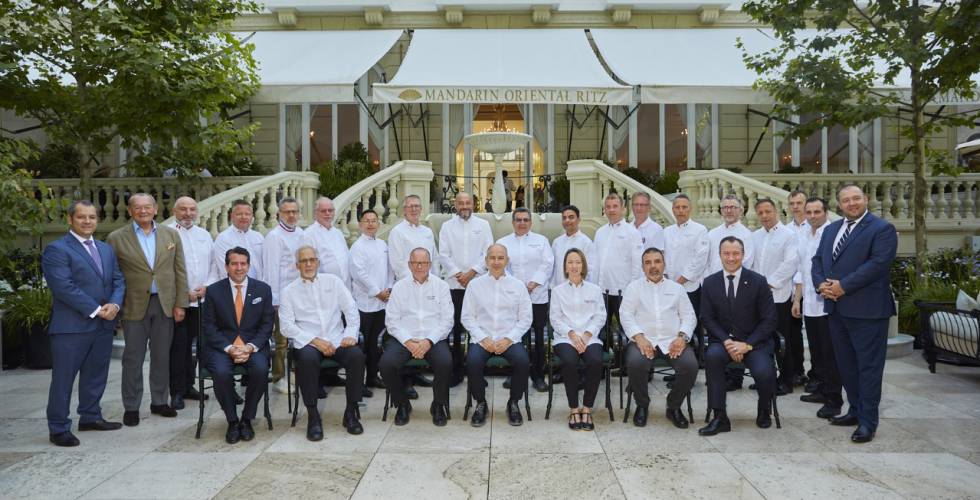 To queen of england likes foie gras, dish that does not excite his son Prince Charles; Nicolas Sarkozy hated after-meals in the Elysée Palace, so eliminated the cheeses of official meals, a custom that was recovered by his successor in office, the socialist François Hollande; Angela Merkel used to eat traditional cuisine, while Olaf Scholz prefers legumes, although he has to make room for vegetables, since he governs in coalition with the greens.
These are some of the confidences revealed on Tuesday by Gilles Bragard, founder and general secretary of Chefs des Chefs, a gastronomic and philanthropic club that brings together 25 chefs of heads of state and government – ​​only two are women, Elmarie Pretorius, chef de cuisine to the President of South Africa y Cristeta Comerford, kitchen manager for the President of the United States–, who have met –19 of them– in Spain to hold their annual meeting and offer a dinner at the Mandarin Oriental Ritz, whose proceeds will go to the NGO World Central Kitchen (WCK), directed by José Andrés and whose funds are destined to the victims of different humanitarian, climatic and community crises.
The menu offered, at 350 euros per place setting (wines included), begins with a dish designed by chef Fabrice Desvingnes, chef to the President of the French Republic, duck foie gras with candied lemon, peach infused with verbena and almonds, followed by organic shrimp from Madagascar and saffron rockfish geleé, designed by Christian García, president of Le Club Chefs des Chefs and chef with 35 years of service to the Grimaldi family in Monaco; as a main course, crispy Bresse poultry supreme with crustacean juice, corn and young carrot, at the hands of the chef of the royal family of the Netherlands, Willem Pieter Van Dreumel; followed by a selection of cheeses from Mantequerías Arias, sponsor of the dinner, which give way to the Komana dessert, a creamy Valrhona chocolate, roasted pineapple and sponge cake with foam and crunchy coconut, designed by the head chef of the Palacio de la Moncloa , Jose Rock.
It's a mighty club: feed those who rule the world. Most of them have signed a confidentiality agreement. Any slip can have repercussions. "We are not authorized to say which is anyone's favorite dish, the heads of state and government like everything," says Bragard. On one occasion it transpired that Jacques Chirac liked veal's head, and when he traveled somewhere he was always offered this stew.
On another occasion, George Bush Sr. confessed that he did not like broccoli, neither as a child, nor as an adult, nor as president of the United States. What he got is broccoli growers demonstrated in front of the White House calling for him to recant.
What has changed is the taste and preferences when it comes to eating in the palaces of the rulers. "Now everything is lighter in fat, although if one day you have to add the rest to make a powerful recipe, it becomes an extra", explains Roca, who started working in Moncloa at the age of 18 and He has been feeding the different presidents of the Spanish democracy for 44 years.
He ensures that every week he makes a menu proposal, "which I send upstairs for approval", and that he always follows two premises, that the recipes are healthy and that the products are local.
In the choice of dishes, where there are always salads and more fish than meat, he confesses that the wives of the presidents of the Government play an important role. "They suggest many recipes and we work in collaboration," explains Roca, satisfied with his career at Moncloa, which he defines as one of the "most rewarding jobs there is because we also work in a very good team environment." He only reveals that President Pedro Sánchez, who received this group of chefs the day before, gets up very earlyand that from 6 in the morning there is always someone in the kitchen –there are six cooks– to start preparing the breakfasts, which "are usually frugal".
The work of these cooks, says Bragard, influences political life, they exercise what he calls the "gastrodiplomacy". He defends the role they play as ambassadors of the gastronomy of their country, "we are the guardians of the culinary traditions of each country". And he adds that fusion cuisine equals confusion. "What we do is help the heads of state and government in diplomacy, if politics divides men, cooking unites them". The third mission of this group is to ensure the health of their bosses, "offering a light and healthy cuisine."
And let no one forget, repeats Bragard, that "The heads of state and government pass, but the chefs stay."