For many people, spending extra money for a kneading machine and dealing with it when making desserts can be too complicated. However, they can start with cheaper accessories that will help them in the preparation of many baking recipes. We refer to the so-called rod mixers. Compact in size, they are lightweight and ergonomic. In this article, we highlight the cheapest model in the Bosch catalog, available for less than 40 euros.
It is a product for sale on the website of the German firm and with the highest possible rating given by users who have already tried it: 5 out of 5 stars. It is sold in an elegant white color. Its shipment and return are free, and the estimated time of receipt of the package at home, once purchased, will not exceed 72 hours.
As if that were not enough, Bosch offers the option of wrapping the order as a gift at no cost. Knowing all these advantages, what features does this Bosch hand mixer have? Keep reading.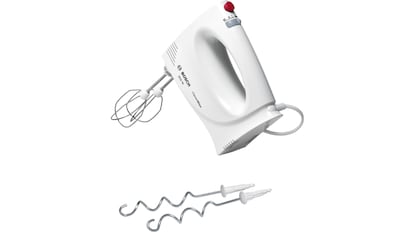 Four speeds and turbo function
The CleverMixx cake mixer has a maximum power of 350 watts. Enough to achieve optimal results thanks to a settled mixture and lump-free and well-ground foods. "Perfect and complete. It makes you work very simple, saving a lot of time in the elaboration. It occupies very little space", indicates a user.
In fact, the four sections into which the functions of this kitchenware accessory are divided collect (all) the best evaluation of its customers: both in efficiency, ease of use, speed and, of course, cleanliness. In addition, its four speeds -in addition to the turbo option- complete its mode of use. This action is executed through a lateral selector that moves with just one finger. Comfort is more than guaranteed!
All this without forgetting the famous Pulse option. With it, we will vary the intensity with short or long touches with which we will leave the mixtures to the point that we want at each moment. Preparations such as pastry cream, whipping egg whites or any sauce or jam will not have any difficulty if we use this Bosch rod mixer.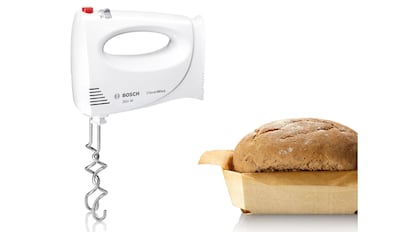 A single button to remove accessories and ergonomic handle
We have already discussed how compact in size these products usually are. In the case of the CleverMixx pastry blender, its weight does not exceed 900 grams, and its light body allows absolute control of hand movements, without generating fatigue. This, together with the handle with a resistant plastic coating, makes it a very long-lasting product in the kitchen.
As for its versatility, it should be noted that by simply pressing a button, we will be able to mount or dismount the accessories. We have two rods and two other kneading hooks made of stainless steel. With the latter we will make different doughs with great ease.
Finally, we cannot forget a sound impact of only 75 decibels, a medium-low noise level for a kitchen product like the one we are dealing with. As well as the option of collecting the cable on its base. And, all these features, for only 36.90 euros. In short, the accessory you need to safely start exploring the universe of masonry.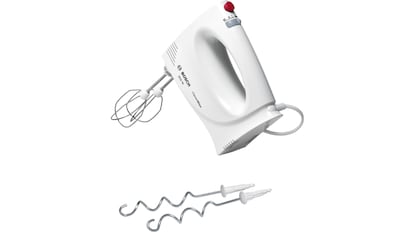 *All purchase prices included in this article are current as of September 7, 2022.
You can follow EL PAÍS ESCAPARATE on Facebook and Instagram, or subscribe to our Newsletter here.