when it seemed that Mauro Icardi and Wanda Nara They ironed out rough edges again and it was even possible to think of a reconciliation, the Argentine striker is once again making people talk on social networks after several private messages that he recently sent to Rocío Galera, a model and psychologist Well known in Argentina for her facet as an influencer.
The Galatasaray striker did not resist her charms and responded to one of her suggestive poses in a thong. They both kept a conversation in which Icardi asked for "privacy", although everything has finally been made public to the chagrin of the striker, who has tried to downplay the matter in his networks.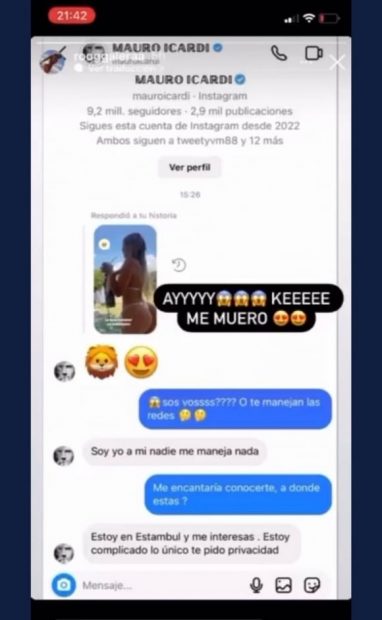 The player reacted to the photo of Rocío Galera with two emojis, one of a lion and the other of a face in love. The girl was very surprised by the message, and the first thing she did was ask him if it was really him or if they were handling the account. "It's me. Nobody handles anything for me », she fired, throwing a stick at Wanda Nara, who until recently had access to her accounts.
The young woman told him that she wanted to meet him, but he reminded her that he was in Istanbul. "You interest me. I'm complicated. The only thing, I ask for privacy »Icardi asked, but Rocío ended up filtering the conversation, which was published by LAM.
When this news broke, Icardi reacted once again denying everything, accusing that it is false, although he did not justify why or how. «I clarify it so that there are no doubts. With this one I also marry in a spiritual rite. Report anything. All fake. I consider that I am for a little more than this. Today anyone becomes famous », he wrote in one of his stories with the news in the background.