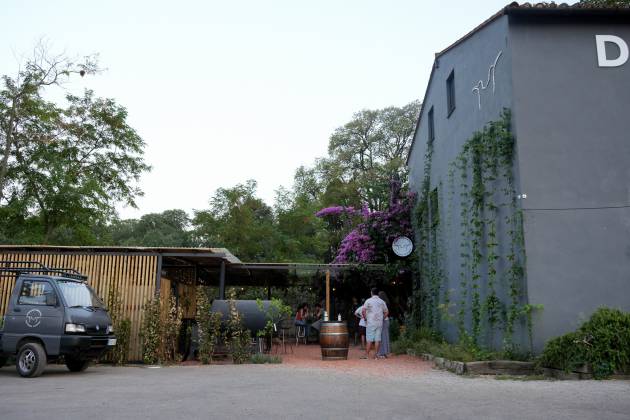 By now you surely know that it is not impossible to find a good terrace on the coast where you can find delicious things to eat and enjoy an exterior that invites you to stay. Trying not to get stabbed for low-quality forage is our mission, and in this case we propose a site that is in what a seventies housing developer would call "second line from the beach". Specifically, in Rupià, a small town in Baix Empordà that will only take about 20 minutes by car if you are at one of the closest beaches (for example, L'Estartit). In addition, its name is a couple of cuckoo animals from New Zealand that are its national symbol: Doskiwis. What more could you want?.
In practice, it is a roadside bar, at the entrance to the town center and surrounded by farmhouses. But you won't find cassette tapes or fritangueo for French foreigners (which can also be fine, but at another time). You immediately realize that the place is different from what can be found nearby, with a hipster touch but well run; like the town, which is freed from the clutches of the promoters for the time being and is still quite intact.
Doskiwis is a craft beer factory with a very pleasant exterior, where you can eat and drink: to the matter of what you can put down your throat, Judit Piñol, co-founder, qualifies the beers that she brews on site with her couple of "modern and accessible". Don't be scared if you don't like innovations. They have styles for all tastes: there is ipa, pale ale, sour and pilsner. If there is one to highlight, the Rupianum, an Empordà ale made with organic Catalan malt and local hops from Girona. "Also our hazy ipas -cloudy- and pale ales are very surprising due to their fruity and citric characteristics", adds Judit on the other end of the phone. To top it off, they have a beer with only 3% alcohol called Mini Truck.
In general, it is appreciated and it is noted that everything they have is made or done by them and, despite making you believe at times that you are in a cool campsite, they always use local products with no pretense other than to take advantage of and network with the Setting: The food is street style and unpretentious, but with a clear intention of quality.
They usually have about three different burgers on the menu. One of them, vegetarian; another of Empordà-style wagyu beef that literally raises a neighbor five minutes away and the third of pulled pork -pork cooked at low temperature and frayed- from Llavora, an also close brand of organic pork that they cook for nine hours, nothing more and nothing less. The culmination of the circular economy is that the pigs of the brand are fed with bagasse, which is left over from the malt after making the beer.
Another of the jewels on the menu are the pork ribs, which they make on the barbecue they built themselves with a gas tank and a stove. And also an exotic fusion game: kid curry, which is also organic and firefighting grazing in the area. "Our chef, Jeet, is from India and we have access to interesting dishes that are not as common in our area," he explains. They also make pakoras, a starter based on fried vegetables and sauces to accompany: although everything sounds very carnivorous, there is also a vegetable presence with good salads, with Judit's special predilection for the quinoa one, which she fervently defends that it can be eaten every day.
The history of the site is recent. Judit and Michael started in 2016. It was in that year, after meeting in London some time before and touring Australia, that they decided to make the leap to import a model that they had already seen in those distant places. There they had learned the technique of beer, because neither of them came from the world of gastronomy, but from something as far away or as close -depending on how you look at it- from the things of eating such as fashion.
First they started at home and then they found the current premises that are at kilometer 22 of the Parlavà highway (GI-642). The easiest way to get there is by car, but the nearest train station is only 5.6 kilometers away, in Flaçà, in case anyone dares on a bike or on foot. Another of the cute things that the couple has thought of is to offer routes on their website to walk from the site that customers have suggested, in case you want to download the food.
They say that their idea was to have their own craft beer factory, but then they thought they would like to invite people to have a snack with the beers, and they got down to it. Each contributing their own, they began in 2019 to incorporate food by inviting food trucks from the area, and a year later making it themselves. There is an added value on the site, which is the space: in the original building, an old store, they have the brewery with a quarter dedicated to the taps (they also sell their beer in bars and shops). To this they added a cargo container that they fixed themselves and today they continue to improve, and they are already on the second one that also serves as a cold room.
The set leaves between them a couple of open-air spaces that attract attention for their excessive voltage of pleasantness and for having the virtue of transporting you to a cooler environment than that frequented by the Mediterranean. "The garden is not manicured, it's a bit wild and, sometimes, you say: oysters that's bad!, but it's very authentic. In the end, we are opening the doors of our house, which is not always good" she explains, the sea of ​​​​natural. There are actually two terraces, one in a smaller garden that they reserve and the other with wooden picnic tables: wherever you go, the pleasant atmosphere is guaranteed.
The Container DosKiwisBrewing: Carretera de Parlavà, GI-642, 22, 17131 Rupià, Girona. Tel. 623 192 815. Map. Open from Wednesday to Monday from 18:00 to 00:00; kitchen from 7:00 p.m. to 10:30 p.m.
Three plans for before or after
CHILLS: La Carnisseria-Xarcuteria Ferran is a family business specializing in several of the quintessential Catalan cured meats: bull and pa de fetge (liver bread) that they make by innovating and using imagination along with other fillings and terrines, chicken and other fancy goods.
CERAMICS: One of the usual plans in the area is to go buy ceramics in Bisbal de l'Empordà, the capital of the region. Along the path that dissects the town there are several places to choose from: Cerámica Bosch is great for finding cute little things for the kitchen.
SWEET: Since you're in La Bisbal, maybe you want to stop by for a little sweet for coffee. In La Bisbal, as in many places, there is an atmosphere of rivalry between two historic pastry shops. At Massot they bet on a classic of old-fashioned confectionery where they exist: the Russian cake. Its antagonist, the bisbalenc – made of puff pastry and stuffed with angel hair – is not far behind, but the Rus here dazzles.