The second vice president of the socialist Ximo Puig in the Generalitat Valenciana Hector Illueca (Podemos) has starred in a video posted on their social networks paul churches and that Illueca himself has shared in which the also candidate for the Primaries of United We Can to lead the list for the Generalitat, reacts to the appearance of an inopportune fly with a string of blasphemies and expletives: «Damn, man. I shit on God and on the fucking virgin already from the egg fly», Illueca is heard saying as he moves his arms to try to scare her away.
The reaction of Pablo Iglesias has been to post the aforementioned video on his twitter profile along with the following comment: «If after this video you don't fall in love with Héctor Illueca, who may be Podem's candidate for the Generalitat Valenciana, it's because you don't have a heart», followed by an ellipsis and 6 emoticons that represent faces crying with laughter.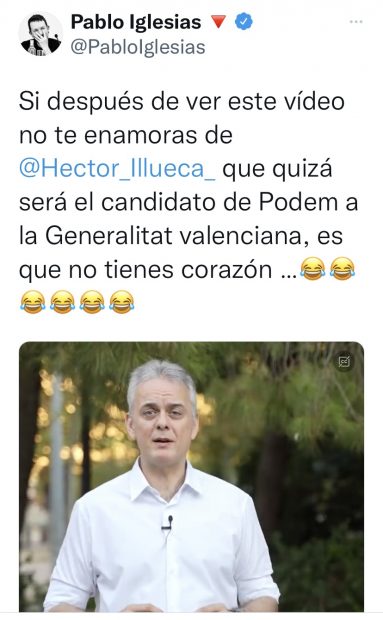 The video has already caused nearly 700 comments from all the tenors in the profile of Pablo Iglesias and about a hundred in that of Héctor Illueca. The image begins with the latter launching a message about the European Central Bank, which he fails to specify when an annoying fly appears on the scene, which interrupts him, while Illueca tries to scare it away with his hands. That's when he says, "Fuck, man. I shit on God and on the fucking Virgin already from the fly of the eggs». It's only 7 seconds in which he launches all the expletives.
Héctor Illueca announced yesterday his intention to attend the Primaries of United We Can in Valencian territory. Also, in a video. In that longer case, in which while attacked the socialists, with whom he currently shares government. Today, her video has been of another type. With a series of unnecessary expressions.