Wear trench coat It is a trend and it is also the most appropriate now that autumn has arrived. A jacket or coat that was born at the end of the 19th century (invented by Thomas Burberry) but that has become essential as temperatures drop and especially for rainy days. If you are looking for the one that is ideal for this season, you cannot miss the one that we are now showing you, Bimba and Lola's trench coat that the posh girls from Madrid will wear and that is thrown at a price.
The trench coat of Bimba and Lola that devastates
With the rains and drop in temperature that we are experiencing Lately, I'm sure you'll like being able to carry a garment that not only sets a trend but is also functional and if we have to recommend one in particular, it is this trench coat from Bimba y Lola which is also now sold with a 30% discount.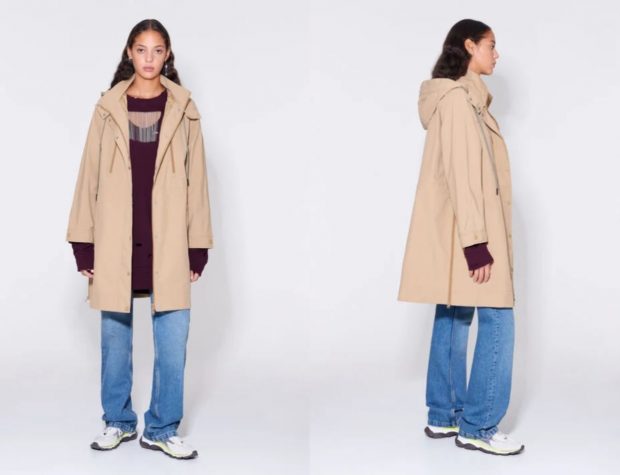 A amazing camel-colored flared trench coat which also has a modern design and that escapes the tradition that Burberry trench coats have always marked.
In this case, we find a trench coat that has been made with 100% recycled polyamide and that thanks to that flared cut that we have mentioned, it allows you to look a much looser style than usual.
As you already know, fashion is betting this fall 2022 on designs in which the oversize and baggy style is a trend. This trench coat fits perfectly to this trend and already you see how well it combines with a sweater or sweatshirt that is long and wide as well as with the loose fit jeans that are currently imposed. As footwear nothing like military style boots or as we see in the image, some sports shoes.
With this look of ten thanks above all to your Bimba y Lola trench coat, you will look "stylish" this season but you can also go warm. The model also has a high neck with a hood, to protect you from the rain and also has two zippers on the sides (plus two large pockets) so you can "open" it up the sides for an even looser look.
If you want to be able to have the trench coat that all the posh girls in Madrid are already loving, nothing like going for it right now. It is discounted on its website and in its stores so that It will only cost you 175 euros (sizes XS-L).