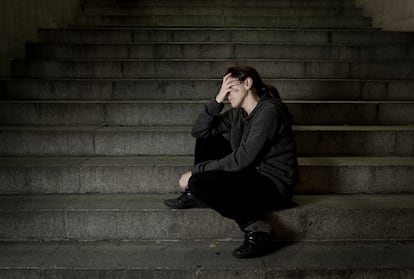 We have heard about loneliness for a long time. Little by little, the idea that this is a problem of our time has been taking shape among citizens. In fact, according to the study of 40dB. for EL PAÍS and Cadena SER that is presented today, almost 8 out of 10 interviewees believe it. The arguments for why this is so —and that we have been collecting in our qualitative research— are varied: it is said that the fast-paced society in which we live, with work rhythms that are sometimes impossible, pushes us not to be as close as possible to we would like from the people we really love; that the new technologies, although they bring us closer to those who are far away, also distance us in our daily lives from those closest to us; that society is becoming more and more selfish as a consequence of a supposed loss of values, each one "goes to his own thing"; And that, as if that were not enough, the terrible pandemic that we have experienced has not only left many people touched and more alone, especially the elderly, but it has also condemned us to work isolated in our homes, behind screens that they have become the only companions. The analysis of the present study shows, however, that although some of these factors may have some relevance, the main causes of the problem of loneliness are others.
First of all, it is important to emphasize that, in the collective imagination, loneliness is associated above all with the elderly, because they are no longer active and have physical deterioration problems. However, as shown in this survey, those who suffer most from loneliness are young people: between the ages of 18 and 24 almost four out of ten say they feel lonely compared to just over one in ten among those over 64 It could be that a part of this high incidence is the product of the greater facility that young people show to talk about what they feel, but the differences are too large to think that there is no specific problem in youth.
22% of the population says they feel alone. The study shows that there are two root causes. On the one hand, loneliness has a lot to do with being uprooted: it is suffered more frequently by those who cut ties with their community of origin, who have lost their job, who are facing a breakup, who have lonely jobs or work unusual hours. . On the other hand, loneliness is also typical of people who are or feel different, as in the novel by Paolo Giordano that gives the title to this article, which tells the story of Mattia and Alice, two loose verses that manage to half meet, he with high capacities and she with anorexia. The survey reveals that, indeed, people with mental health problems, who belong to the LGTBI community (especially transsexuals and asexuals), with some disability or who simply feel, without any diagnosis, are different, are more likely to feel loneliness. either because their environment does not understand them, because they are shy or because they are less sociable.
If uprooting and being or feeling different cause loneliness, it makes sense that young people are the most likely to suffer from it. At these ages, people are still building their sociability networks and many of them still do not have a partner and/or have not started a family. Some will not, but surely the vast majority, with or without a partner, will end up discovering what almost all of us learn sooner or later: that we are social beings and that, as such, we need each other. Young people also suffer more from loneliness because they form the generation that has embraced difference with more determination and courage, daring to live their sexuality freely, to break the molds with which many of them were educated. However, everything indicates that they are paying a price for it: there are not a few who suffer from loneliness for being part of 'the generation of differentiation', of being, in short, prime numbers.
Subscribe to continue reading
Read without limits