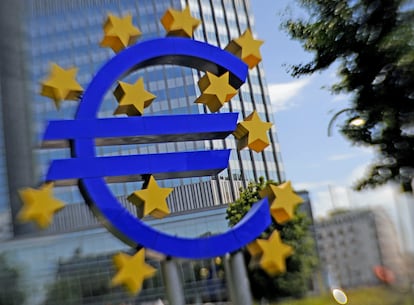 The euro symbol in front of the former headquarters of the European Central Bank in Frankfurt. DPA via Europa Press (DPA via Europa Press)
The change in reference of the Spanish bond with a ten-year maturity that is implemented this Monday, in order to use the last bond issued with this term as a new reference, will have an upward impact on the profitability and risk premium of Spain of about 10 basis points, as warned by the Ministry of Economic Affairs and Digital Transformation. "This change occurs periodically in all countries and is not due to a change in investors' perception of Spanish credit risk, but rather because the reference that will now be used as a 10-year benchmark has a longer term and, in a compulsory way, more in line with a maturity in 10 years", they explained.
In the secondary debt market, the required return on the ten-year Spanish bond increased by 3.28% this Monday, to 2.456%, which placed the differential with respect to the German bund at about 126 basis points. Last Friday, the return on the ten-year Spanish bond was around 2.2%, with a risk premium slightly above 120 basis points.
The Spanish risk premium, the reference used by investors to analyze credit risk in a country, is the third highest in Europe after the Greek (236 basis points) and the Italian (226 points). The Portuguese premium, which has traditionally always been higher than the Spanish, is quoted at 117 basis points.
Following the sharp rise in risk premiums in peripheral countries last month, the European Central Bank promised to speed up work to create an instrument to curb future sovereign debt crises in the euro zone. At the meeting scheduled for Thursday, Frankfurt is expected to announce a 25 basis point interest rate hike – the first in 11 years – and give more details about its commitment to avoid financial fragmentation.
#risk #premium #Spanish #bond #rebound #due #technical #change

Source