The inflation It will not be as temporary a phenomenon as the Government foresees. Although it is true that the rise in prices is a widespread problem throughout Europe, the reality is that in Spain, the return to a more moderate CPI is going to take longer than for the rest of the countries. This is shown by the latest data from the OECD, which show a worrying future: in Spain inflation will drop by only two tenths in 2024, while in other countries it will be reduced to half of what was registered in 2023.
The OECD published this Friday its inflation forecasts for the next two years. By 2023, inflation falls in all economies, including spain: the eurozone average will be 6.2%, a figure lower than that of Almania and Italia, that will register a CPI of 6.7% this year, while in France, inflation will be at 5.5%. At the bottom of the table is Spain, where the CPI forecast for 2023 will drop to 4.2%. However, the bad news for our country comes from the future: while in the rest of the eurozone countries inflation continues this downward trend in 2024, in our country it remains almost unchanged.
Specifically, inflation will be cut in half in the large EU economies, according to OECD data: in Germany it will drop to 3.1% and in France and Italy it will drop to 2.5%. However, in Spain the CPI will stand at 4%, only two tenths lower than that of 2023 and one percentage point higher than the euro area average, which will stand at 3%. In the case of core inflation, Spain also takes the gold medal. While in the rest of the countries, inflation that does not include food and energy will be between 2.5% and 3% in 2024, in our country a higher rate will be reached, specifically 3.7%.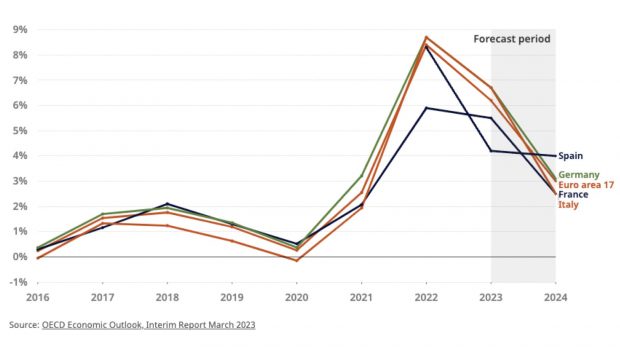 "Inflation is like toothpaste, very easy to get out of the tube, impossible to put it back in once it's out." This phrase from the former president of the United States Federal Reserve, Paul Volcker, It is a reality if you look back. And it is that, the last time that inflation exceeded 5% in Spain, it took 14 years for it to fall below 2% again. In recent months, the CPI has surpassed double digits, leaving experts wondering: Is it here to stay?
According to the study, The inflation genie came out of the bottle of Bank of America, He predicts that it could be a long time before things return to normal. The entity's analysts examined cases of inflation in advanced economies that exceeded 5% between the 1980s and 2000s and found that it took an average of 10 years to reduce inflation to 2%. In the case of spainInflation stood at 5.2% in 1980 and it took 14 years to drop to 2%. "History does not repeat itself, but it rhymes. We do not necessarily expect it to take a decade to bring inflation down to the 2% target in advanced economies," the analysts wrote.