Kitchen robots revolutionized the market a few years ago and completely changed the way of cooking, being really a great help in the kitchen, especially for people without much time or knowledge but who still want to enjoy a wide variety of dishes in their day to day to improve their diet. Today we show you the Lidl kitchen robot which is on sale again and which is the most famous after the mythical Thermomix, a robot that runs out every time it goes on sale so run for it if you don't have it yet.
Lidl succeeds with many of the items it puts on the market, and with its kitchen robot it undoubtedly achieved unprecedented success, so much so that Thermomix denounced the German supermarket for alleged plagiarism, but after a tough legal battle it was Lidl who won when it is shown that it is his own system and that, although there are similarities, his kitchen robot is not a plagiarism of the hitherto unstoppable Thermomix.
Lidl's kitchen robot is on sale again
Its about Kitchen robot Monsieur Cuisine Smart, a revolutionary robot with which you can cook and carry out a multitude of tasks thanks to a multifunctional use with which it is capable of frying, cooking, steaming, mixing, kneading, beating, chopping, grinding, crushing, emulsifying and more . On its return to the market, it is priced at €479.99, which is undoubtedly worth paying since you will get a lot out of it daily and for many years.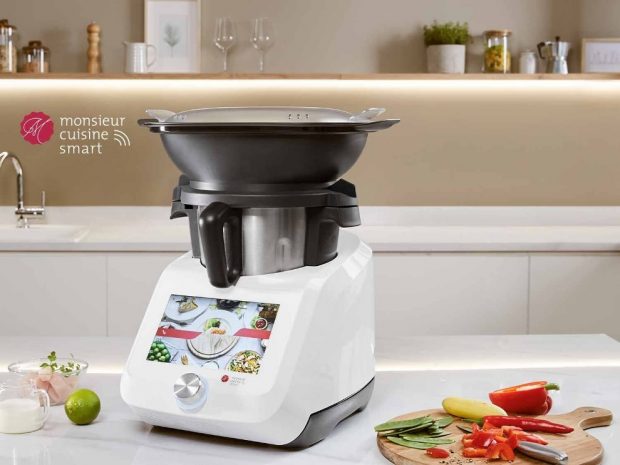 This incredible Lidl kitchen robot has more than 600 pre-installed recipes that you can program to prepare all kinds of dishes in its mixing container, which has a capacity of up to 3 liters. It is an ideal device for preparing practically everything, such as soups, smoothies, sauces, fish, pasta, meat, vegetables, jams, various doughs and much more, with a screen that will guide you through each step to make its use totally comfortable, simple and functional.
Its WiFi function is also very interesting, since with it you can receive monthly updates on your prescriptions at no additional cost. With its innovative system you can even create your own recipes, make a shopping list, plan the diet for the whole week, rate the recipes and much more. Thanks to a comfortable handle on the front, you can operate the robot comfortably with one hand.
By buying this fantastic Lidl kitchen robot You will also enjoy all the accessories included in the sales kitand which are a lid with a filling opening and a measuring cup, a 4.5 l steel mixing container, a blade, a mixing accessory, a steamer with a lid and a flat accessory, a cooking accessory and a spatula with a removable silicone tip.