Paddle surfing is one of the summer sports, fashionable for several years and especially when these months arrive in which the good temperatures mean that any water activity can be enjoyed much more. Today we show you a Decathlon paddle surf pack that is sweeping sales and that you can take now with a discount of almost 100 euros that makes no sense… don't miss out on yours!
Decathlon has in its catalog all the necessary equipment to practice any water sport, and specifically in the case of paddle surfing you will find different boards, accessories and clothing so that any session is totally effective and with the greatest safety so that you can enjoy it to the fullest.
The Decathlon paddle surf pack that will change your summer
Its about Pack (Board, Inflator and Rowing) Inflatable paddle surf, a set prepared by Decathlon for its clientele in which you will find everything you need to practice paddle surfing, as it includes the board, the paddle and a quality pump. This pack was originally priced at €349.99, which now stands at €259.99, a discount of €90 that if you want to encourage yourself to practice this sport, it is certainly a good start.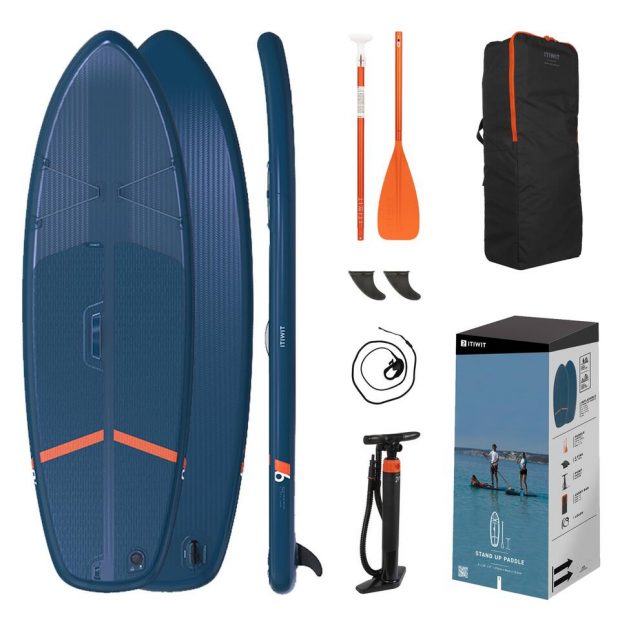 This Decathlon paddle surf pack It is ideal for beginner level and offers an inflatable and light SUP (board) that can be used easily, recommended for people with a maximum weight of 80 kg. With this board you can both walk through the water and surf small waves, and it has measurements of 275x84x13 cm that guarantee optimal stability as long as the maximum recommended weight is not exceeded.
The whole set, being deflated, fits perfectly in a transport bag that is included in the pack, so you can carry it all in one hand, with a total weight of 8.5 kg. The measurements when folded are 95 cm high, 40 cm wide and 22 cm thick. The pack also includes a user manual so that you are clear about how to use each piece and a repair patch in case you get a puncture.
Decathlon offers the following recommendations so that the use of this pack is 100% safe:
Practice with a buoyancy aid vest or belt. Do not exceed 300 meters away from a shelter. Do not use a leash in the river. Whenever you go out on the water, notify someone on land. Find out about the local navigation rules according to the place where you are going to practice.


Source