Almost three years after its pedestrianization by the coalition government of socialists, independentists of Més and Podemos in Palma, led by the mayor Jose Hila (PSIB-PSOE), the central one Velázquez street is currently a commercial desert, with barely half a dozen businesses that have not yet closed their doors, as most locals have done before the no influx of publicthat many merchants already predicted in their day that it was going to happen.
With the large surfaces of the outer ring of the Balearic capital to the fullest of residents, tourists and all kinds of public, with a wide commercial offer and access and parking facilities, not a soul passes through Velázquez street despite its extraordinary location in front of the popular Mercado del Olivar and in the surroundings of the commercial Sindicato street and the Gate of Sant Antoni.
The lack of involvement of the municipal government, which turned to propaganda in December 2019 that ended the works for its pedestrianization, has turned the "new Velázquez street" -as Hila described it- into a wasteland of public and shops. An area where accessibility is almost zero and pedestrian traffic is practically non-existent.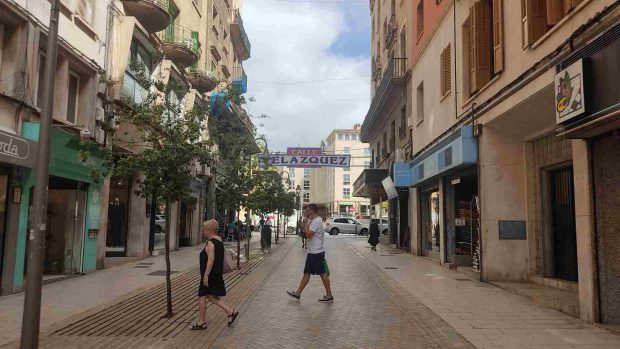 The traffic of pedestrians is scarce in the central Velázquez street.
As indicated by the president of Afedeco, Toni Gayà, "it will take a long time for him to come back to life" because, in addition, it is a matter of working on this street, that it be revitalized, but the City Council pedestrianized it and forgot about it ».
In fact, there are no initiatives in this regard over these three years, but as Gayà underlines, "nothing has been done on almost any street, whether commercial or in neighborhoods."
«The problem with Palma is that it has a lot of dirt, there are works every two by three in important areas. That in the middle of June we have the Sant Miquel-Olmos axis with works is totally shameful. There are no forecasts of anything or that the Plaza Mayor has been like this for four years with the galleries closed. They are more aware of the chair than of actions to revitalize the city»laments a Gayà who places special emphasis on the need to promote the center of Palma to be a large open-air shopping area.
«It would be the largest in Mallorca and by signaling the center of Palma well, you could channel the flow of people to streets where no one passes now, as is the case of Velázquez, because now it has no attraction, nor does the City Council do anything to make it have, because it does not organize anything».
#mayor #Palma #turns #pedestrian #Velázquez #street #commercial #desert #passes

Source