OCINE PREMIUM has recently opened its doors in Porto Pi to provide the best luxury cinema experience on the island. The opening ceremony, which took place this Friday in Porto Pi Centro, began with the cutting of the ribbon by Louis Lazarus, Director of Retail and Logistics at MERLIN Properties, the company that owns the center; the Agustí familyowned by OCINE; Jose Hilamayor of Palma; Ana Lopezmanager of Porto Pi Centro, and Gabriela Santosmanager of OCINE Porto Pi.
José Hila thanked both MERLIN and OCINE for "having opted for Palma as a city to continue improving with a quality product", at the same time that he very positively assessed that Porto Pi continues to renew itself, "since it is a center that He has been with us for many years." Thus, this new exhibition offer in the city, "with rooms, image quality and spectacular seats", will allow citizens enjoy a "premium cinematic experience". «The cinema for me is very important; My first date with my wife was in a cinema and I would like it to continue to be that way », she recalled.
«As soon as you cross the threshold you are immersed in a totally disruptive space from the hall with its bar, its large lamp and its large allegorical cinema graffiti with selfies of Hollywood stars, passing through a red curtain that evokes the essence of cinemas and old theaters, to enter a room different from any other traditional cinema, from its walls, to its fully reclining seats, through its latest technology", he summarized Gabriel TellezGeneral Director of Development, Expansion and Legal Affairs of OCINE.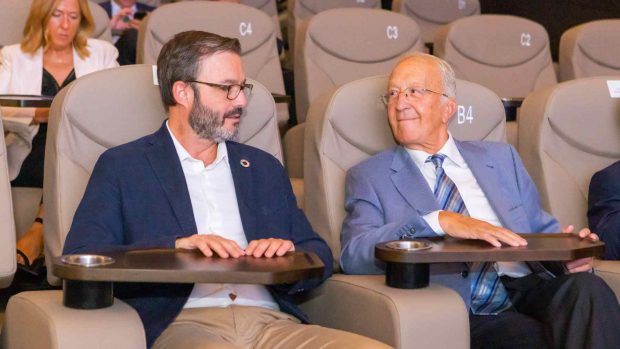 José Hila and Narcís Agustí.
For his part, Luis Lázaro, Director of Retail and Logistics at MERLIN Properties, highlighted the importance of the arrival of OCINE in the shopping center: "The transformation process that Porto Pi began in 2019, with an investment of 32 million, has allowed bring an operator to the height of the city. The opening of OCINE Premium is a very special milestone for the repositioning of Porto Pi as a reference shopping center, responding to the demands of the new user and offering a qualitative leap in the commercial offer with a unique experience». "We maintain a commitment to Palma to offer the retail it deserves," he concluded.
The guests, among whom were prominent personalities from the world of politics, culture and Balearic society, took a tour of the facilities, which have a total of 479 locations, with fully reclining seats, spread over seven rooms.
Attendees were able to enjoy it through the projection of the latest film trailers. In addition, an explanation was offered on how this technology works and what it means for the viewer to live a premium cinema experience on the island.
Premium quality'
OCINE, one of the three most important film exhibition companies in Spain, is a pioneering Spanish company in the incorporation of new technologies thanks to its state-of-the-art digital projectors with optimal consumption, which improve the spectrum of color and light, and provide sharper and more realistic images.
OCINE is one of the three most important operators in the country, positioned as a forerunner in premium and sensory attention for viewers, the company reported in a statement.