This Sunday, September 25, one of the most anticipated series of the year arrives at ATRESplayer Premium. Is about The Gypsy Bridethe fiction based on the first book of the successful trilogy of Carmen Moladirected by paco heads and starring Nerea Barros.
A series that is presented as one of the great projects of the Atresmedia platform in 2022. It is more than evident that it has enormous international potential, on a par with today's great projections.
In an unbeatable setting like the 70th anniversary of the San Sebastian Festival, ATRESplayer Premium presented this Wednesday La Novia Gitana. They did so accompanied by the cast of actors, the director Paco Cabezas, José Antonio Antón, Montse García and Laura Abril.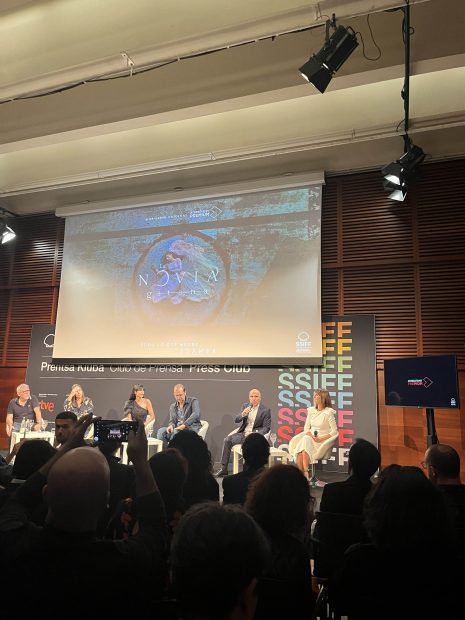 "We were very clear that we wanted to do something like this. It is a very powerful series, dark, with a different style, a plot that goes in crescendo until chapter 8 arrives and explodes, with a great team behind that has made it possible", expressed Montse García during the press conference attended by Happy FM.
While Laura Abril pointed out that "what we loved from the beginning was a spectacular story that had great potential to become a series. We are very proud and hope you have a huge tour".
Paco Cabezas, visibly moved, did not hide his excitement at the imminent premiere of the series: "I am proud of the work we have done, I think it is the best thing I have done so far. The series is like a staircase that goes up and doors open, I am in love with the series and I hope you fall in love with it as I do with it".
🗣 IM PAC TAN TE.

Unanimous opinion after seeing the first chapter of #LaNoviaGitana in the Principe cinemas in the @sansebastianfes. #70SSIFF

📅 And this Sunday, PREMIERE in #ATRESplayerPREMIUM. pic.twitter.com/15fkPjDs2M

– The Gypsy Bride (@NoviaGitana) September 21, 2022
The protagonist of the series, Nerea Barroscouldn't be more proud of this project either: "La Novia Gitana is an example of spectacular teamwork with a spectacular director like Paco Cabeza". While José Antonio Antón wanted to emphasize that "It is the example of the series that we want to have on our platform."
Secondly, Paco Cabezas warned the readers of the book that "they have to be prepared for many surprises"highlighting the twists in the script, the care and care with which they have shot each scene and the prominence they have given to secondary characters in the book.
"I see the book as a seed and from there we are taking out several branches. For me it was very important to give flesh and reality to the characters. This series, in a good way, is full of cracks but that's where the beauty comes in. Readers are going to discover a lot of beauty, a lot of horror, but they are going to be surprised with each episode," said the director.