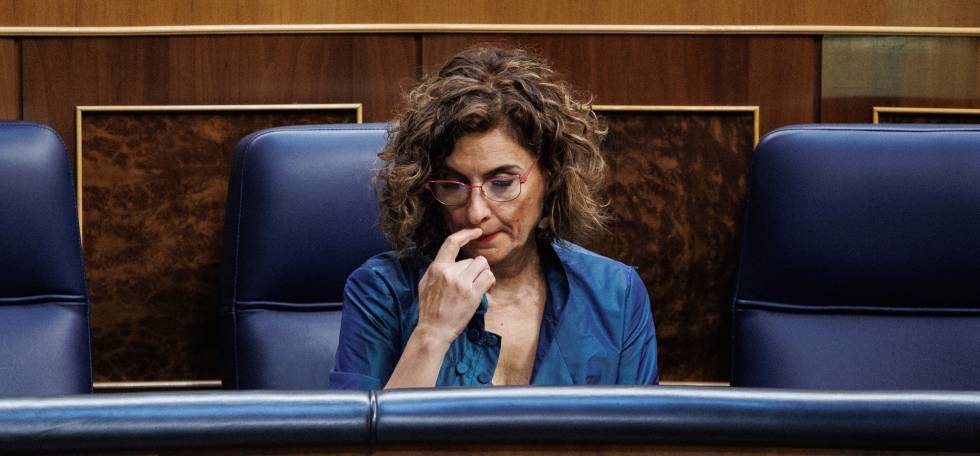 The coalition government, which is preparing the package of fiscal measures to tax higher incomes and large estates, is studying in parallel the possibility of including a tax cut that would benefit lower-income taxpayers. Two options are being considered, or surgical and selective reductions very focused on certain figures, or a possible modification of the personal income tax (IRPF), according to knowledgeable sources. If it occurs, the latter could consist of a small drop in the marginal rate for income of less than 35,200 euros, which today is taxed at 30% from 20,200 euros, or in a reduction in the applicable rate up to 60,000 euros per year, which have a tax burden of 37%.
The Minister of Finance, María Jesús Montero, has only advanced that the eventual reductions to low incomes will be "selective, surgical", in line with what organizations such as the Organization for Economic Cooperation and Development (OECD) or the International Monetary Fund (IMF). The premise, therefore, will be that "those who have more, contribute more". The economic vice president, Nadia Calviño, took a position along the same lines, rejecting massive and generalized cuts that would undermine the collection that allows the Welfare State to pay.
From the Treasury, for now, they limit themselves to pointing out that the package will include measures that make a "fair distribution of burdens" effective, which leaves the door open to an eventual tax reduction for low incomes together with the tax increase for large assets, although nothing is closed yet. In addition, the talks, which take place parallel to the negotiation to shape the General State Budgets, threaten to last longer than expected. Initially, Montero advanced that the package would be presented this Thursday, but from his department they are now clarifying that the date could be delayed to next week.
The coalition Executive formed by PSOE and United We Can have several options on the table along with the possible reduction of taxes for lower-income taxpayers, driven in part by the recent fiscal shift of the president of the Valencian Community, Ximo Puig, when announcing which will deflate personal income tax in the region for sections of up to 60,000 euros. Thus, it is contemplated to create a new section in the personal income tax for income above 130,000 euros, which today is subject to a rate of 45%, the current marginal rate for income that ranges between 60,000 and 300,000 euros per year. From 300,000 euros the rate rises to 47%.
If created, this new section would have to have a higher marginal rate than the immediately previous one, so, apparently, the tax to which higher incomes are subject would also have to increase. In other words, income between 130,000 and 300,000 euros would be taxed at 47%, while the highest would reach 49%, two percentage points more in both cases.
The coalition government is also studying increasing the taxation in personal income tax of the highest returns on capital and savings. Today, those who exceed 200,000 euros bear a tax rate of only 26%. On the table is also business taxation and a VAT reduction from 10% to 4% for feminine hygiene products.
In parallel, PSOE and United We Can consider a new tax figure to tax all the great fortunes of Spain, including those who have their tax residence in autonomous communities that subsidize the wealth tax. Historically, Madrid has been the only region that subsidizes it at 100%. However, from next year, Andalusia will join, which will discount it in its entirety, and Galicia, which will do so by 25 percentage points more than the discount now in force, up to 50%. The design of this new tax on wealth would work with total deductions in those regions where the wealth tax does work, in order to avoid double taxation.
#Government #studying #reduction #taxes #incomes #tax #increase #rich

Source