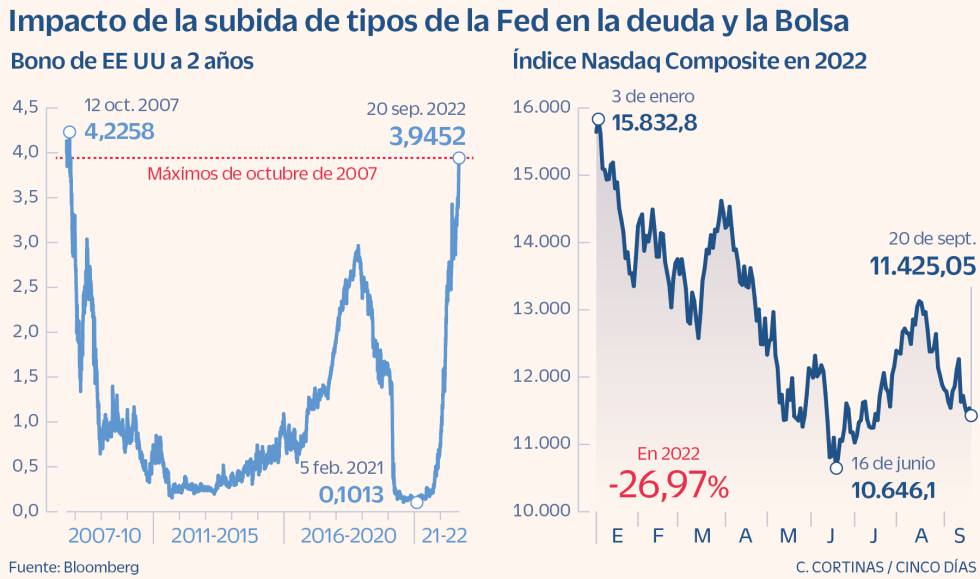 With a recession at the gates, the United States Federal Reserve meets today to stand up to, or try to do so, inflation that continues to run amok and sovereign debt in free fall, while its profitability, which moves inversely, It continues to rise and revalidates its highs day by day.
Expert consensus calls for a 75 basis point rise in rates, to leave them in a range of 3% to 3.5%. If confirmed, it will be the third consecutive increase of the same amount, but the percentage of analysis firms has risen to 20%, which does not rule out that the increase escalates to 100 basis points. A probability that has been increasing after learning that inflation in August stood at 8.3%, above economists' estimates, and that the underlying rate, far from falling, increased from 5.9% to 6 ,3%. If such an aggressive hike were to take place, it would be the first such move by the Fed since the 1980s.
"A hike of 75 basis points remains our favorite option and the vast majority of economists seem to think the same", point out the ING economists. They estimate that inflation is being "more sticky than we thought at first and continues to be widespread. That said, there is not much the Fed can do about current inflation, so their response will depend on where inflation is headed. The labor market remains strong and the short-term activity data has held up", they say.
The mere probability of a 1% increase has sent the yield on US sovereign debt skyrocketing. The return on the ten-year bond climbed to 3.57%, its maximum in the last 11 years. A vertical rise that is felt in all terms but with greater virulence in the shorter ones. In the case of the bond maturing in 2024, its yield is about to touch 4%, levels not seen since 2007. So far this year, two-year US debt has already climbed 3% and is on track to register its biggest annual rise since 1994. At the beginning of the year it barely touched 0.7%.
Paolo Zanghieri, Senior Economist at Generali Investments, believes that from now on the Fed will slow down the rate of hikes: "We expect a slightly slower pace of tightening, with a 50 basis point increase in November and a last hike of 25 basis points in December, with risks tilted to the upside. The Fed will then keep the official interest rate at 4% (top end) until early 2024."
However, Raphael Olszyna-Marzys, international economist at J. Safra Sarasin Sustainable AM, considers that there is "a high probability that it will have to act "big" again at the next appointment in November.
Regardless of where the Fed takes rates at this meeting, the big question mark will be in the update of the central bank's economic forecasts, where it will give estimates of inflation and unemployment and the market will be attentive to knowing "how much pain it is willing to assume in relation to the unemployment rate and GDP growth," says Michael Kramer, an Investing analyst. com. Along these lines, Cristina Gavín, head of fixed income at Ibercaja Management, affirms that the new projections will largely condition what the "arrival level" may be for interest rates in the US, and that the manager believes which will reach 4.5% at the beginning of March.
The Fed also has yet to address how it will execute the gradual reduction of the balance sheet, which is currently 95,000 million dollars a month. At ING they estimate that Powell will slowly address the problem that has been developing in the background in recent months.
Sweden raises rates by 100 points
Its biggest rise since 1992. The Riksbank, Sweden's central bank, has raised interest rates by one percentage point, in the most aggressive adjustment in almost three decades, beginning a week where several of the world's leading economies will tighten their policy monetary policy in response to global inflation. The Swedish central bank thus raised its interest rate to 1.75%, higher than expected by most economists. "The risk that inflation will consolidate remains high and it is very important that monetary policy acts to ensure that inflation recedes and stabilizes," said officials of the entity in Stockholm.
#Fed #prepares #bazooka #rising #rates #bond #11year #highs

Source