Luis (not his real name) is about to become a father for the third time. Another child. He works as a dentist in Barcelona and is clear that he will not take paternity leave: "It's not profitable for me," he says. He is self-employed and is not willing to let his income be reduced. Although reluctantly, he says that he contributes to Social Security for the minimum base (960.60 euros) —for which he pays a monthly fee of 294 euros—, and that if he stopped working during the 16 weeks to which he is entitled for law (the first six consecutively) would receive a much lower amount than the one billed in that period.
His case is not unique, and it serves to expose a consolidated trend within the self-employed group: according to data from the organizations that represent them, eight out of ten self-employed workers do not take leave as parents. A behavior that is related to another of similar dimensions: two out of three contribute for the minimum base, and, consequently, the benefit for the birth and care of a minor (which is how it has been known since 2019) to which they are entitled is the minimum. This is calculated according to the average of all the contribution bases of the six months prior to the birth of the child, and that, following this assumption of minimums —and assuming that this base had remained stable throughout the semester—, it would be 960.60 euros. During the sick leave period they would also be exempt from paying their fees.
Jorge Caprile works as a marketing consultant in Barcelona. He has been self-employed for a year, and two months ago his first child, Elio, was born. He did decide to take leave, and after the first six mandatory weeks, for which he claims to have received 1,900 euros, he now has part-time paternity leave that allows him to work only half of his working day. "The State pays me around 500 euros, but I can continue billing," he says on the other end of the phone. With this mixed formula, moreover, those ten weeks you have left will be doubled to 20.
However, he understands that his solution is not viable for other freelancers. "This new system seems better to me than the previous one, but I think it is still unfair because depending on your income, the fee you have to pay represents a totally different percentage, and many people may find it a very high burden", reflect. At the same time he gives another clue: "I know people who were autonomous and when they became parents they decided to stop being so."
This is the case of Maite Alcántara. After three years of self-employment, in 2017 she became the mother of twins, and she decided to quit. "After doing many numbers and talking to my agency, I realized that the benefit that corresponded to me as a self-employed person was around 600 euros, and if I unsubscribed and registered as unemployed, it could reach up to 1,800. It was a world of difference," she recalls. That's what she did. And after her period of sick leave, she returned to her work as an architect, but this time as a salaried employee. "The new quotation system seems to me to improve the current one, but it is still far from compensating," she points out. "I don't think it's attractive enough right now for people to decide to go freelance," she adds.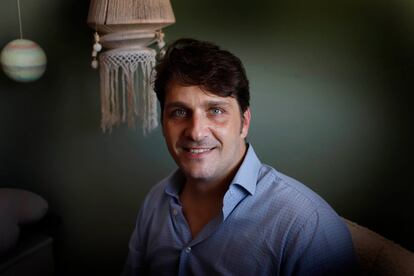 Jorge Caprile, in his home. Christopher Castro
fair adjustment
The new contribution system for real income approved by the Government seeks to twist the arm of some of the behaviors that have become stagnant over the years among the self-employed. With the determination of 15 brackets of real income (the difference between computable income and deductible expenses) and the establishment of their corresponding contribution bases and quotas (between 200 and 590 euros per month), a more equitable adjustment is intended to avoid this type of situations.
Self-employed associations share this perspective, although with nuances. "It is true that this reform corrects in some way that imbalance that had been taking place, but we have always warned that most of the self-employed who contribute for the minimum base do so due to a matter of uncertainty or financial vulnerability, and this goes to continue being like this", points out Celia Ferrero, executive vice president of the National Federation of Associations of Autonomous Workers (ATA).
Eduardo Abad, president of the Union of Professionals and Self-Employed Workers (UPTA), recalls that, unlike what happens with employees (the company initiates the process for them to receive the benefit), in the case of the self-employed they are who have to start it all. "Social Security has no way of controlling this, because the notification has to be made by the interested party," he points out. Application for paternity leave is not mandatory. However, this circumstance establishes gender discrimination, since in the case of women the possibilities of returning to work after childbirth are much more limited due to the effects of childbirth.
"The aim is to fight against this short-term thinking that in the long run produces precariousness," adds María José Landaburu, general secretary of the Union of Self-Employed (Uatae). She refers to situations such as the retirement pension of the self-employed – which also depends on their contributions – has been located on average 600 euros below that of employees. "This idea may seem good to many people because now they have more resources, but the day after tomorrow anything can happen to them and then they will have to make do with that benefit that right now seems insufficient to them," she adds.
These actions also contribute, in the opinion of the experts, to the image of the self-employed person continuing to be associated with fraud. "It may be a cliché, but it is true that from the point of view of State control, that of a self-employed worker is not the same as that of a salaried employee. If the self-employed contributed, for example, 2,000 euros a month, they would kill themselves to take the leave", says Daniel Toscani, professor of Labor Law and Social Security at the University of Valencia.
According to data from the Ministry headed by José Luis Escrivá, between January and December 2021, 472,015 birth and child care benefits were paid, which involved an expense of more than 3,010 million euros (the resulting average was 6,378 euros for each one) . This year 236,112 have been recorded until June, with a charge to the State coffers of 1,597 million, 16.6% more than in the same period of the previous year.
Subscribe to continue reading
read without limits