One of the recommendations of psychiatrists to treat traumas is to share them in known and controlled circles once digested with professional help. "This recognition is very therapeutic," says Ignacio Civeira, a child and adolescent psychiatrist at the behavioral addictions unit at the Gregorio Marañón Hospital in Madrid. Faced with what happens in consultation, and in the midst of a wave of mental health problems exacerbated by the pandemic, Tiktok has become an unfiltered platform on which to express traumas, anguish and anxieties. On Dr. Tiktok's couch, he is an influencer who shares his experience with thousands of followers. They choose the rules that prevail, the topics that are discussed and the tone that they use. On the one hand, he is liberating and helps break down the stigma around mental health. But there are risks: There is a danger that some followers will self-diagnose and start changing their behavior without professional supervision. "Among the youngest, mimicry usually occurs, unverified information enters them and they begin to copy attitudes just because that person seems interesting or attracts them," warns Civeira.
The influencer @roenlared (her name is Rocío Romero, she is 34 years old and has almost 400,000 followers on Instagram), who has lived on social networks since 2016 thanks to the annual contracts she signs with brands, does not create specific mental health content. She deals with everyday situations, such as the pressures women are subjected to, always in a comedic tone. A few years ago, she recounted an eating disorder that she suffered from between the ages of 11 and 25: anorexia nervosa. "In the family we had never talked about it again, I had buried it and I was afraid to mention it on the internet because I didn't know how to approach it," she says. With the help of her psychologist, she made a first video and encouraged her followers to send her questions. She received over a thousand emails in a few days. "Seeing my most vulnerable part, people opened up to me a lot and I began to receive consultations about eating disorders, abuse, suicidal ideation… I realized that it was unfathomable."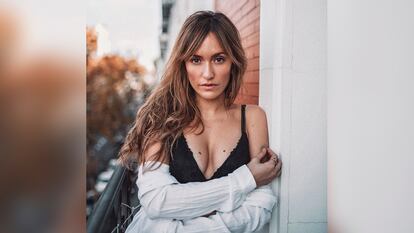 Rocío Romero, known by @roenlared.
His initial plan was, together with his psychologist, to launch a second video with the answers, but he came up with something better. He created an audio application on emotional well-being, Caliope, which already has 16 professional therapists (all of them influencers such as @neuronacho, @maria_esclapez or @dr.rosamolina), in which they attend to requests.
That power of the networks can serve to break mental schemes and dare to review what is not working well. Psychologist Ana Belén Medialdea (31 years old) —who creates content from the professional side and has more than 41,000 followers on Instagram, @anapsicologamadrid—, has received patients who decided to start therapy because they saw that some of their referents in the nets got it. "One of my patients followed an account that talks about fatphobia and one day she felt identified. She felt guilty at lunchtime, when she had a piece of cake with her friends, then she forced herself to play sports that same afternoon. It was when she decided to come for a consultation and we saw that she had alerts, an obsession with her body, a tendency for baggy clothes… we caught her in time".
More information
On the other hand, Sara Sarmiento (35), —with 2.1 million likes on her Tik Tok channel— comes to the online consultation, many patients arrive confused and self-diagnosed by the symptoms that some content creators have described on networks or by private conversations with them, people they don't know at all. "You have to deconstruct that self-image and help him get rid of all the labels he has put on himself. Many are adolescents who pathologize their state when it is a natural process, their personality is under construction and they do not suffer from any disorder, they are simply going through a stage with peaks of suffering", indicates the psychologist. The most dangerous thing, she says, is when they begin to change their habits without consulting anyone because they are convinced that they fit a diagnosis.
In one of the episodes of his program for TikTok Las vozs de las, Rubén Avilés (23 years old and more than 11.5 million likes), known for his LGTBI activism and for the humor and sarcasm of his content, made a unexpected confession: "In my preadolescence —when I was 12 years old— I suffered from anorexia. I was the fag at school… being the fag and on top of that the fat one, I couldn't take it anymore and I said: I'm not going to be fat. So, I started to restrict my meals a lot, to count calories." When his family found out, they took him to the doctor, who told him that "these problems are more typical of girls," says Avilés, who also lives from networks and contracts with different brands.
"I don't like exposing myself," he explains to this newspaper. "If I just broke up with my boyfriend and I'm terrible, I don't expose him. My partner I reserve it for myself. In the case of the eating behavior disorder that I suffered from, from which I recovered years ago, I decided to tell about it because it is a process that I have reviewed with a specialist… I was very scared because you don't know how people or brands are going to react ". His argument is reasonable: "There are many people with intrusive thoughts —which appear automatically and on a recurring basis— who write or compose songs. I make videos to express myself and I think it's worth it when young people thank you for opening their eyes, for talking to them about a problem they didn't dare to bring up".
Then there is the least digestible part. As a result of that video, hundreds of direct messages (through the social network's chat) began to come in from young kids asking for advice. "I can't be the personal therapist for half a million people who are screwed, I'm not a psychologist and I'm nobody to say what to do, I have no idea of ​​the guidelines," he says. There are some messages that have been especially removed and that he has decided to answer. The case, for example, of a 14-year-old boy whose mother wanted to take him to a psychiatrist after he told her that he was gay. "Sometimes I get a responsibility that I impose on myself, I told him to be clear that he was perfectly fine… getting involved in each case would be irresponsible and also detrimental to my own mental health," he explains.
A pilot program on Instagram
Last June, Instagram launched the Well-being Creator Collective pilot program in the United States to train about 50 creators of content related to emotional well-being and ensure that they do so in a "responsible" way. The project is led by a committee of health professionals external to the company. In Spain, they are studying how to activate a similar initiative, they indicate from the communication department. At the moment, when a user searches for content related to eating disorders or suicide, a tab automatically pops up with advice and ways to contact specialized organizations. "We do not allow behaviors related to self-harm or eating disorders to be promoted, as soon as we detect these contents, we eliminate them," they report from the technology company.
In 2020, suicide was the second leading cause of death among 15-29 year olds (300) behind tumors (330). And such a high figure had never been reached in children under 15 years of age (14 killed themselves, seven boys and seven girls) as in that year. In September 2022, the ministry will incorporate for the first time 20 MIR positions in the specialty of Child and Adolescent Psychiatry.
For its part, on TikTok when someone does a search related to suicidal behavior, help lines for prevention such as the Telephone of Hope appear. Of the more than one billion users worldwide that accumulate, 67% are over 25 years old.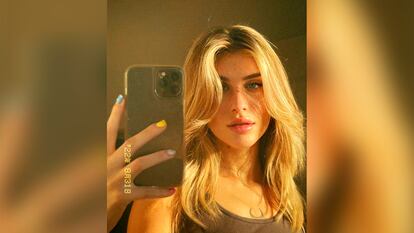 Samantha, contestant on Operación Triunfo 2020. _samantha
When @_samantha (300,000 followers on Instagram), a contestant on Operación Triunfo in the 2020 edition, told her fans that she was suffering from panic attacks, she wanted mental illness to normalize. "It was absolute clickbait [titular anzuelo], we were in the middle of the program and I uploaded a smiling photo accompanied by a text in which I recognized that I was not well… It had more than 5,000 comments, the messages were mostly supportive. At 21, she had her first episode. "I didn't feel comfortable with anyone, even one day when I was shopping with my mother I looked at her and she had an attack, I knew I had to go to a psychologist, but she didn't say so… I've been with my therapist for seven years and I saw that It was time to openly say that I am still suffering from a crisis," he says. "Not everything is a party on Instagram, if you're sick you have to be able to tell about it," she adds.
The epidemiologist and adolescent suicide researcher at Columbia University, Katherine Keyes, considers that young people who may be more vulnerable to these contents are those with interpersonal conflicts or in continuous conflict with their family or friends, those who are in a situation of social exclusion or marginalized. Precisely, this situation of vulnerability can lead, according to Gregorio Marañón psychiatrist Ignacio Ceveira, to greater difficulties in digesting the speed of network algorithms, which constantly suggest different content, without pause. "If I state on Instagram that chocolate with 90% cocoa causes schizophrenia, those with fewer resources will have more trouble filtering, contrasting and validating."
Claudia Pradas (26), @claudiap_psicologia on TikTok (17.5 million likes), summarizes one of the big problems that can arise: confusing anecdotes with diagnostic criteria. "Believing that because it happened to an influencer, wanting to pick up a knife and take a fork is a symptom of ADHD [trastorno por déficit de atención e hiperactividad]". She is part of another trend; psychologists who create content on mental health. She believes that the youngest turn to the networks for help because they have suffered from the "beliefs" of previous generations, parents and grandparents for whom there is no emotional education. The turning point came with the pandemic, which she "pulled the blanket" and led young people to share their anguish. "I try to get closer to them by telling personal stories, like the bullying I suffered from first to fourth year of ESO, I was the freak with no friends, I show them that this is a safe place for them." The hashtag #mentalhealth on TikTok has more than 8.4 billion views.

#dangers #doctor #Tiktok #hundreds #messages #screwed #people #psychologist

Source