What would you be willing to do to prevent the extinction of an animal species? Although it is contradictory, the conservationist Karl Ammann (St. Gallen, Switzerland, 1948) even considered eating his meat. Or at least, pretend it, even if that meant an internal and moral debate.
His gesture before the camera is serious, uncomfortable, even somewhat sad. You are seated in one of the luxurious restaurants inside the King Romans Casino, a complex built in the resemblance of Las Vegas, on the banks of the Mekong River, in the so-called Golden Triangle, on the border between Thailand, Myanmar and Laos.
Ammann has before it the restaurant's menu and one of its star products and, therefore, also more expensive: a plate of tiger meat, for 988 renminbi (132.90 euros). "Asking for it and pretending to eat it was crucial to knowing if it was real or fake meat. Just seeing her on the tour they gave me through the kitchens was not enough, I had to take a sample and take it later to a laboratory, "she explains in a video call from her home in Nanyuki, (Kenya), where she has lived for 40 years. "The tests were positive, so it was the only way to show that yes, that meat from this animal is sold and offered publicly," he adds.
In addition to pretending to eat tiger meat, Karl Ammann has spent 10 years posing as a buyer of wild animals or jewelry made with their tusks or bones; he has alternated with those who are considered the bosses of this illegal business throughout Southeast Asia; He has extracted information from them and recorded them with a camera, often hidden in his bag, in addition to posing as yet another tourist in zoos around the world to learn the ins and outs first-hand.
These situations, in the style of gonzo journalism, can be seen in the documentary The Tiger Mafia, an investigative work that denounces how mafia organizations in Southeast Asia illegally breed, commercialize and sell complete copies or parts of these animals, in danger of extinction, and then commercialize them in the clandestine pharmaceutical and jewelry industries. The film opens in Spain this Friday, October 22, in line with the festival Another Way of Festival, which celebrates its 7th edition of cinema on sustainable progress from today until the 28th in Madrid, in a hybrid, face-to-face and virtual format.
A black market that generates millions
There are hardly any left in the world 3,900 wild tigers living in the wild, spread over 13 countries. In Vietnam, Laos, Myanmar, Thailand and China, where Ammann has focused his study, an estimated 300 specimens are preserved, although many NGOs denounce that they are on the verge of disappearing, of reaching zero. "The most harrowing conclusion we have drawn from all this research is how fast this market is evolving and how far they are willing to go to make money. And now, with the internet as an ally to be able to sell more, the market will expand ", laments Ammann.
In the world there are only 3,900 wild tigers living in the wild, spread over 13 countries. In Vietnam, Laos, Myanmar, Thailand and China an estimated 300 copies are preserved, but NGOs fear they are about to reach 0
The sad reality is that today there are more wild tigers living in captivity than in the wild. A drama that the series has already pointed out Tiger King of Nextflix and that now Karl's film, together with producer Laurin Merz, comes to confirm. And the vast majority do so in subhuman conditions in theme parks, zoos or farms for their breeding. For years, Ammann visited them to gather information and denounce their dramatic situation in countries like Laos, which despite promising to end this trade since 2016, remains a world center for wildlife trafficking, as Ammann already revealed in a report on The Washington Post.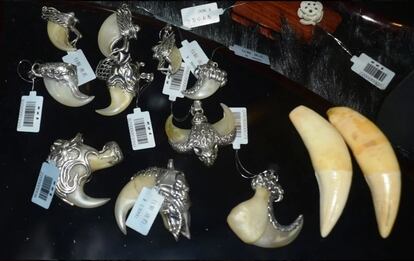 A market that spans the entire globe and in the form of souvenirs and jewelry, such as bracelets, necklaces and earrings, which can fetch exorbitant prices, or rarities and extravagant pieces such as a tiger's penis, which on the black market costs around 2,600 euros, as shown in a scene from the film . "I don't think anyone can make an exact estimate, but if we calculate that 10,000 tigers are raised per year and a third of them are sold on the black market, at $ 50,000 (43,019 euros) each, we are talking about millions", estimates the conservationist. "Without forgetting all the benefits it gives to intermediaries and sellers of jewelry and bones," he adds.
The film, according to Ammann confesses, is almost "an accident", the result of many years of work "without a concrete plan". The filmmaker managed to store more than 200 hours of footage: "At first we didn't know if there was going to be enough material. New information led to new contacts and more questions to ask. So it was a matter of going back to Southeast Asia and continuing to work ".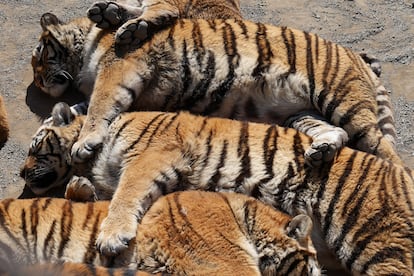 Some of the last parts of the filming in Laos, according to producer Laurin Merz, occurred at the same time that China was closing its borders due to the coronavirus. "It took us a year and a half to finish the film, because we had to choose the best story, a thread to follow among such good material, in addition to recording some more scenes, while we edited in parallel," explains Merz. A film that recently has been banned in China, another of the epicenters of this business of wild animals.
Amman acknowledges that his passion for defending animals was born after a trip down the Congo River in 1988. There he saw something unusual for him: a row of hundreds of slaughtered primates that would later be sold as wild animal meat in the market. That was one of the spurs to continue investigating. But not only about tigers, his latest obsession, but also about rhinos, as well as how important it is to preserve biodiversity and wildlife for global health. "The more we interact with this wildlife, the more we empty the forest and the greater the probability that other viruses will appear. We are going to have more epidemics of this type and the trade in these species is one of the activities that is dangerous. You have to do something ", the photographer also warns. But is it perhaps too late to remedy it? "It is already encouraging to start discussing the subject, but what is the right time? I do not know. Perhaps we should have started 510 years ago, perhaps it is late in the game or perhaps not ", answers the director, who humbly doubts whether the theme of his film will interest many. What he has no doubt about is that he would pretend to eat meat again if with that gesture he saves an animal species from extinction.
You can follow PLANETA FUTURO in Twitter, Facebook e Instagram, and subscribe here a nuestra 'newsletter'.