On a plaque of a commemorative monolith dedicated to the politician and writer Pablo de Olavide surnames such as Hitzelin or Esmit are read. On a bakery sign, Schuster. In family books, Wagner or Bach. In Carboneros, a Jaen municipality of 620 inhabitants, it is easy to run into German names. They are the legacy of the migration that took place in the 18th century, during the reign of Carlos III, when thousands of Central European settlers arrived in this area to repopulate it in exchange for land. In fact, Carboneros, which lives off olive oil, was until recently the municipality with the most German surnames in Spain. Over time, the town has suffered the consequences of a rural exodus in which young people left for larger towns such as La Carolina, Guarromán or Jaén itself, in search of work and movement, uninterested in traditional trades.
However, that historic colonization now seems to have a second part. Domingo Bonilla, mayor for five legislatures, has battled against depopulation since the early 2000s. Among other measures, he has scattered officially protected houses throughout the town to which new families arrive and promoted a technological center around olive oil. His latest bet is to attract home help assistants dedicated to the care of dependent people: according to the INE, in towns the size of Carboneros, those with less than 2,000 inhabitants, 28.5% of the population is over 65 years. Bonilla calculates to exceed 700 residents sooner rather than later: "A new colonization is taking place. Little by little, with the arrival of these auxiliaries and other families, we are growing. It is the spirit of Carlos III", compares Bonilla.
Take care to avoid the exodus
These new settlers are people like Mariana Divols, 53, born in Carboneros and with two children. She explains that in her hometown there is not much work. The chestnuts had to be found outside the region: "I have been in a residence, in a hotel, in the tourist complex, in the olive… It is not easy to find things because of my age and because of the environment itself," she says . A few months ago, she found a job as an assistant for Clece in the Home Help Service (SAD), a municipal benefit for dependent people that is managed indirectly after being awarded in a public tender. She assists older people in Carboneros and other nearby towns, a stone's throw away: "It's very good. It gives you the opportunity to work here, without leaving your own environment and with people you know, "she rejoices.
Nurturing this care network is one of the objectives of the Clece Emplea project, with which Divols found his job. In essence, the program, the result of public-private collaboration, consists of bringing employment opportunities in the care sector to towns with fewer job offers. "The goal is equal treatment and opportunities for people. Bringing jobs closer to municipalities where they are needed so that the candidate does not have to travel to the capital", details Federico Díaz, Clece's provincial manager in Jaén. In practice, a bus equipped with selection posts and interviewers moves from municipality to municipality evaluating the candidates. In Jaén it has made 16 stops from which it has covered candidates from 72 different locations. A route from which a total of 300 jobs have emerged.
One of the users served by Divols is Beatriz Ramírez, a 69-year-old woman who has never left Carboneros. She has known each other all her life and now she helps her with daily chores, such as cleaning the house and with anything that comes up. She goes twice a week, one hour each day. The two chat animatedly in the cool patio of the house. Divols asks him about the medication and the order of the shots. Ramírez shares the recipe for her homemade soap, with which her clothes are "clean and pure", more than in any washing machine: caustic soda, always measured by her husband, oil and water.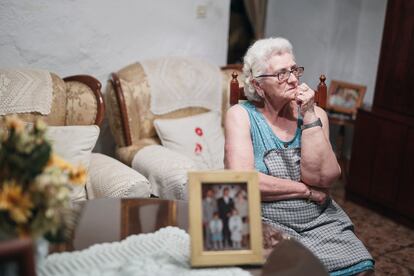 Beatriz Ramírez, 69, at her home in Carboneros (Jaén). Jacobo Medrano
"I haven't needed anyone until now, but it's great to have this help and that it's also someone I know. It is the best thing that has been invented", she affirms, already seated, in an armchair in the living room of her house, full of photos of her children and grandchildren. Like many Carboneros women, Ramírez divided her life between work and caring for her family. In the morning she went to the olive groves and in the afternoon she took care of her children. Until not too long ago, she also took care of her mother, who died at the age of 95 and lived in the next house. She has been operated on twice for cancer and she has bone problems. "I'm very good in the head. If it weren't for the pain…" she says briskly. She is unable to lift weights and moves with difficulty. She has a 65% disability and a recognized degree of dependency, but even so she is a machine gun of words. "If my husband wasn't here, what would happen? Well, I would have to ask for more hours because he couldn't help me," she says.
An essential and expanding service
The average home care in Spain, like the one provided by Divols to Ramírez, is 33 hours a month for users with a recognized dependency. José Manuel Ramírez, president of the Association of Directors and Managers of Social Services and president of the State Dependency Observatory, understands that it is insufficient: "In practice it is just over an hour a day. It is not possible to attend to all dependent people, especially highly dependent people. We are talking about an essential service that must be reinforced."
Domingo Bonilla, Mayor of Carboneros (Jaén), and María José Ramírez, Councilor for Social Services of the municipality, pose in front of the local church. Jacobo Medrano
Care has an endless list of users in rural Spain, where the oldest municipalities in Spain and the people most susceptible to care are concentrated. In places like Carboneros, the average number of adults over 65 years of age is ten percentage points above the national average. Here the children, already adults like Beatriz's or still adolescents like Mariana's, emigrate to larger towns, a situation that can be extrapolated to many towns in Spain.
For every million euros invested in dependence, 40 stable, direct and non-relocatable jobs are generated. It is more than what is generated in tourism or public works

José Manuel Ramírez, president of the State Dependency Observatory
The expert believes that the sector is also an opportunity to generate employment: "For every million euros invested in dependence, 40 stable, direct and non-relocatable jobs are generated. It is more than what is generated in tourism or public works. We are talking about a rate of return of 42% that is reverted to the State". And he adds: "This encourages people to stay in the villages. And that the social support network that occurs naturally here, greater than in the city, survives. For someone to sound the alarm in an abnormal situation there must be people".
The help they didn't have when they were young
In a white house at the entrance to Carboneros, Ana Linares, 74, greets Juana Santamaría, 41, the assistant who has been helping her for four months. Like Beatriz Ramírez, Linares explains that she has dedicated her life to working "by the piece" and taking care of her family. "It is a very heavy load. If you don't do it with love, you can't throw away with it, "says this woman, with a recognized degree of dependency. Meanwhile, Santamaría, who trained as her home help assistant, prepares her pill box, peels potatoes for an omelette and does hobbies with her. She was born in La Carolina, a nearby municipality, but for seven months she has been one of the recent settlers that Mayor Bonilla was talking about. He lives here with his two daughters and has bought a house. With her, there are five auxiliaries that operate in Carboneros. "Professional help is necessary because there are things that, as a family member, are great for you," she says. "Imagine having to put your mother on a hoist or give her a bath if you have bad bones."
This is what happened to Linares, who has watched over everyone: in-laws, brothers-in-law, children, grandchildren. Her mother died at the age of 98 and she cared for her until the last day, getting her in and out of the shower by hand. She now feels a certain release and relief. She says laughing that even her husband helps her more than before. "This help that they give us, that people say that it is nothing, for me it is…", she affirms without finding the exact word of gratitude. And she reflects: "I have taken care because I believed it was my duty. Now you think about it… and I would have asked for help. But at that time, taking my mother to the residence was unthinkable. On the other hand, if my daughter has to take me, let her take me. It's a different mindset."
Juana Santamaría (left), a Clece Home Help Service assistant, walks with Ana Linares, 74, through the streets of Carboneros (Jaén).Jacobo Medrano
José Manuel Ramírez contextualizes: "In a way, the Dependency Law has freed these women. The negative impact of gender on care is not evaluated: back then it was not a free choice. There was no other option. Today, family caregivers can choose that task and pay for it". According to data from the State Dependency Observatory, 89% of non-professional family caregivers are women and 58% are under 55 years of age. However, and according to experts, the trend is towards the professionalization of all these cares.
Since then, Ana, Beatriz, Juana and Mariana, the four women from Carboneros, live better. Beatriz and Ana have help that makes their day to day more bearable. Mariana and Juana, for their part, have found a job in times of scarcity and without abandoning their land, like many others. A roots for which they fight in Carboneros with this incipient repopulation. "It is a way to establish inhabitants and create jobs. There was a need and people appreciate it. It is only the beginning", closes Mayor Domingo Bonilla.
#Carboneros #formula #avoid #rural #exodus #work #care #neighbors

Source