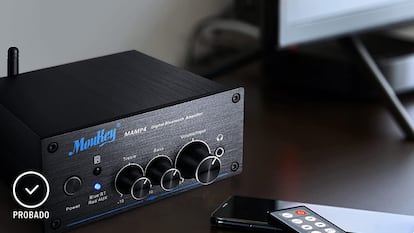 We test and rate the best portable mini amps of the moment.
Today there are many ways to enjoy our favorite music. But, what if you add a plus of power to this sound experience? In this case, the best solution is to buy an amplifier, an audio equipment that, among other possibilities, allows us to adjust and customize the treble and bass according to our tastes.
In this case, from EL PAÍS Escaparate we propose a comparison of four mini amplifiers. They stand out for their small size and a price that does not exceed 100 euros, in order to adapt to the pockets of those users interested in this type of equipment, but who cannot or do not want to make a larger outlay.
What mini amps have we chosen?
These are the selected models: Etlephe (7.5), Fosi Audio BT20A (8.25), Moukey MAMP4 (8.25) and Prozor AV8288 (8.5). When analyzing and evaluating them, these are the aspects that have been taken into account:
– Design: how is the manufacturing quality and the finishes it offers.
– Connections: all of them have in common that they integrate Bluetooth technology and auxiliary input and output for speakers. However, others add the ability to play music stored on a USB memory stick or SD card. There are even ones with a 3.5mm headphone jack and microphone.
– Power: do they make good use of the power they claim to provide?
– Sound: what is this sound like? Are there distortions? Keep in mind that the experience can never be compared to that of the most expensive models, however, a minimum quality has been required of them.
Comparison of the best mini amplifiers: this is how we have tested them
Over three weeks, we have been testing each of these four devices at different times. This has allowed us to check the installation and start-up process of each one, as well as the sound experience they promise and the power they are capable of delivering. Above all, they have been tested with a pair of medium-sized speakers and with the mobile phone thanks to the fact that they all incorporate Bluetooth technology.
The Prozor AV8288 Mini Stereo Amplifier has received the highest rating. It is accompanied by a simple but practical remote control. In addition, the sound quality and experience is the best and it is the model with the largest number of available audio connections and sound effects.
Prozor AV8288 Mini Amplifier: Our Pick
If its remote control is compared with that of the Etlephe model, it must be said that we liked the product in question more: not only because of the quality of its finishes, but also because of the layout of its keys and handling.
With a slightly larger size than the rest (its dimensions are 350 x 102 x 30 mm), the Prozor AV8288 mini amplifier has an original design thanks to the two handles that it integrates at each of its front ends. In addition, it is one of those that best solves the cooling system: it has different grids distributed that help dissipate the heat that is concentrated inside when it is working.
Datasheet
Channels and power: 2 / 400 watts.
Connections: two microphone inputs, USB port, SD Card interface, two coaxial, two audio inputs, one audio output, speaker outputs.
audio effects: volume control, microphone, bass and treble.
Others: Bluetooth 5.0, LCD screen, remote control, equalizer option, adjustable left/right balance, FM radio.
Meanwhile, and although a priori the impression is that its handling is somewhat more complicated than the rest, the truth is that this is not the case, guaranteeing a fairly simple learning curve. It also has in its favor that it incorporates a good number of audio inputs, which highlights its versatility thanks to its different modes of use: Bluetooth, FM radio, optical, coaxial, auxiliary or line…
The way it integrates the display has been worked out especially well and it is possible to apply different sound effects. Its two channels put out up to 400 watts of power: this audio comes through clearly and doesn't distort as long as you don't turn up the volume too much.
The best, the worst and conclusions
The best: the design of its LCD screen and the numerous audio inputs available.
Worst: It is the least economical option.
Conclusions: offers the best sound quality and incorporates a wide range of audio inputs to use it with the largest possible number of sound sources.
Fosi Audio BT20A mini amplifier: the alternative
Available in black and silver, it has one of the most careful designs of the entire comparison. Also one of the best manufacturing qualities: with slightly curved edges, the entire structure is coated with an aluminum alloy that gives it optimal strength and durability. Its measurements are 90 x 132 x 36 mm.
Provided with two channels with a power of 100 watts per channel, next to the power button —which is located on the front— we discover a small LED indicator light that, depending on the color it projects, tells us if it is being used through from its auxiliary input (red) or via Bluetooth (blue). As this light is not conspicuous, it goes practically unnoticed. In the tests carried out, both with passive speakers and the mobile phone, the results have been good.
It's amazing how well it harnesses the power it throws out, even when its opponents offer more watts, as well as the sharpness and clarity of music. Like other models in its class, the Fosi Audio BT20A mini amp can not only be manually controlled for volume, but also for treble and bass. It may be difficult at first to get hold of this control until you get the point, but then everything becomes easier. By the way, the Bluetooth antenna that it incorporates in the back provides a good range and communication that does not fail.
More information
Moukey MAMP4 mini amplifier: the best value for money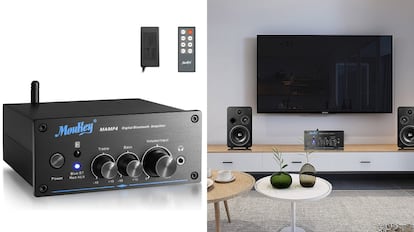 It has dimensions of 289 x 210 x 99 mm and, like its adversaries, it feels light, which favors the possibility of carrying it from one place to another comfortably if necessary. In this case, in addition, it shares with the Fosi Audio BT20A device one of the best finishes thanks to the material chosen to cover the entire structure: an aluminum alloy.
In fact, the way its manufacturer solves the front part is practically identical and the only difference is that Moukey's mini amplifier adds a 3.5mm headphone jack that is located next to the volume button. Neither are the controls to regulate the treble and bass, nor the remote control.
This remote control, made of plastic, has a very comfortable size to handle and incorporates only six buttons. Along with the power on and the mute option, one of them allows you to switch between Bluetooth mode and external input devices that are used through its auxiliary audio input. With the rest, the music is played and paused, in addition to moving forward and backward in the songs and raising and lowering the volume.
Each of the two channels of the Moukey MAMP4 mini amplifier provides a power output of 100 watts. This power is well used, which favors the user experience.
Etlephe Mini Amplifier

Like its opponents, it has a compact design that makes it easy to place. Specifically, its dimensions are 180 x 136 x 55 mm and it weighs just under a kilogram, so it can be carried on the go without problems. It presents a quality that is perceived to be durable, it is marketed together with a small-sized remote control, where plastic material predominates and includes a small LED backlit screen that shows the mode of use or chosen source.
The Etlephe Mini Amplifier distributes the available physical connections between the front and rear. The amplifier resolves, in this regard, this section quite well, also highlighting the incorporation of two microphone input ports. It also has FM radio and Bluetooth for use with tablets and mobile phones. do
How about experience? Taking into account the price range in which the equipment moves, the quality and power of the emitted signal (it promises up to 600 watts) is correct, being able to manually adjust the bass and treble. That does not mean that, on some other occasion, there are small distortions. Also, and as an aspect to improve, when using the Bluetooth function, the communication between the amplifier and the selected sound source breaks at some point.
More information
*All purchase prices included in this article are current as of October 3, 2022.
[Recuerda que si eres usuario de Amazon Prime, todas las compras tienen gastos de envío gratuitos. Amazon ofrece un período de prueba gratuito y sin compromiso durante 30 días.]
You can follow EL PAÍS ESCAPARATE on Facebook and Instagram, or subscribe to our Newsletter here.