The fifth edition of The island of temptations has started with unexpected controversy. After the broadcast of the first episode it has come to light that one of the tempters had missing of the final assembly despite the fact that he was there. Jose Guzmanwhich is called the singlehas come out to pass the rumours.
It was the audience itself that realized what had happened, since during the presentation He appeared in several wide shots, but his big moment before the couples was never broadcast. After numerous rumours, it has been the producer of the program itself that has had to give explanations.
Please, who is the eliminated bachelor from whom they do not take an image and why? If I'm morbid I'm sorry hahahaha #TheIslaOfTemptations

— xGG David Otero (KhalenzGhul) (@KhalenzGhul) September 21, 2022
According to Vertele, Cuarzo Producciones confirms that he was removed from the program, giving an explanation in which he leaves many doubts: «Applying the internal protocols, it was decided not to intervene when verifying the lack of one of the necessary requirements to participate in the program".
The single eliminated from The Island of Temptations has also been left to speak after the comments that have emerged in recent days. "The different things that they are saying about me are noise. Only I know the truth and I'm not going to tell it. Well, I and the people who know me know. Anyone who knows me knows what is true and what is a lie », he said on his social networks.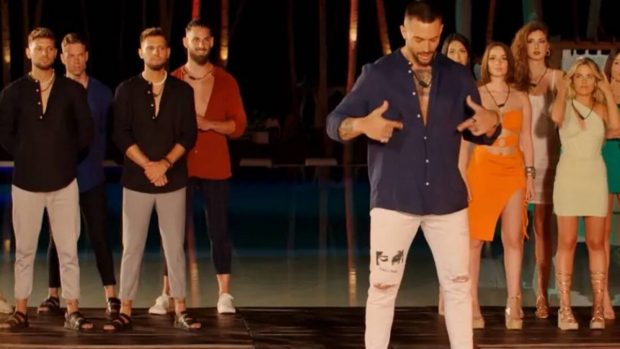 Image in which the single removed from the montage of 'The Island of Temptations' appears
«There is something called a confidentiality agreement and it is something that I am not going to go over because I am looking for an incredible mess. I am very calm and with a clear conscience because the truth has very short legs. Sooner or later the truth will come out. I insist, the people who know me already know what there is. I stay with that », she assured in his Instagram stories.
At the moment we will have to wait to find out what has been the reason for this elimination, but We do not know if it will have to do with Jose Guzmán's television past. Specifically, she participated in the dating show Language of love, which was broadcast on the British channel Channel 4.
"This format takes a group of British and Spanish to live the summer of their lives in an Andalusian country house while trying to fall in love despite not speaking the same language", according to Zeppelin, his Spanish production company.
The presenters were Ricky Merino, known for his time as a contestant on OT 2017 and presenter of El chat de OT in subsequent editions, and Davina McCall, the mythical presenter of Big Brother (Big Brother) in the United Kingdom.