The bag of your dreams is in Bimba y Lola and has everything to become the star of the season. He is pretty, practical and besides… he is on sale! There is no better news to start the week, so don't let it go and get it before they run out of stock.
Every wardrobe needs a black bag that is comfortable to wear and easy to combine and the Bimba y Lola bag on sale, Is the best option. We have already added it to our cart so that it does not escape us… We will surely use it non-stop!
The Bimba y Lola bag that will be a hit this season
This Bimba y Lola bag has a black design with silver details, it is small and ideal to carry both on the shoulder and in the hand. It is a versatile bag that stands out for its minimalist design, but personalhas wide black chains that give it a casual vibe without falling into the informal and is complemented by a black appliqué of the brand's logo.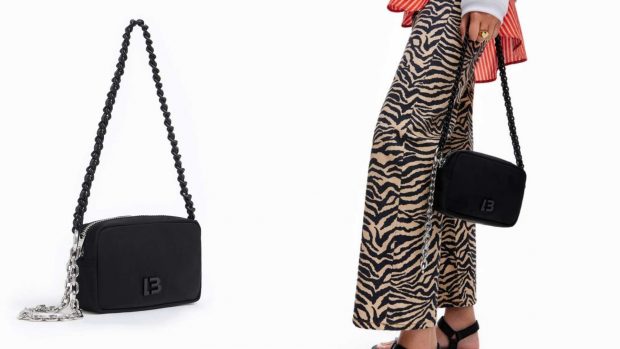 Whether you go shopping, to a dinner or to a party, this bag will be your best ally, in addition, it may seem small, but You'll have room for all your essentials. Avoiding carrying a heavy bag that breaks with the urban aesthetic that is so popular today.
It is a success if you are looking to get a quality bag that will accompany you for years. It will look perfect no matter how hard you give it and its quality finishes will prevent it from breaking after two uses. It is an investment in fashion that you will not regret Has anyone ever regretted having a nice black bag? They are the lifesavers of fashion!
it is made of black nylon and it has a zipper closure so that nothing escapes. The handle is on a chain, all of it is black, but it has a silver detail that adds character and personality. The measurements of the bag are 18 x 12.5 x 5.5 cm, a small bag that is more than practical for everyday use.
How to combine this bag?
The good thing about black bags is that they always look good, but this is a good option for those days when you want to go elegant but with a rebellious and current vibe. The sturdy chains and black finish will complement any outfit perfectly.
Jeans, dress, suit… It goes well with everything! We already have a thousand combinations ready in the closet and we look forward to it arriving for the first time. will become the star bag of the season and its fabric means that you can use it both in winter and in summer.
Don't think twice and start the week with a Bimba y Lola bag shot at a price. Now it has a 20% discount and you can take it for 20 euros less than its original price. Have we convinced you? You can buy it on the official website of Bimba y Lola, if all their stocks have not already flown.
#bag #dreams #exists #sale #Bimba #Lola

Source