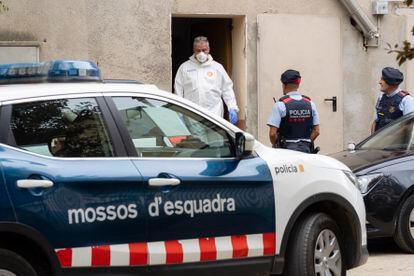 The Mossos d'Esquadra analyze the house in Camdevànol where the murdered young woman was found. David Borrat (EFE)
The alleged murderer of the 21-year-old girl who died last Wednesday in Campdevànol (Girona) was admitted to prison this Saturday by court order, after an autopsy of the body revealed that the woman suffered torture and multiple blows and fatal injuries from White weapon. The 36-year-old man has remained until this Saturday at the Mossos d'Esquadra de Ripoll police station and, upon going to court, the judge has decreed a provisional prison, communicated and without bail. Dozens of people have demonstrated at the door of the police station, shouting "murderer!"
The case, according to the Superior Court of Justice of Catalonia, remains open for murder, sexual assault and habitual abuse, while it has been confirmed that there were no previous complaints by the woman against her partner, who did have a history of sexist violence from previous relationships. Some crimes that, if convicted, could face the accused to the reviewable permanent prison.
The autopsy on the victim's corpse carried out at the Girona Legal Medicine Institute has determined that death was caused by multiple injuries and blood loss caused by numerous stab wounds that caused hypovolemic shock, according to sources close to the case. The young woman had stab wounds in the vaginal area of ​​such depth that they affected her hip bones and an anal tear has also been confirmed.
In total, forensics have recorded more than 60 injuries throughout the body, in addition to burns, broken teeth and prints on the neck that point to suffocation attempts. Some cuts on the fingers of the hands supposedly show that the victim, who also suffered blows to the head, tried to defend himself from a sharp object. The analysis also reveals that the young woman was dying before she died.
The autopsy was key to determining the details of the case, which became known last Wednesday after the detainee, who lived in Campdevànol with his mother and the murdered young woman, notified the Emergency Medical Service. His version is that the deceased had fallen from a bicycle the day before, that he had given her medicine and that he did not know the cause of her death. Neither one of the injuries is compatible with a bicycle fall, according to sources close to the case.
The Mossos also verified other details that made them suspicious. The small apartment, where the young woman lived with her partner and her mother-in-law, was dirty and messy. Everything, except for the garbage can, which was clean and with the bag changed. They also found freshly laundered sheets and rags, according to investigative sources.
What affects the most is what happens closest. To not miss anything, subscribe.
subscribe
The toilets, given the bruises and wounds that the corpse presented, activated the protocol for cases of sexist violence, which led to the immediate arrival of the Mossos d'Esquadra. The man ended up arrested and the judge has now decreed his entry into prison without the possibility of evading it with the payment of bail.
The Campdevànol City Council decreed three days of mourning last Wednesday and called a concentration of rejection of the crime, which was also carried out in the neighboring municipality of Ripoll, from which the young woman was from.
The victim is the 30th so far this year in Spain (the fifth in Catalonia) of sexist violence and the 1,160th since the statistics began in 2003.
You can follow EL PAÍS Catalunya on Facebook and Twitteror sign up here to receive our weekly newsletter