Tania Medina has shared through her Instagram account an important reflection on the kilos gained after passing through Survivors 2022. The former contestant has already recovered the kilos she had lost and is already beginning to feel much better, as she herself has explained.
Although she is still recovering from her time on the reality show, because she began to develop gastrointestinal problems due to the harshness of the contest, Tania Medina he has already regained the weight he lost during his time on the island.
However, as she herself has explained, she must still be careful with her diet and sports routine. The health problems he suffered when he returned to Spain forced him to change his lifestyleand thanks to that he is already better.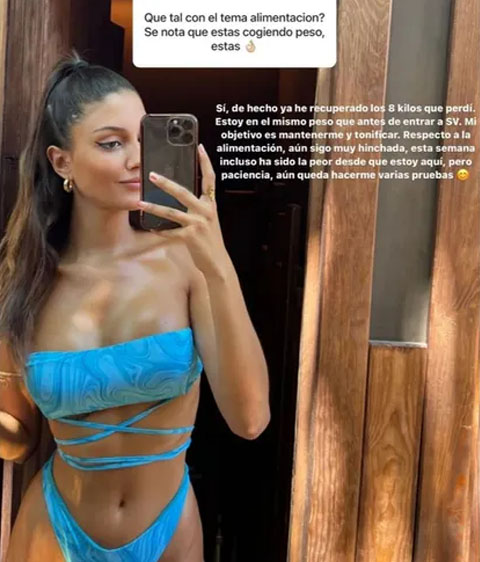 This week, through Instagram stories, Tania posted an image of her current physique to answer a follower's question. He asked her how she was regarding the issue of food, because During the first weeks after his return to Spain, he could barely eat anything.
«I have already recovered the eight kilos that I lost. I'm at the same weight as before Survivors», expressed the model, adding that right now she is focused on maintaining her weight and toning up », although she does not want to force herself, as she herself has explained through her Instagram account.
"I'm still very swollen, this week has even been the worst since I've been here, but be patient, I still have several tests to do", he added. And it is that the doctors told him that he suffers from irritable bowel syndrome, although they are still doing tests to rule out other intestinal pathologies.