A preacher harangues the crowds leaving Hayward Field with religious messages about the eternity of the soul and the resurrection, but the audience, walking across the University of Oregon campus on their way home, pays little heed. Perhaps because he does not need words to have faith in the divine: they have just seen a woman, Sydney McLaughlin, an American, born in New Jersey 22 years ago, run the 400m hurdles in 50.68 seconds, 73 hundredths less than the 51, 41s that she herself had set as a world record a month ago in Oregon.
McLaughlin likes the Eugene track, the scene of three of the four world records he has achieved in the last 13 months —the other was in the final of the Tokyo Games—, remodeled to put at the feet of the athletes the best technology to propel faster. And it is love, in a painful way: when she has just passed the ten hurdles as if they did not exist, so alone that she does not need to push to beat her rivals, and despite this she puts one more gear, already running against herself and against history, crosses the finish line and sits on the tartan.
He looks at the ground, shakes his head as if he doesn't believe what has happened, and finally allows himself to smile. She has a hard time straightening up, her body so overwhelmed with lactic acid, so she sits back down, drinks water and the medal is placed on her. She joins for the photo with the marker where the two words she was looking for are read: world record. But she goes back to the ground for the interview, because that's how hard it is to do what no one, not even herself, has ever done before.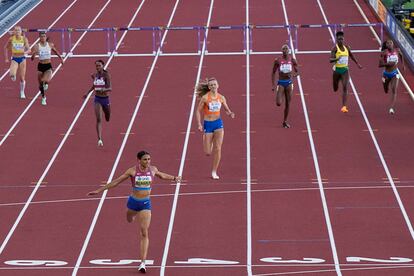 Arrival at the finish line and McLaughlin in which the distance in front of his rivals can be seen. Ashley Landis (AP)
"It's unreal," she says, and many think so: with that mark she would have been seventh in the final of the 400m dash at the World Cup held a few minutes before, they free to run without obstacles in between. "Honestly, I wanted to run and go for it," she admits of what everyone has seen: that gold is no longer enough for her and she looks to the clock for a fiercer opponent. "That last 100m really hurt." And she doesn't need to repeat it, because everyone sees her, limping, so close to the edge that her body reminds him of her mortality. Although that effort is rewarded, and she is given a $100,000 check on the podium.
His closest rivals take time to appear. The Dutch Femke Bol, silver, enters in 52.27s, a difference of 1.59s, the largest margin ever achieved in a World Cup final in this event, and the world champion in Doha 2019, Dalilah Muhammad, who then, along with the desert sand, left his compatriot with the silver, now he sees himself dethroned and arrives in 53.14.
McLaughlin's success downplays his performance, but both marks are still so good that they are the best times for a second and a third in World Championship history. The success of the Americans, who have taken the first World Cup ever held in their country especially seriously, is completed beyond the podium: four of the five best in the final are Americans.
McLaughlin, gold at the Tokyo Games, thus adds his first World Cup to his record. It's what he's been preparing for all his life. It cannot be said that he was a hidden talent or discovered by chance. Her father was a 400m athlete, her mother ran in high school, and her brother also competes in the 400m hurdles, so they knew how to quickly detect her abilities and promote them until they became her, with her appearance in the Rio Games at the age of 16. , the youngest to be part of the Olympic athletics team for more than 40 years.
What do you think about as you pass the fences? "I don't think about anything. Sometimes there is pain, but most of the time you feel free. There are races that I finish and I don't know what has happened, "explained the young woman in an interview. In a world that is sometimes a minority like that of athletics, she has been a star for a long time: she has a million followers on Instagram, where she combines training photos, advertising videos of brands that sponsor her, images with her husband, —the former player football star Andre Levrone, whom she married just two months ago—and religious and motivational messages. "Child of God", she puts her Twitter description of her.
This Friday, the previous vibrations already told him that everything was going to go smoothly. "We knew warming up that it was going to be one of those days," he said at the end, trusting his success to keeping the cadence intact, the most difficult thing when the legs cry out, sore, for disobeying the brain's orders to keep running.
Her new record leaves her very alone at the top of the all-time ranking. 90 hundredths faster than Muhammad, second. And he is the first world record so far in the championship, until now orphan of marks for history. McLaughlin was a clear candidate for it, although she makes it more and more difficult for herself, and that can mean that, once in her hands the Olympic and world golds, and the record, she chooses to look for new motivations in the 400m dash , and also stalk the record of the German Marita Koch, which has lasted 37 years.
If anyone can do it, it's her.
You can follow EL PAÍS Deportes on Facebook and Twitteror sign up here to receive our weekly newsletter.