When the film In Search of Fire was released in the 1980s, based on a classic of prehistoric literature from the early 20th century, many scientists criticized it with some contempt for a scene that seemed unlikely at the time: sex between a sapiens —our species— and a Neanderthal —a human species that became extinct about 40,000 years ago—. That seemed then impossible, even absurd: the prevailing idea of ​​evolution is that some human species succeeded others in a linear evolution towards the present, that is, towards ourselves. The oldest species were left behind and the most modern triumphed. They were able to live together in time and space for a time, but not fraternize, much less cross paths. However, Svante Pääbo, who received the Nobel Prize for medicine on Monday, changed everything. And by the way he changed us.
More information
Pääbo himself explains in his autobiography, El hombre de neandertal (Alliance), that he was the first surprised when he managed to synthesize the complete genome of Neanderthals and discovered that all modern humans, not born in Africa, have between 2% and a 4% Neanderthal genome. Suddenly, the borders between some human species and others were abolished, even the very concept: one of the rules to separate one species from another is to have fertile offspring, a definition that is increasingly outdated. For some researchers, Neanderthals are not extinct because, basically, they are us: there have never been so many Neanderthal genes on the face of the earth as there are today.
The past is constantly changing and prehistory especially. The great French researcher Marylène Patou-Mathis always says that "the absence of proof is not a proof of absence". With this tongue twister, what she intends to explain is that the fact that something has not been discovered does not mean that it does not exist, simply that over the millennia any trace in the archaeological record may have been lost. And a discovery can overthrow all the theories in force until that moment.
For example, it had always been thought that prehistoric paintings had become more spectacular over the centuries and that the explosion of Paleolithic art occurred in the final millennia of prehistory, in the Magdalenian, about 15,000 years ago. However, the discovery of the Chauvet Cave, in France, shattered all these theories: they were paintings of extraordinary quality, but they had been drawn by the first sapiens who arrived in Europe, almost 40,000 years ago. Art came with them and now almost all prehistorians believe that it is something that unites all of humanity, surely since its origins.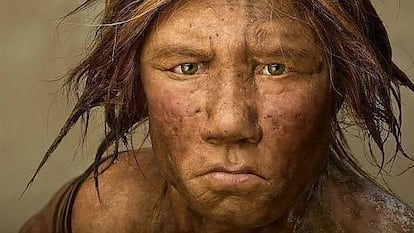 Recreation of a Neanderthal woman.
Pääbo contributed to prehistoric studies something that until now had been lacking: certainties. It was not about speculations, about more or less strange theories about shamanism, based on the study of contemporary hunter-gatherer societies, as if they had not evolved. No more relying solely on excavations or lucky cavers. The new Nobel laureate achieved crucial and indisputable information, which not only changed the past, but also the present.
The discovery by Pääbo's team at the Max Planck Institute for Evolutionary Anthropology in Leipzig was revolutionary, because it changed the concept of species by abolishing the boundaries between different human lineages and, above all, it painted a very different picture of humanity's remote past: that us sapiens being the only humans is an exception, not the rule. For millennia, we have lived with other species, we have crossed paths with them and that mixture has made us what we are. All human societies are not only multicultural, but until recently (40,000 years is not so much in the immensity of prehistory) they were multispecies. In fact, at least eight human species came to cohabit on earth. Pääbo has been able to demonstrate that the loneliness of Homo sapiens is the exception, that humanity is always diverse and open to the other.
You can follow MATERIA on Facebook, Twitter and Instagram, or sign up here to receive our weekly newsletter.
Subscribe to continue reading
read without limits

#Svante #Pääbo #Nobel #Prize #winner #discovered #sex #Neanderthals #Sapiens

Source