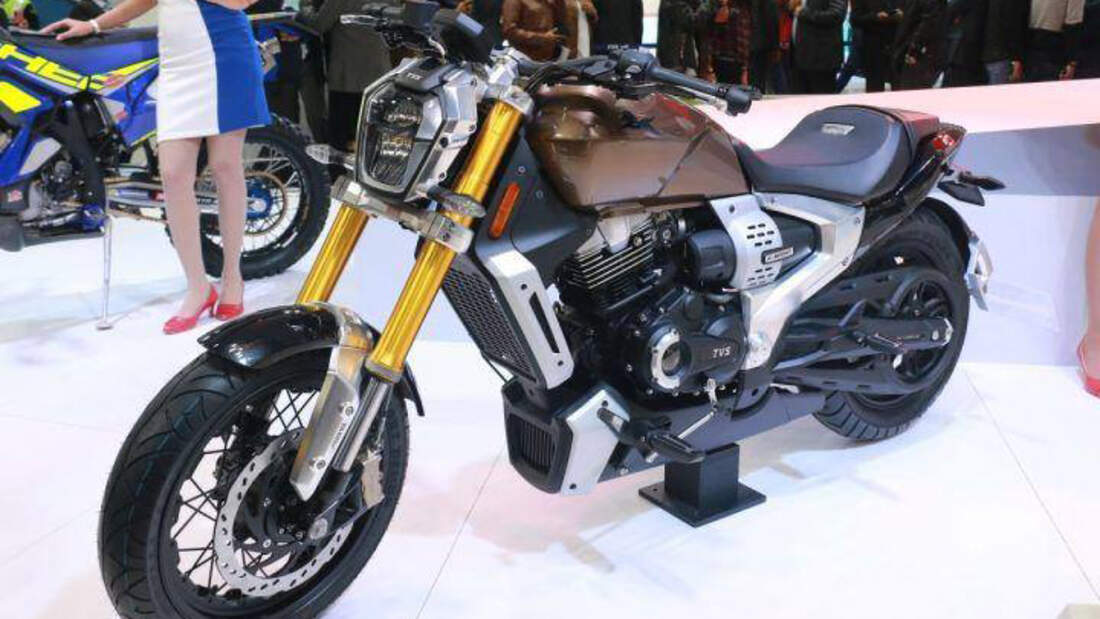 BMW partner TVS has presented the production model of its hybrid motorcycle Zeppelin. The 48 volt system acts as a torque booster.
Jens Kratschmar,
Uli Baumann
03.06.2022
TVS introduced the hybrid Zeppelin concept back in 2018 and planned to bring the model to Indian roads in 2019. But it was not until May 2022 that the finished mild hybrid motorcycle was at a major trade fair in India. But now it should be so far soon. Some voices even report that the Zeppelin will be launched in the summer of 2022.
Mild hybrid from India
The liquid-cooled single-cylinder four-stroke engine produces 20 hp at 8,500 rpm and 18.5 Nm at 7,000 rpm from 220 cm³. It is combined with an integrated starter generator that delivers 1.2 kW of power. A 48-volt lithium-ion battery supplies the electric motor with energy. All the motors together do not result in a cracker drive, but should accelerate the TVS Zeppelin to over 130 km/h if necessary, with the electric motor briefly increasing the torque by 20 percent, according to the manufacturer. It is shifted via a five-speed gearbox. MOTORRAD spoke to supplier Vitesco at Eicma 2021 about the technical hurdles involved in controlling a motorcycle with a hybrid system.
Everything about electric motorcycles
Hybrid-Cruiser von TVS
The 41 millimeter upside-down fork as the front wheel guide seems to have been taken directly from the BMW G 310 R, which is manufactured by TVS. At the rear, the TVS Zeppelin relies on a central spring strut, the headlights at the front and rear use LED technology, and the rear wheel is driven by a belt. ABS is on board. Deceleration is achieved with single disc brakes on both wheels, at the front with a radially screwed caliper on a 300 mm disc, at the rear a 240 mm disc was installed.
In terms of design, the TVS Zeppelin is based on common power cruiser features: Beefy rear end, license plate placed on the side, fat seat roll, footrests that are far forward and a wide, flat drag bar. Other features include a built-in action cam and smartphone integration into the fully digitized cockpit. The 168-kilogram light cruiser is fitted with tires measuring 110/70 R17 at the front and 150/70 R15 at the rear. The wheelbase is given as 1,490 millimeters.
As for the price, there are only rough guesses. The TVS Zeppelin could cost somewhere between the equivalent of 2,000 and 4,000 euros if it were to be launched soon.
Conclusion
TVS shows the production model of the hybrid zeppelin and gives the go-ahead for the electrification of Indian transport. This model will probably not come to Europe.
#Study #TVS #Zeppelin #Hybrid #bike #BMW #partner #India

Source