We choose a series of proposals for table lamps, stylish, beautiful and economical, on the Ikea website.
Table lamps are an ideal accessory to create unique environments in different rooms of the home due to their cozy lighting and their compact size: many of them, in fact, have mini dimensions, making it easier to place them in any corner. Therefore, if you are short of ideas and need to give a change of scenery in rooms such as the living room, the living room or the bedrooms, this selection of table lamps for sale at Ikea will be very useful.
They are beautiful, stylish, best-selling models with highly polished finishes. Some of them have a retro aesthetic, others are made with materials as versatile as bamboo and there are also to complete the ambient lighting of the rooms of the little ones. Be that as it may, the value for money is guaranteed and all these lamps can be purchased for less than 50 euros. And for you, which one is your favourite?
Stylized brass table lamp
It is currently the best-selling lamp in its category at Ikea. Its retro air makes it unmistakable and it provides soft, pleasant and diffuse lighting, generating a unified space wherever we place it. Includes a chain switch, also made of brass. The average rating given by users who already have it at home is 4.7 out of 5 stars.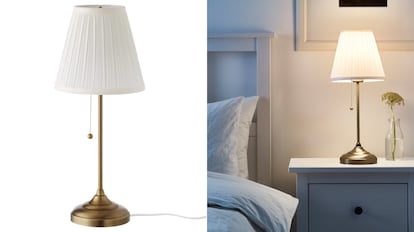 Table lamp with straight shade
This other option is ideal to place it, for example, in the living room. Its structure is made of galvanized steel with acrylic coating and the lampshade is made of polyester. Very easy to clean (just wipe with a dry cloth), its design is very discreet.
Stylized table lamp made of bamboo
Elegance is an element of distinction in this lamp model. The peculiarity of this accessory is the handmade braided bamboo lampshade. Thanks to this, the light that comes from the interior is projected outwards, both on the walls and ceiling, with decorative motifs. Ikea recommends using an opal type bulb for even lighting.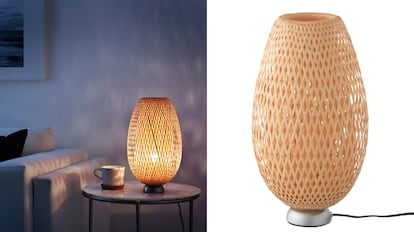 Retro table lamp with candle design
Its mini size favors that it can be placed in any corner of the house where we want to generate intimate ambient lighting. With a modern line, in the background, it reminds us of an old kerosene lamp. The bulb resembles that of a candle emitting a very cozy light. It can be adjusted with the circular dial that it incorporates.
More information
Mini Woven Bamboo Table Lamp
A very light model that fits in any room: this is this table lamp that is reminiscent of more traditional lamps. The structure is made of braided bamboo and, thanks to this shape, it will provide us with soft and bright lighting, very cozy. The three legs that it incorporates are designed in white galvanized steel.
Multicolored table lamp for desk
A touch of light and an ideal decoration for the shelf or the desk of the smallest of the house. It integrates LED lighting, which can manage a useful life of up to 25,000 hours. Its pencil-shaped design allows it to be fixed horizontally or vertically, and its charger is stored in the lower part of the lamp. In addition, it can be chosen so that it emits a single color or that it automatically alternates in all that it has.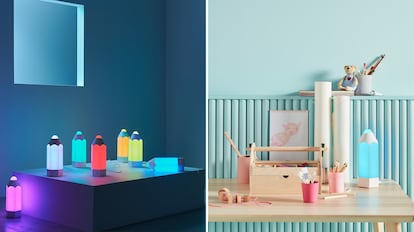 Table lamp for the hall
With a sober and classic style, it consists of a transparent glass lampshade from which the light bulb inside can be seen in a blurred light. On the other hand, its circular base is made of aged brass.
More information
*All purchase prices included in this article are current as of September 26, 2022.
You can follow EL PAÍS ESCAPARATE on Facebook and Instagram, or subscribe to our Newsletter here.