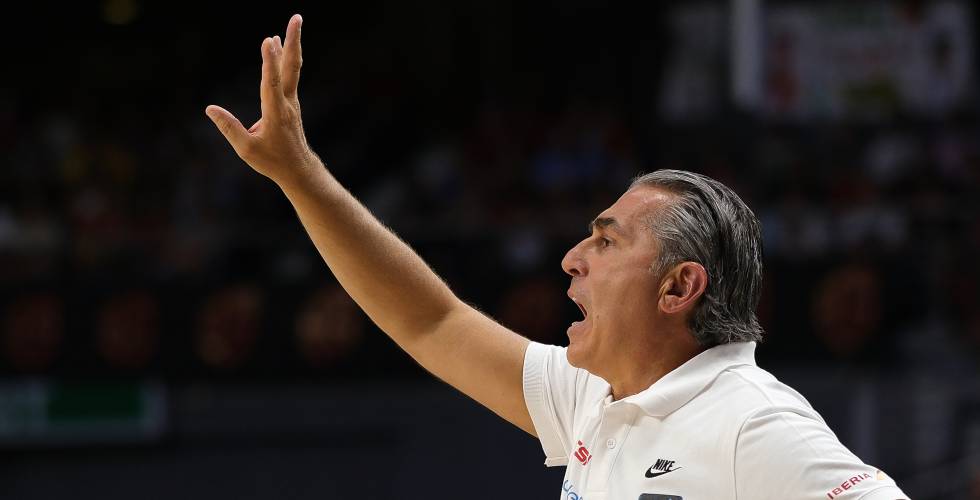 Just write another golden page in basketball as the national coach of Spain, a group he has led since 2009. Sergio Scariolo (Brescia, Italy, 1961) adds another victory to his resume, that of European champion, after beating France (88-76) last Sunday, a title he already won in 2009, 2011 and 2015, in addition to world champion in 2019, Olympic runner-up in London 2012 and bronze in Rio 2016. And he has achieved it with different teams, with great stars, including names like Pau and Marc Gasol, Ricky Rubio, José Manuel Calderón, Sergio Llull, Felipe Reyes or Rudy Fernandez.
Proud of La Familia -as they are called-, with the medal around their neck and in their locker room, Scariolo addressed everyone, the players and members of the technical team, thanking them for the culmination of a trip, in which the majority, except for the brothers Juancho and Willy Hernangómez and Rudy Fernández, premiered in the competitionand thus summed up the "fantastic job done, no nonsense, having a good time, working, with some things that worked and others that didn't, but nothing happened".
In another of his interventions, once they qualified for the final, held in Berlin, the coach had words for the great stars he has directed on the pitch. "This comes from behind, it comes from the windows and it comes from Benahavís, from the effort, from when we started to build this team," he explained, going back to 2017, when the Basketball Federation created a group of players from whom I would nurture in the windows that the International Basketball Federation (FIBA) was going to launch. To do this, Spain concentrated in this Malaga town for two weeks. And he added: "I represent many people who have helped create this team, even the players who are no longer here have taught those who arrive the language of how to win."
His leadership, his ability to take different teams to the top, from experienced stars, even in the maximum galaxy such as the NBA, and from newcomers is something exceptional. "It is something that is not usual, because it is normal for a leader not to be able to handle two situations that are so different in any type of company," he points out. Jon Segoviaprofessor of leadership and change management at Deusto Business School, who highlights a first stage, with a team full of stars and talent, and a second level totally different, in which you have to manage two concepts such as aptitude and attitude. "The first capacity was not so well developed with the previous team, made up of surnames like Reyes or Gasol, which now that they have to work on it more with a group of younger people, who want things to happen more quickly," adds Segovia. , for whom the starting point of any leader has to begin with know well what you have, analyze it and take advantage of it. "The team was not as brilliant in offense as in defense and he established a tactic based on his strong point, that shows that he is a good strategist." Knowing how to team up and that one plus one adds up to three. "Getting potential out of that sum is key."
He agrees with the idea that the coach has applied the leadership that sports psychologist Teresa Álvarez needed at all times: "he has been democratic, with consensus decisions, but he has also been authoritarian with the figures that are starting, while at the same time he has left do when everything was working. This type of versatile leadership It is the ideal for any organization, because it allows you to lead in one way or another, depending on how the wind blows.
Another of the features that this expert notes is the capacity for cohesion and communication achieved. "But to direct, to lead, to bring out the potential of each member of the team, is something that is learned, like knowing how to give each one their space, even if the younger ones have to be directed a little more," she adds. .
Because giving each player or professional their leading role is key to achieving goals and success. In this sense, Álvarez refers to a term that is applied in psychology, the internal control room, "which is knowing how to control what depends on each one". A good leader must know that he cannot control everything, that he has to be aware of what depends on himself, not on other external factors. And he remembers an incident that occurred with the referee during the final match, to which he did not give importance, "even though it was a huge mistake, because the important thing was to move on."
The psychological component is part of the caste of a leader. It also ensures Margaret Maydoctor in psychology and business sciences and professor of leadership at IE University: "When you are a leader you have to know your team very well, and be a kind of coach, because managing consolidated stars, with egos, is not the same as to a new group that has to focus more on the task, but at the same time they are more generous and work more as a team".
Because when you lead groups with a lot of experience, in the end you end up observing that many of its members are not completely happy, that there is a negative gap in the expectations they have. In this stage, a leader must divert his attention and devote much more energy to managing egos. "While this new team of less experienced players is delighted, they are all more generous and exceed their expectations, which allows Scariolo to focus all his attention on basketball," continues Mayo.
This photograph taken to the business world, the teacher points out, supposes a change of roles, due to the resistance that always exists to change. Therefore, the first phase consists of unlearning, in end grudges, in which individual interests are parked in favor of teamwork. "Without claims involved, it is much easier for Scariolo to manage this new group of players."
Team management is also related to innovation. "It has implications because with the stars it is more difficult to innovate, since they do not like to take risks. On the other hand, with this group they have been able to do new things, when something did not work they tried in another way. This is known as creating a psychologically safe environmentin which mistakes are allowed, without putting self-esteem at risk", details Mayo.
Error management is also key. "It is important to let people make mistakes, a greater permissiveness is what makes people grow," explains Segovia, who also wants to highlight from Scariolo the respect he maintains, and makes the rest of the team have, towards the stars. "Seniority counts, and that is something that is not taken into account in companies, in which veterans are often overlooked, as they usually contribute in terms of group cohesion." It makes room for newcomers and makes veterans feel like big brothers. And the maxim is: respect without shadowing.
Rules for learning to be a leader
Variables. Psychology is important. And leadership is learned. This is what sports psychologist Teresa Álvarez believes, who believes that in order to manage both autonomy and motivate each player, it is important to apply different strategies.
Know how to listen. To begin with, there should be a team and short, medium and long-term goals. Communication is also crucial. "It is more important to know how to listen than to say," says the expert.
Lose nerves. It is also contemplated in a leader. "We are people, not machines, and emotions come out." Knowing how to delegate is also part of the good leader's manual, "you can't cover everything".

Encourage effort. Another rule of thumb, especially in this age of immediacy and quick wins. "We must promote these types of values, effort, work, cooperation, it is something that is essential to achieve the objectives, at a time when speed is valued above all."