Renfe has incorporated the first 34 female drivers from the history of Saudi Arabiaon the railway line that connects the holy cities of Mecca and Medina, driving the trains of the Haramain High Speed Railway. More than 28,000 women, the majority of the country, appeared for the selection tests.
The Spanish company has reported today, Sunday, that the staff of KSA Renfeits subsidiary in Saudi Arabia, has 140 professionals, close to a quarter of which are women.
Renfe began training programs for this new generation of local train drivers, similar to those taught in Spain, in March 2022, with 1,157 hours taught. The practical training began last August, with trips in the cabin with Renfe supervisors and accompanying driving, a total of 674 hours.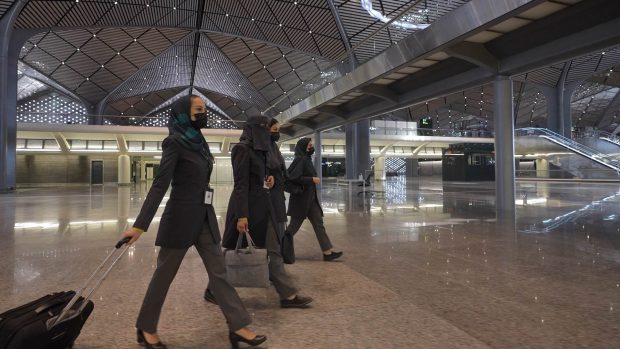 Renfe employees in Saudi Arabia. RENFE
The average age of the new Saudi Renfe workers is 26.8 years, and 73% have university education; the average age of male promotions is 28.1 years, and only 31% have higher education.
Renfe's selection call in Saudi Arabia caused great expectation, 28,000 women presenting themselves. Of these, 14,000 applicants passed the first phase of the process.
At present, in total, the company that operates the Mecca railway line also participates Adif e Inechowith more than 1,300 workers, the majority of Saudi nationality.
The AVE to Mecca, which links the sacred cities of Mecca and Medina, is the first existing high-speed railway in the Middle East, and is managed by a consortium of twelve Spanish and two local companies, Renfe being the first shareholder.
The line is 452.9 kilometers long and the trains reach a speed of 300 kilometers per hour. 20 daily trains are operated, 10 in each direction, from Wednesday to Sunday, with extraordinary frequencies during the month of Ramadan.