Pharoah Sanders, legendary jazz saxophonist and companion in the last trips of John Coltrane, has died this Saturday in Los Angeles at the age of 81, "in peace and surrounded by his family", as reported by the Luaka Bop label on their social networks. .
The entry into the history books of Sanders, who recently enjoyed unexpected fame thanks to his work with the electronics producer Floating Points, came in 1965, with his entry into Coltrane's quintet, which he accompanied until his untimely death. in 1967, at the age of 40. Together they broke the mold of jazz improvisation based on blows of fury and spirituality.
More information
He was the last living member of that group, which was completed by the pianist Alice Coltrane, the drummer Rashied Ali and Jimmy Garrison, the only member who had played in Coltrane's previous band, his legendary quartet with Elvin Jones and McCoy Tyner. They are all dead. Sanders was also the youngest. The leader recruited him when he was only 24 years old and heard the sound of him, already unmistakable in his searing lyricism, at a concert in New York's Village Gate. His enlistment, along with the rest of his young companions, caused rashes among the master's followers, determined on a journey that not everyone understood.
We are devastated to share that Pharoah Sanders has passed away. He died peacefully surrounded by loving family and friends in Los Angeles earlier this morning. Always and forever the most beautiful human being, may he rest in peace. ❤️ pic.twitter.com/pddaztyTLi

— Luaka Bop (@LuakaBop) September 24, 2022
Born as Farrell Sanders in 1940 in Little Rock (Arkansas) into a musically inclined family, both of his parents were dedicated to his teaching, he began playing the clarinet before switching to the tenor sax, after discovering jazz and be dazzled by performers like Harold Land, Sonny Rollins or Coltrane himself. Like so many musicians of his generation, he cut his teeth in the trenches of blues and rhythm and blues on the local scene in his town, before moving to Oakland on the West Coast. With the San Francisco Bay Area as his base of operations, he first slipped into the orderly harmonic revolution of bebop to leap free into the free aesthetic of free jazz.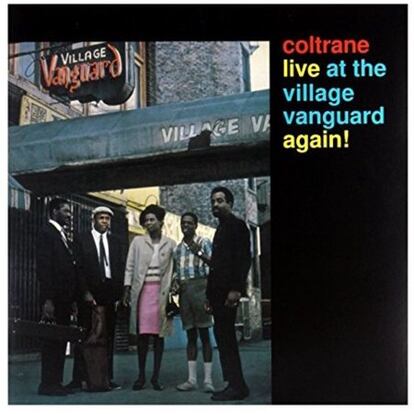 John Coltrane's quintet, on the cover of the album 'Live at the Village Vanguard Again!'. From left, Pharoah, Sanders, John and Alice Coltrane, Jimmy Garrison, and Rashied Ali.
He met Coltrane "in 1962 in San Francisco," he said in an interview with this newspaper. "His music seemed complicated to me then. It wasn't the kind you listen to when you're just starting out and, like me, you play club nights for five or ten bucks. He didn't do the kind of jazz that pushes you to learn. It was rather scary."
Three years later, installed in New York, where his artistic commitment condemned him to poverty and to sleep a few nights on the subway, he was already part of Coltrane's stable band. The music they were capable of together can be heard on albums like Om, Live at the Village Vanguard Again, or the recently rescued A Love Supreme: Live in Seattle, all testimonies of a desertion, without looking back, of traditional jazz concepts such as swing or harmonic improvisation. It is one of the most powerful sounds that the history of the genre has produced, and even today, almost sixty years later, it is also one of the most controversial. A companion of those heroic times, the saxophonist Albert Ayler, another idol fallen too soon, once said that if Coltrane was the "father", Sanders was the "son" and Ayler himself the "holy spirit".
Pharoah Sanders, the soprano in an image of the sixties.Michael Ochs Archives
Unfortunately, Coltrane would quickly orphan his epigones. After his death, Sanders worked with his widow to forge a new aesthetic that became known as spiritual jazz, on records, all on the Impulse! label, such as Thembi, Karma or Tauhid, perhaps his masterpiece. With Alice Coltrane he recorded peaks like Ptah The El Daoud or Journey in Satchidananda. Just reading those titles gives a good idea of ​​the ingredients of that aesthetic, which started from a particular syncretic reading of religion (which ended in Buddhism, in the case of the pianist) to mix pantheism with the best intentions. issues such as Egyptology or African-American consciousness. Sanders is the author of hymns of the genre such as The Creator has a Master Plan, You've Got to Have Freedom or Love is Everywhere.
Death overtook him precisely one day after his teacher's birthday. On Friday, a tweet from the saxophonist Azar Lawrence, a member of a later generation, warned about his state of health, which had led him to be admitted to the hospital. Luckily, his life had given her one last caress. In 2021, his collaboration with Floating Points brought unexpected joy, pushing the meager boundaries of a fame that was never even close to massive. Promises, a meditative album for which they had the collaboration of the London Symphony Orchestra, became one of the albums of 2021 for non-jazz magazines and journalists, and a wider audience discovered the saxophonist, yes, in his face kinder, far from the abrasive sound that made him stand out in the mid-sixties in the already incendiary New York free jazz scene. Sam Shepherd, the British musician behind the Floating Points alias, tweeted this Saturday: "My beautiful friend passed away this morning. I am very lucky to have met him. His art has blessed us all, and he will stay with us forever. Thank you Pharaoh."
Like other musicians of that short summer of anarchy that they preferred to call a new thing, Sanders allowed himself to be rocked in the last decades of his career and at the head of his quartet by blues and ballads, which were always there ( the same can be said of another of the last survivors of that time, even more alone since today, Archie Shepp). He also experimented with African music (particularly interesting are his collaborations with the Moroccan Maleem Mahmoud Ghania) and frequented younger performers, such as The Chicago Underground Duo.
In 2009, Sanders gave this newspaper one of his rare interviews. It was in A Coruña, hours before a concert, the first he gave in Spain in 15 years. He was sullen and distrustful of a world that he had ceased to understand. "I am above criticism," he said defiantly. "I console myself by remembering," he added, "what he once told me [el también saxofonista] Sonny Stitt: 'Man, being written about you, bad or good, is good, because then your name will get around.' And that is the important thing, that they remember you".
That, at least, knew how to guarantee it. His followers filled Twitter, Instagram and other 21st century condolence books in the early hours of this Saturday with his memory, with heartfelt messages in recognition of his influence and the importance of his legacy.
All the culture that goes with you awaits you here.
subscribe
Babelia
The literary news analyzed by our best critics in our weekly newsletter
RECEIVE IT


Source