The camera has always loved Penélope Cruz. She takes care of her, enjoys her, admires her. After so many adventures together, both know each other very well. And yet, they always discover something new. Perhaps for this reason, at the start of L'immensità, the spotlight comes within millimeters of the actress's face, in search of some hidden flash. Although the real revelation comes a few sequences later: Prisencolinensinainciusol, by Adriano Celentano, plays. And the interpreter dances wildly in the skin of Raffaella Carrà.
Few foreigners would dare to embody the myth of Italian music. And, more generally, to become a mamma in Rome for an hour and a half, with language change included. Last year, Cruz brought two roles to the Venice Film Festival, and she won a Volpi Cup for best actress. In this edition she repeats a double —she stars in In the margins, by Juan Diego Botto—. It's clear that the festival, and Italy, have embraced it. However, L'immensità, by Emanuele Crialese, was not received with such open arms.
"It has been lucky to have studied French before English. At 18 they started calling me from Italy and I learned the language. It's a lot more work, but it helps to get closer to a character and her way of communicating. I feel lucky to perform in four languages. Though the only time I was perhaps able to lose my accent altogether was in Don't Move. [de Sergio Castellitto]. But it was a five-month job of crying and wanting to strangle the teacher and he me, "Cruz told the press. For his answers, it was enough for him to display Spanish and English. And there were no tears. Just applause and smiles.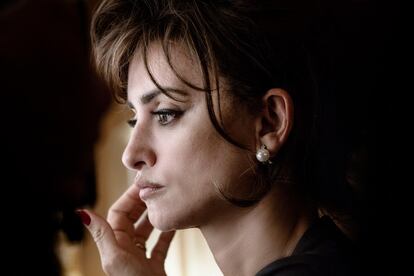 Penélope Cruz in a still from 'L'Immensità', by Emanuele Crialese.More information
L'immensità focuses on a girl on the hunt for her place in the world. They call her Adriana, but she feels like Andrea (male name in Italy). And her bond with her mother, in addition to their passion for dance and music, seems the only oasis of a life that doesn't understand her. "Both are trapped. In a body, a marriage, themselves… They have no escape, plan B. The only one is television, which connects them with dreaming, dancing, with another world, something closer than they think they are," Cruz said. regarding his character. And about the recurrence with which she raises children on the screen, she added: "I have represented so many mothers… five only with Pedro Almodóvar. I have a very powerful maternal instinct. Since he was five years old he already said: I will be as soon as possible. And I am very fascinated by what happens within each family." Although the actress stressed that the film also talks about "domestic violence".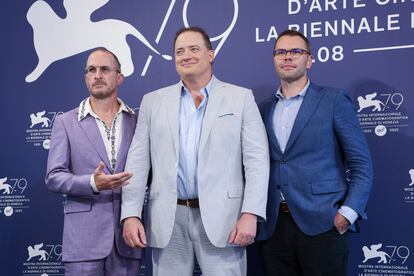 From left to right, Darren Aronofsky, Brendan Fraser and Samuel D. Hunter before the press conference for 'The Whale', in Venice. Joel C Ryan (Joel C Ryan/Invision/AP)
The entire day of the contest at the Mostra, basically, was dedicated to the children. Retrieving little Ellie from her is the only thing left for Charlie, a man in the final stages of her downfall. But in passing, Darren Aronofksy's The Whale offers viewers one of the starkest, most uncomfortable portraits of loneliness, obesity, and breakdown in living memory. With emotion and art, with truth, without condescension. And Brendan Fraser shows enormous size and performance, to which many already assign awards.
Les enfants des autres, by Rebecca Zlotowski, on the other hand, takes a different approach: Rachel learns to care for her new partner's daughter while reflecting on her motherhood. Can she really love another's child? And why then does she want one of her own? An original perspective, and today more and more current. So much so that it seems to be inspired by the relationship between the director and her colleague Jacques Audiard. But she is followed by a predictable, innocuous development. And that describes the most sweeping revolution of life.
Something similar lastra L'immensità. Nothing displeases, but nothing surprises either. Neither the script, nor the direction, nor the interpretations. "It's the film I've always wanted to make," Crialese repeated. The Italian press, in fact, has spent days wondering about his autobiographical overtones. From so much waiting, however, it is likely that the filmmaker has arrived late. Because, meanwhile, adolescents in crisis of gender and identity, compassionate mothers and violent fathers have already filled other stories. The family choreographies a la Raffaella Carrà and some intimate moments between mother and children stand out as the best of the feature. But it is unlikely that it will make much noise in the list of winners.
The Whale, on the contrary, reserves a place on the final night of the contest. Perhaps, even in more finery of the season. "Many of us have lost so much these years. And there has been a cut in human connections. This work talks about getting into the skin of others and it is what the world needs, "said Aronofsky. Although, for the creator, the confinement also served as inspiration: "It did not seem responsible to me to make a great film. But for this one I only needed five actors. And I thought: 'Let's see what happens if I limit myself to an apartment and a character who is not very mobile'.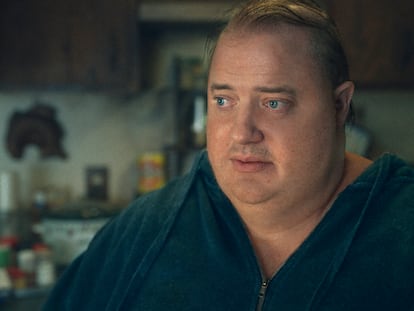 Fraser, in a still from 'The Whale'. AP
What happened was The Whale, an adaptation of the homonymous and almost autobiographical play by Samuel D. Hunter. And Aronofksy's return to Venice, where he triumphed with The Wrestler and Black Swan, but also crashed: His Mother is the most booed film in the festival's recent history. This time, there has only been applause.
The screen becomes square. And it only shows one space: Charlie's house. The viewer is immediately hooked. Just like the protagonist, locked up in his mistakes and in a tragedy that led him to eat until he built a 260-kilo prison. "It's almost poetic that the trauma she's going through manifests on a physical level," Fraser defended. Although his mind travels with absolute agility, and takes the audience to deep places, hidden within each one. As Aronofksy said, "You can't judge a book by its cover, or a character by first impression." He himself recognized that it was an obvious thought. Probable. But still, he wanted to share it with everyone. There must be a reason.
All the culture that goes with you awaits you here.
subscribe
Babelia
The literary news analyzed by our best critics in our weekly newsletter
RECEIVE IT


Source