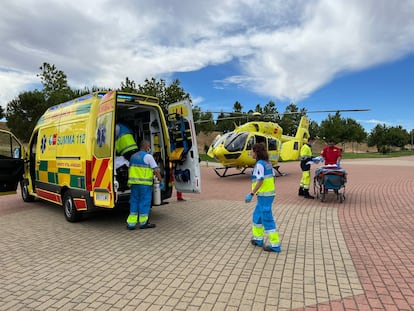 Emergency personnel 112 Community of Madrid, this Thursday in the Carlota Bustelo park in Parla. EMERGENCIES 112 COMMUNITY OF MADRID (EMERGENCIES 112 COMMUNITY OF MAD)
A cloud of silence has fallen this Friday over the intersection of Viario de Ronda and Calle Carlota Bustelo, in Parla. It has been an overwhelming silence, for five minutes, in which only the sobs and the fans of the neighbors gathered in the park, where Raúl stabbed Cristina the day before, could be heard. She would have turned 19 on Monday, and this weekend she was going to celebrate her birthday. But Raúl, 20 years old and his ex-partner for eight months, stabbed him 17 times in the chest, neck and face. After half a day at the Hospital 12 de Octubre in Madrid, after two cardiorespiratory arrests from which the health professionals took her out, Cristina died in that center also this Friday. The concentration has been convened by the Parla City Council in solidarity with Cristina's family and friends.
Some 1,000 people have attended the rally, according to police estimates, including the town's mayor, Ramón Jurado Rodríguez. In all his faces the love and affection that they keep for Cristina was evident. "I simply have no words to describe this," said Jurado Rodríguez, who is a friend of the victim's mother. "Let's all fight against messages of hate, against messages of denial of gender violence, which fill us with rage today," he said. Rosa María Braseo, president of the Fibroparla Association, to which Maite, Cristina's mother, also belongs, has also attended. She has brought a bouquet of flowers that she has placed in the center of the park. There, other neighbors have placed candles, photos of Cristina and banners. "Justice for Cristina, no to sexist violence!" Says one of them. The mother, Maite, has not attended.
The murder occurred this Thursday, around five in the afternoon and in the middle of a busy park, Carlota Bustelo, in Parla, where they both lived. It was several residents of the area who notified 112 of what they had just seen: a man had stabbed a woman and had run away. It didn't take long for the people walking by and the agents to surround him. He threatened to harm himself when he was cornered, and ended up doing so, stabbing himself in the abdomen with the same knife he had just stabbed Cristina with. "He is the most atrocious of the [crímenes machistas] that I have lived", affirms Mercedes González, delegate of the Government in Madrid, who speaks of "the rage, the anger", which presumably exists behind these murders: "17 stab wounds, from the chest upwards, to the neck and face, it is difficult to assume".
A "violent" and "aggressive" boyfriend
She was transferred by helicopter until October 12, where she arrived with irreversible brain injuries. The aggressor was taken to the Puerta del Hierro hospital in Majadahonda, where he is in critical condition, guarded by the Police. Cristina had left Raúl last fall. According to sources of the investigation, she had to do with his behavior, "violent", "aggressive", and with "the world" in which he moved, that of drugs. She did not want to be part of that, those same sources say. They also say that he refused to "accept it" and that "perhaps", the fact that she had started dating another boy a few months ago, exacerbated "jealousy", one of those expressions of toxic relationships, which are usually associated to love, but that, nevertheless, constitute an element that has to do with the possession and control of the other person.
In recent days, that control had led him to prowl around where Cristina lived and moved, voices close to the case point out. She never filed a complaint, as the vast majority of victims of sexist violence do not. According to statistics from the Ministry of Equality, in 2021, 80% of women killed by their partners or ex-partners did not. The fear of the aggressor, of not being believed, out of shame, because sometimes they do not perceive the seriousness of the risk, that is how the cycle of sexist violence works, how it occurs and how it escalates, sometimes it is not identified. Neither for the victims themselves nor for their environment.
Five months ago, in Totana (Murcia), Johan Styven PO, 19, murdered Claudia Abigail Siguencia, 17, in a storage room two floors below ground, also with a knife. That murder moved something in a special way among the inhabitants of that town and in society. Lluís Ballester, an expert at the University of the Balearic Islands in young people, relationships and their link to pornography, explained at that time why in a report in this newspaper. He said that although all violence "is a social failure", when it occurs among such young people it is interpreted as a collective failure: "As if it had to do with something that we have not known how to do well, in the family, at school, in the community: give support, prevent, understand what was happening… To young people that we should protect".
Until now, there are already 24 women murdered in Spain due to sexist violence so far this year —counting this and the murder of a woman in Dos Hermanas that is being investigated as such—, and 1,153 since 2003, when the official statistics began.
The 016 telephone number attends to victims of gender-based violence and their families or surroundings 24 hours a day, every day of the year. The number is not recorded on the phone bill, but the call must be deleted from the device. It can also be contacted through the email [email protected] and by WhatsApp at the number 600 000 016.
50% off
Exclusive content for subscribers
read without limits
#Parlas #mourning #Cristina #murdered #expartner #eve #celebrating #19th #birthday

Source