It takes a lot of energy and many machines to unravel the chain of codes that makes it possible to obtain a bitcoin, the most famous cryptocurrency on the market. And if there is something that Paraguay has —besides patience, soybeans, two cows for every inhabitant, forests and rivers— it is that: very cheap electricity.
That is why more and more Bitcoin generators are coming to this South American country, which follows France, Germany and Canada as the world's fourth largest net exporter of energy, despite not having access to the sea, gas or oil. A few months ago, in fact, the specialized site Criptonoticias described Paraguay as "the promised land for profitable Bitcoin mining", based both on formal announcements and on the efforts of Paraguayan businessmen to attract large companies dedicated to the activity.
Since 2020, the country has seen an increasing number of local and foreign companies installing huge metal or concrete containers with rows of computing devices, fans and air conditioners in industrial spaces, but also in places that were once jungles —such as Ciudad del Este, San Pedro or Paraguarí—, or in rural towns today full of German descendants like Villarrica. This phenomenon essentially has two pillars: on the one hand, one of the lowest industrial electricity rates in the region and in the world; on the other, a draft legislation that could offer mining companies benefits such as lower energy prices, tax exemptions or the Government's promise to sanction those who carry out mining activities or provide cryptoactive services outside the regulatory framework.
Along with El Salvador or Venezuela, Paraguay has been debating a regulation on crypto mining that only awaits the approval or veto of President Mario Abdo Benítez (of the conservative Colorado Party). For Luis Benítez (55), computer scientist and university professor, this law seeks to lower costs for the "industrial miner", but does not provide tools or protect the "amateur, domestic or homemade miner".
Benítez was one of the first to connect to the Internet in the country in the 1990s and since 2010 —before most of us heard of cryptocurrencies— he was already "mining" at his home in Asunción. He today manages the largest discussion group on Telegram on the subject and is one of the founders of the Paraguayan Association of Blockchain, dedicated to promoting a fair regulation of this activity.
"They only met with large mining businessmen, very hastily, without taking into account issues of energy or tax policy," Benítez told EL PAÍS, referring to the crypto mining bill approved by the Legislative Power. There are other initiatives in this regard, such as that of the national electricity company (ANDE), which proposes in another project that the payment of cryptominers be in advance and in dollars; or the one on the left, which asks to take advantage of surplus energy to exonerate families with fewer resources.
Join EL PAÍS to follow all the news and read without limits.
subscribe
The president of Paraguay, Mario Abdo Benítez, descends from a plane upon his arrival in Bogotá (Colombia), on August 6. Carlos Ortega (EFE)
Where does so much electricity come from?
Those responsible for all this energy surplus are the very long and mighty Paraná and Paraguay rivers and all their tributaries; and the Itaipú and Yacyretá dams that it shares with Brazil and Argentina. It is a country the size of France that generates a lot of electricity, but — after more than half a century of neoliberal policies — it has hardly any industry or infrastructure to harness it, so its seven million inhabitants cannot benefit from it. In Paraguay there is no Metrobús, nor tram, nor trains of any kind (neither interurban nor underground). Here everything is fossil fuel: motorcycle, car, bus, truck, tractor or on foot.
In fact, the total consumption of electrical energy in the country represents 20%. 42% is oil (imported fuel) and 38% is biomass: wood from forests, own or others, according to official data.
In Paraguay, a small industry —such as 90% of Paraguayan companies— connected to the low-voltage network pays about 58 dollars to have 1 Megawatt per hour of electricity (the equivalent of using about 90 liters of oil). And some "cryptominers" —such as those based in Villarrica— are paying about 18 dollars per megawatt hour. An abysmal difference with the average price paid in South America, which around $100 a megawatt hour, as explained to THE COUNTRY Mercedes Canese, former vice minister of Mines and Energy of Paraguay. Not to mention the 235 euros the megawatt/hour in Spain or the 530 in Italy.
Workers maintain a bitcoin mine in Whinstone, Texas, which consists of hundreds of computers operating simultaneously. MARK FELIX (AFP)
"We are subsidizing the energy between all of us. They pay us less than when we export it," says Canese, an industrial engineer and parliamentary adviser.
In recent years, critical voices have increased pointing out that bitcoin consumes too much energy and generates a very significant carbon footprint, which has led more and more companies to look for "clean" and, above all, cheap energy sources to continue mining. . "Somehow we have it and we give it away. Especially to Brazil", added Canese, referring to the agreement that obliges Paraguay to sell to Brazil the energy from Itaipu that it does not use.
The first news about crypto mining in Paraguay came in 2019, when companies linked to local politicians from Ciudad del Este were discovered stealing electricity to generate Bitcoin. There are currently eight open investigations in the Paraguayan Prosecutor's Office for this reason.
"Before, only a few companies from Brazil came to Ciudad del Este and generated problems. They rented a place, mined for months and then disappeared without paying electricity. But now there are formal Canadian, American, Russian and Chinese companies," explains Benítez. For him, if the president enacts the law, foreign investments will have cheap energy without taxes and only families with high purchasing power will be able to operate bitcoin mining.
The wealth of Villarrica
Multinationals such as Future FinTech formally announced their landing in Paraguay and the Canadian Bitfarm, established there a long time ago, competes in size with that of the local politician Emmanuel Friedmann and the Penguin Academy in a city of some 60,000 inhabitants surrounded by soybean fields and cows 150 meters away. kilometers from the capital. Friedmann calculates that between his company and the others there are at least 30,000 ASICs, as the computers necessary for bitcoin processing are called: two per household, but concentrated in a few hands. And it is because of a historical peculiarity.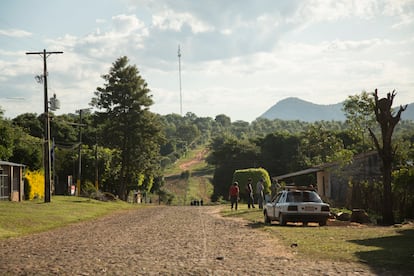 A street in the Department of Guairá (Paraguay), whose capital is Villarrica.Santi Carneri
Here, in Villarrica, the descendants of Germans built their own power line just one year before the dictatorship of Alfredo Stroessner, the longest in America, (1954-1989), a regime that took 30 years longer than the locals to bring public power to the area. For this they created a private company.
That company continues to exist to this day and with legal tricks manages to remain independent and privatized. It is called CLYFSA and some mining companies are located directly next to their electrical substation. The company buys subsidized electricity from the state and offers it to its customers at a rate even lower than the rest of the country, starting at $18 per megawatt hour. For this reason, the director of Future FinTech, Shanchun Huang, declared in a statement his interest in "the hydroelectric power and clean energy resources of Paraguay". Huang assured that they will set up a "mining farm" if they receive "preferential policy treatment."
Christian Katz is a Paraguayan businessman of German origin, born and raised in Villarrica, who has done very well with cryptocurrency mining. He already owned a company that provided internet service in his city and, a couple of years ago, he jumped on the virtual mining bandwagon. He also considers himself a "domestic miner", although he is also a consultant for other companies in the sector.
"I realized that there were many people coming to Villarrica for mining. It called my attention. I realized that I was in the middle of several companies bringing large investments to the city," says Katz. He says that he started with $1,000, but now an investment of between $30,000 and $40,000 is needed to get started.
"It is still profitable but profitability has dropped a lot," he explains. When he entered, the business promised a return on investment in a year: "Now it's 2 and a half years."
"I believe that the State has to enter to formalize and collect what it has to collect in taxes from foreign companies. It is not an opportunity for silver people. It is for the country. It is money for ANDE, for the State", says Katz.
He acknowledges that he looks at the price of Bitcoin several times a day, but he does not recommend others to do so: "I cannot and do not want to live on mining alone, my personal advice is to see mining as something to do in your spare time, a hobby that produces silver, that should be the focus, because it is something that is not forever".
"It will not last more than four or eight years. And as long as Toyota doesn't come to set up a car plant… ", he added.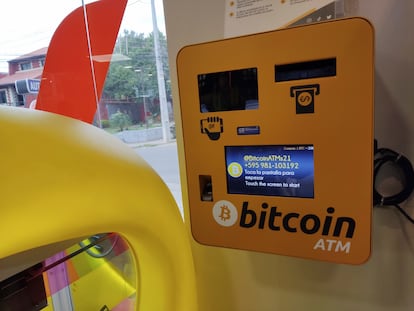 A Bitcoin ATM that allows you to buy percentages of Bitcoin from 20 dollars, in a store in Asunción (Paraguay). Santi Carneri
One of the main criticisms of cryptocurrency mining around the world is the high energy consumption that it implies, which is why the businessman defends doing it in Paraguay, where the Itaipú hydroelectric plant is located, the one with the largest production in America and which competes to be the first. in the world with the Chinese Three Gorges Dam. Yes, it is a renewable energy, but until when?
The Paraná River is colossal and the second longest in South America after the Amazon, but it has another 50 dams upstream in Brazilian territory. Less than a year ago there was an energy crisis due to the lack of water in the Itaipú dam, on which 10 percent of the energy in Brazil and almost all of Paraguay depends.
"It is a global debate. Why, in the context of climate change, dedicate all that energy to something that does not produce and does not create jobs? It is a financial asset, it does not generate wealth. That is why it is extractivism. They have a very important profit from a raw material and on top of that with a subsidy", argues Canese, the industrial engineer.