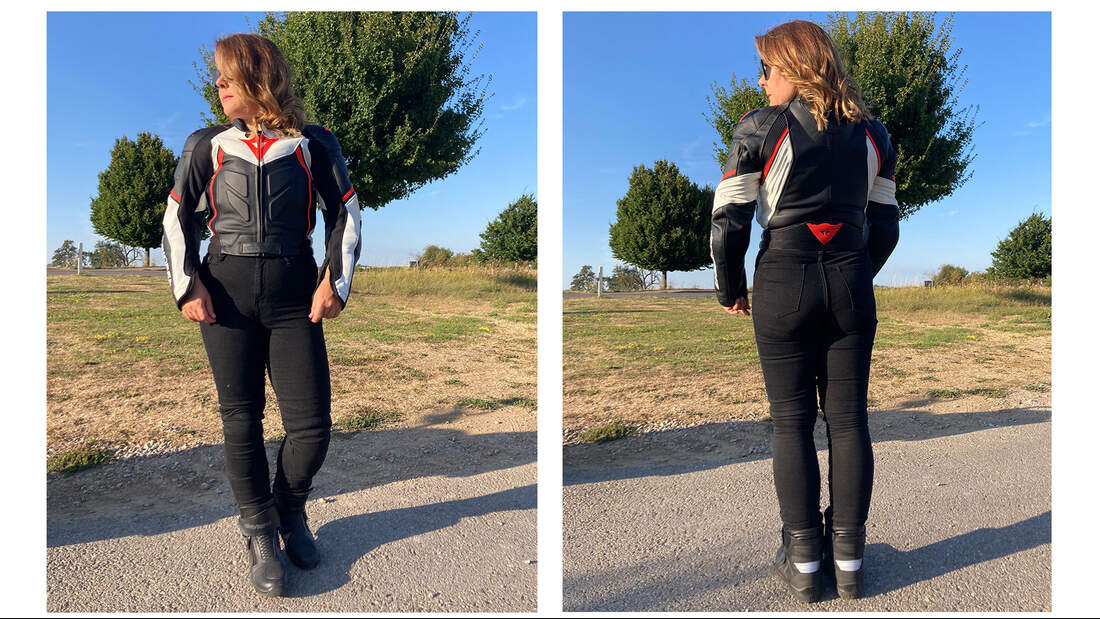 The Oxford Original Approved Jeggings WS is presented by the manufacturer as a single-layer motorcycle jean with an AA protection standard, which is said to offer both safety and comfort thanks to the Armourlite fabric with stretch content. The difference to previously common motorcycle jeans: They are not equipped with the yellow aramid lining because the highly stable fibers – here under the Armourlite brand – are woven directly into the base fabric. With its "quick dry technology" it is said to transport sweat away better and at the same time be moisture-repellent. 2 interchangeable knee protectors (level 2) and 2 hip protectors (level 1) are included.
Offers comfort like normal jeans
What is immediately noticeable: the Jeggins feel in no way different from normal, high-quality jeans. Thanks to the cotton and lyocell content, it feels soft and supple. And with two pockets on the front, a coin pocket and two patch pockets on the back, they are in no way inferior to ordinary 5-pocket jeans. Since they do not have a second aramid fabric layer like classic Kevlar motorcycle jeans, they are also pleasantly light and airy to wear. The slightly washed-out vintage look is a matter of taste – but we personally like it.
Slim Fit und High Waist
The monolayer motorcycle jeans are as tight as slim fit jeans, but are still super comfortable and offer a lot of freedom of movement thanks to the stretch component. The waistband sits nice and high, comparable to high-waisted jeans, which has the additional advantage of motorcycle jeans that it protects the area around the kidneys. The waistband does not cut in uncomfortably. Our test jeans in size 38 are true to size – only the delivered length in R (regular) was a bit too long for our tester with a height of 1.63m. The jeans are available in 3 lengths: short, regular and long – so there should be something for every body size.
Oxford OA jeggings put to the test
The Oxford Original Approved Jeggings are still super comfortable to wear even after a four-hour motorbike tour at 30 degrees. It is breathable, thin and relatively airy due to its single-layer construction. Due to its water-repellent function, it is definitely useful for short rain showers, also because it dries relatively quickly – we tried it out ourselves.
The protectors on the knees and hips are easy to insert and remove thanks to the sewn-in inner pockets. Unfortunately, there is no Velcro or similar for the protector pockets, so that you often get caught in the pockets provided for this purpose when you put them on. In addition, the protector pocket on the knees is lined with an extra layer of jeans, which means that the jeans are 3-layered there and the whole thing feels a bit clumsy. However, that doesn't bother me while driving.
What is positively noticeable is that the pants and seams are super clean, the protectors fit very well despite the pants being a little too long and you can machine wash the motorcycle jeans at 30 degrees and change them – neither size nor clothing changed in our practical test shape changed.
Interesting facts about motorcycle jeans – with and without lining
The classic motorcycle jeans, also known to many as "Kevlar jeans", can be recognized by the following structure: Regular denim is visible on the outside, i.e. the classic jeans fabric woven from white weft and blue warp threads. And underneath, as a second layer: the aramid fabric, which is clearly recognizable by its yellow color and is known to many under the brand name Kevlar. This reliably goes into action when the asphalt has worn through the cotton outer fabric in a fall. The downside is that Kevlar jeans are comparatively heavy, warm and uncomfortable.
Now comes the appearance of the single-layer motorcycle jeans: These do not use the robust fibers in a second, independent layer, but process them directly into the jeans fabric itself. This can still be Kevlar, but alternatively many other materials are now possible. Chemically, it is often polyamide or polyethylene, which is sold under brand names such as Nylon, Cordura, Dyneema or Armalith. Some of these are significantly more tear and abrasion resistant than aramid, but are more sensitive to heat – for example, in the event of brief contact with the hot manifold.
The type of processing also determines the protection and comfort properties: For example, the high-tech fibers can simply replace one of the cotton threads in the fabric. It is also possible to integrate such fibers directly into the yarn earlier in the manufacturing process. For example, the entire fabric is made from cotton-coated plastic threads. This fabric then has very homogeneous properties and can be tested for abrasion resistance on the so-called Darmstadt machine according to the standard. However, other components of the pants such as buttons, seams and protectors are not taken into account. However, it is precisely these interactions that decide on the actual protective function of motorcycle jeans – which is why MOTORRAD pulled all 18 test participants across the asphalt in a very practical way. Until the shreds flew. In MOTORRAD 18/2022 you can read the big comparison test for a total of 18 monolayer motorcycle jeans (available in printed form from August 19 or digitally here).
Protection standards of motorcycle jeans and leggings
There are 5 protection standards for motorcycle clothing: AAA, AA, A, B and C. C stands for pure impact protection (protectors), B for pure abrasion protection (e.g. aramid) and A for both together – tested and certified according to the European standard EN 17092-2 (up to 6): 2020. Thanks to the aramid fibers in combination with the protectors, many motorcycle jeans and leggings are certified to at least protection standard A. Pants with Level 2 protectors and higher abrasion protection, such as the Oxford Original Approved Jeggings, meet the AA protection standard. Attention: Some motorcycle jeans and leggings are only reinforced with aramid in the so-called crash zones (knees, hips, buttocks). We recommend using models that don't leave out any space.
Conclusion
If you are looking for a safe alternative to the usual bulky textile trousers, certified with protection class AA, but still fashionable, suitable for everyday use and well-made and comfortable, you can access the Oxford Original Approved Jeggings with a clear conscience.
#Oxford #Original #Approved #Jeggings #put #test #monolayer #motorcycle #jeans #men #women

Source