Makeup products and tools are part of the daily routine of millions of people around the world, essential in many cases and undoubtedly very useful to give a different touch to the skin and hide certain aspects of it that each person wants to hide. Today we show you a Ikea makeup organizer It will come in handy to have yours well organized and tidy, which will facilitate the process every time you want to put on makeup… it's extremely cheap!
Ikea has in its extensive catalog a wide variety of items that will help you to organize everything much better in your home, without a doubt it is the queen store when it comes to order and organization, with proposals that are imitated by the entire sector and They definitely set the trend.
The Ikea makeup organizer that succeeds in sales
Its about Protaobjetos FUNNY, a fantastic accessory in which you can place your utensils or makeup products to have everything super organized and that every time you need something it is super easy to find it, with an ideal size and characteristics both to put it inside a drawer or on any shelf in the bathroom. Its price is ridiculous, since it only costs €1.49, perfect for buying several and keeping order in your home.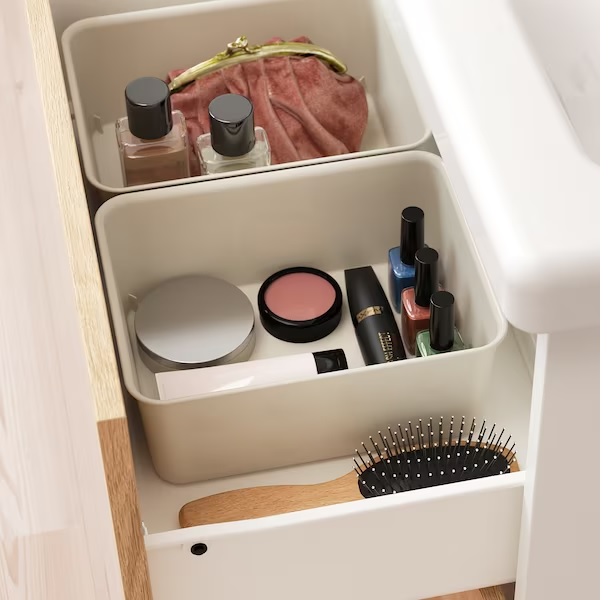 This fantastic makeup organizer from Ikea it is beige, a very versatile color that will adapt to any environment and will combine with everything. With measurements in this case of 20 cm wide, 25 cm deep and 10 cm high, it is also available in other top sizes. Made of plastic, it can be recycled or used for energy recovery, which means that you can still get a lot of use out of it when, for whatever reason, you decide that you are not going to use it anymore.
This accessory is so versatile that you can use it for much more than just organizing your makeup, for example in the closet or on the dresser. to save your pluginseven as a jewelry box, to put underwear and much more, depending on the size chosen, you can use it to store different objects in it.
If you want to have your hygiene and beauty products well organized, there is no doubt that this Ikea makeup organizer is one of the best accessories you can buy for your home, and for the minimum price it has, there is no doubt that it is a one of those purchases that you cannot miss.