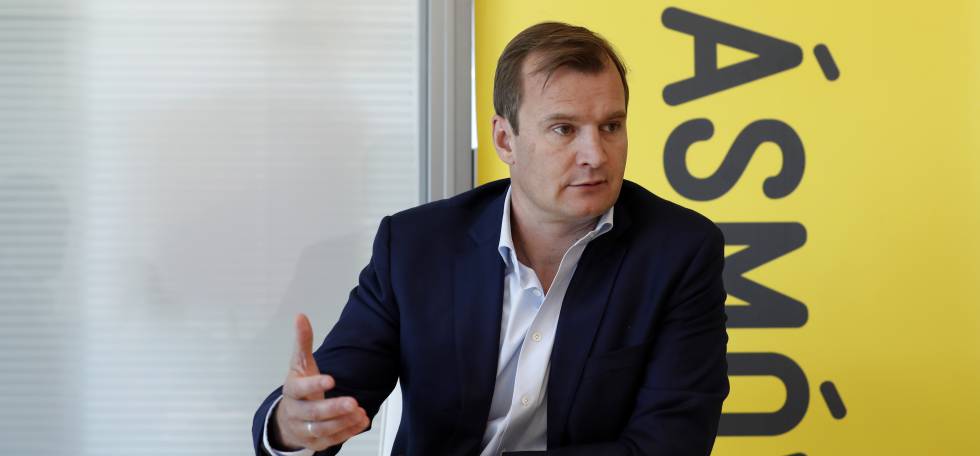 Orange and MásMóvil announced last Saturday their final agreement to merge their businesses in Spain, in a transaction valued at 18,600 million euros, and which will create a leading operator in mobile telephony and fixed broadband customers. Now, the next challenge is to obtain approval from the competition authorities, presumably from the European Commission (EC).
The main argument of both partners will focus on the fact that the merger will not mean a reduction in the number of mobile network operators from four to three, used by Brussels in recent years to stop transactions that, in the opinion of the community representatives, penalized competition . That was the case with the sale of Telefónica O2 to Hutchison, in the spring of 2016.
In principle, the intention of Orange and MásMóvil is to send the operation file to the European Commission in September, and take advantage of the month of August, a period of less administrative activity, to introduce all the modifications established in the final agreements. The French group seems to have been prudent in giving a deadline to obtain approval of more than a year, until the second half of 2023, "at the latest", because the analysis of the transaction will be in-depth and, in all probability, It will be seen in the second phase.
Industry sources do not rule out that the National Markets and Competition Commission (CNMC) ask Brussels to send the file, but, in their opinion, the EC will most likely say no, given the European impact of the merger , being Orange a main actor in the Old Continent. In a certain way, what happened with Orange's takeover bid for Jazztel in 2015 would be repeated. Now, among the Spanish players, it would not look bad if the CNMC said something and issued its own report, because it knows this market well.
In any case, Orange and MásMóvil are going to defend that the transaction will not penalize the competition in Spain; It will not mean a reduction in the number of network operators from four to three, because there are numerous operators in the market, both network operators, especially in fixed broadband, key for the implementation of fixed-mobile convergent rates. In his opinion, In Spain there are dozens of operators, something that does not happen in other European countries.
In the fixed part, there are companies with networks such as Telefónica, Orange, Vodafone, MásMóvil, Adamo, Lyntia, Avatel or MacQuarie, among others. In his opinion, there is competition that did not exist before, in 2015, when Orange was forced to sell 700,000 accesses (purchased by MásMóvil), within the remedies to receive authorization in the takeover bid for Jazztel.
Other sources in the sector add that there are the operators without a network that are the most aggressive in prices in the Spanish market.
Prices
The truth is that Orange and MásMóvil must be able to explain to Brussels the reality of the Spanish market, and that competition and prices will not be affected. Industry sources point out that, since the start of negotiations was announced in early March, aggressive rates have continued to appear from companies such as Digi, Lowi (a subsidiary of Vodafone) or Finetwork, while Telefónica or Vodafone have renewed their rates or have changed their rate scheme, as is the case of Telefónica with the launch of MiMovistar, which allows customers a greater choice regarding television content.
Similarly, Orange and MásMóvil have defended in recent months that their merger will increase competition in the wholesale field by having a fiber network of 17 million homes; Competition will also increase in the premium content segment since an operator will emerge with sufficient financial capacity to be able to acquire them, and there will be more competition in the field of companies, an area that has historically been led by Telefónica.
Other industry sources believe that Brussels must take into account the current market situation, which has accumulated a deflationary trend of more than 10 years, as a result of strong competition, and while operators have continued to invest in the deployment of fiber and 4G mobile and 5G. "The result of this investment was seen during the pandemic, when the network in Spain did not have any problems, compared to Germany, France or the United Kingdom, which did, and economic activity was maintained," they explain. In this sense, Orange has highlighted in recent years that it has allocated 20% of revenues to capex.
Among the arguments to receive the approval, Orange and MásMóvil defend the need for their marriage because they compete not only with their direct rivals among telecoms, but also with agents that were born digital, that is, with the big OTTs. Jean-Francoise Fallacher himself, CEO of Orange Spain, stated at the recent summit of the DigitalES employers' association that, in order to face this new competitive environment, "it is essential to have the optimal size".
Conditions
In these circumstances, the companies will ask Competition for approval without remedies or with mild conditions. If strong remedies are established, with the sale of relevant assets, there would be a risk that strong competitors will again be generated, backed by investment funds, with a strategy of gaining market share with new price wars.
In the Spanish Government there is a certain conviction that the transaction is going to be carried out. In an interview with Five daysLast week, the Secretary of State for Telecommunications, Roberto Sánchez, stressed that it is "a high-impact operation that will possibly lead to regulatory reviews."
Sánchez indicated that, at the moment, it is unpredictable to know if the remedies that may derive from this operation will serve to consolidate another of the incoming operators. "Some are doing very well, like Adamo or Avatel, said the Secretary of State, who added that this consolidation will not be detrimental to competition. "Citizens will continue to enjoy competitive services," he said.
The regulatory changes will also extend to the Spanish market itself. At the end of March, the president of the CNMC, Cani Fernández, stated that the regulatory authority would review the regulation of Telefónica if another majority operator emerged as a result of a merger, alluding to the operation proposed by Orange and MásMóvil.
Industry sources point out that, as Telefónica ceases to be the leading operator by customers in areas such as mobile telephony or fixed broadband, the CNMC's approach and the regulation itself will have to change, because, in their opinion, it no longer makes sense that the company continues to be regulated as a dominant operator.
Birth of a leading operator in mobile and fixed broadband customers
Users. Orange and MásMóvil will create an operator, 50% owned, that will lead key markets in Spain such as fixed broadband or mobile telephony. Thus, it will serve 7.1 million broadband customers, of which 5.8 million are convergent, 24.8 million mobile customers and almost 1.5 million TV customers.
Valor. The transaction is valued at 18.6 billion euros, 7.8 billion for Orange Spain and 10.9 billion for MásMóvil. The figure is below the 19,600 million established in March, after the announcement of the start of exclusive negotiations. The company value of Orange Spain is set at 7,800 million euros, 7.2 times the EBITDAaL of 2022, and that of MásMóvil, which includes the acquisition of Euskaltel, at 10,900 million, 8.7 times the EBITDAaL of 2022. Orange Spain reached the agreement with hardly any debt, while MásMóvil, as a result of the acquisition strategy carried out in recent years, had a debt of close to 7,000 million euros.
Synergies. With the operation, a potential synergy of more than 450 million euros per year will be generated, from the fourth year after closing. Of these, 230 million correspond to network synergies, including opportunities for joint deployment, rationalization of mobile sites, spectrum sales, optimization of wholesale and transmission contracts, along with other indirect cost savings; and another 160 million to sales, marketing and customer service.
dividends. The transaction is supported by a debt package of €6.6 billion without recourse to the shareholder, which will finance, among other things, a payment of €5.85 billion to the shareholders of Grupo Orange and MásMóvil, which is controlled by KKR, Cinven and Providence, in addition to a group of Spanish investors such as Inveready, José Eulalio Poza and the Ybarra Careaga family, as well as employees and executives of the teleco, among which its CEO, Meinrad Spenger, stands out. The Orange group will receive 4,200 million, and the shareholders of MásMóvil, around 1,650 million.
#Orange #MásMóvil #defend #Brussels #merger #affect #competition

Source